Organic search is the primary traffic driver for most organizations and scaling their share of traffic through SEO is crucial for building a sustainable marketing engine. In fact, 90% of surveyed enterprise brands intend to prioritize SEO going into 2023. This article will help explain:
What is enterprise SEO?
How is enterprise SEO different from other SEO?
What to look for in an enterprise SEO solution?
We also share some frequently asked questions to facilitate your evaluation process.
What Is Enterprise SEO?
Enterprise SEO is the fundamental and strategic execution of organic programs across enterprise-level organizations. To meet the needs of customers and gain a competitive edge, enterprise-grade solutions are leveraged to design for and execute programs at scale. For SEO, this could mean leveraging comprehensive data sets for research across multiple business units, building processes for streamlined workflows across teams, or reporting out actionable insights across pages or keywords.
As search algorithms evolve and tech stacks become more complex, driving growth or retention for your business through SEO can be quite cumbersome. Finding a solution that meets your company's evolving needs, while allowing you to scale efficiently, is imperative. This is even more important with enterprise organizations, as there are greater complexities to their business, and marketing and SEO teams must account for the shifting landscape of search (i.e. algorithm updates, new universal result types, or search engine alignment with better user experience).
Important strategies such as diagnosing technical SEO issues to improve crawling and indexability, or identifying content gap opportunities between you and your competitors can become overwhelming when looking to scale organic performance for enterprise brands. Finding an enterprise SEO solution that allows you and your team to scale with your businesses' needs and revenue goals is critical for building sustainable marketing growth.

How Does Enterprise SEO Differ From Other SEO?
While all organizations can benefit from SEO, enterprise SEO is applying the practice to large organizations with many moving parts. The principles and tactics may be similar to how a smaller company operates, but in the case of enterprise SEO, these tactics must be applied to thousands or even millions of pages, potentially across several websites. Further, enterprise SEO requires alignment with many stakeholders in order to be successful.
To execute enterprise SEO, there is a higher level of orchestration required, along with more advanced skills and project management. The degree to which these are applied in an enterprise setting can create significant returns for the organization. Some of the largest brands in the world, like Meta, have been able to double their monthly search traffic by applying enterprise SEO principles across their organization.
What To Look For in an Enterprise SEO Solution?
When evaluating enterprise SEO platforms, we recommend considering the following buckets: technology, data and support.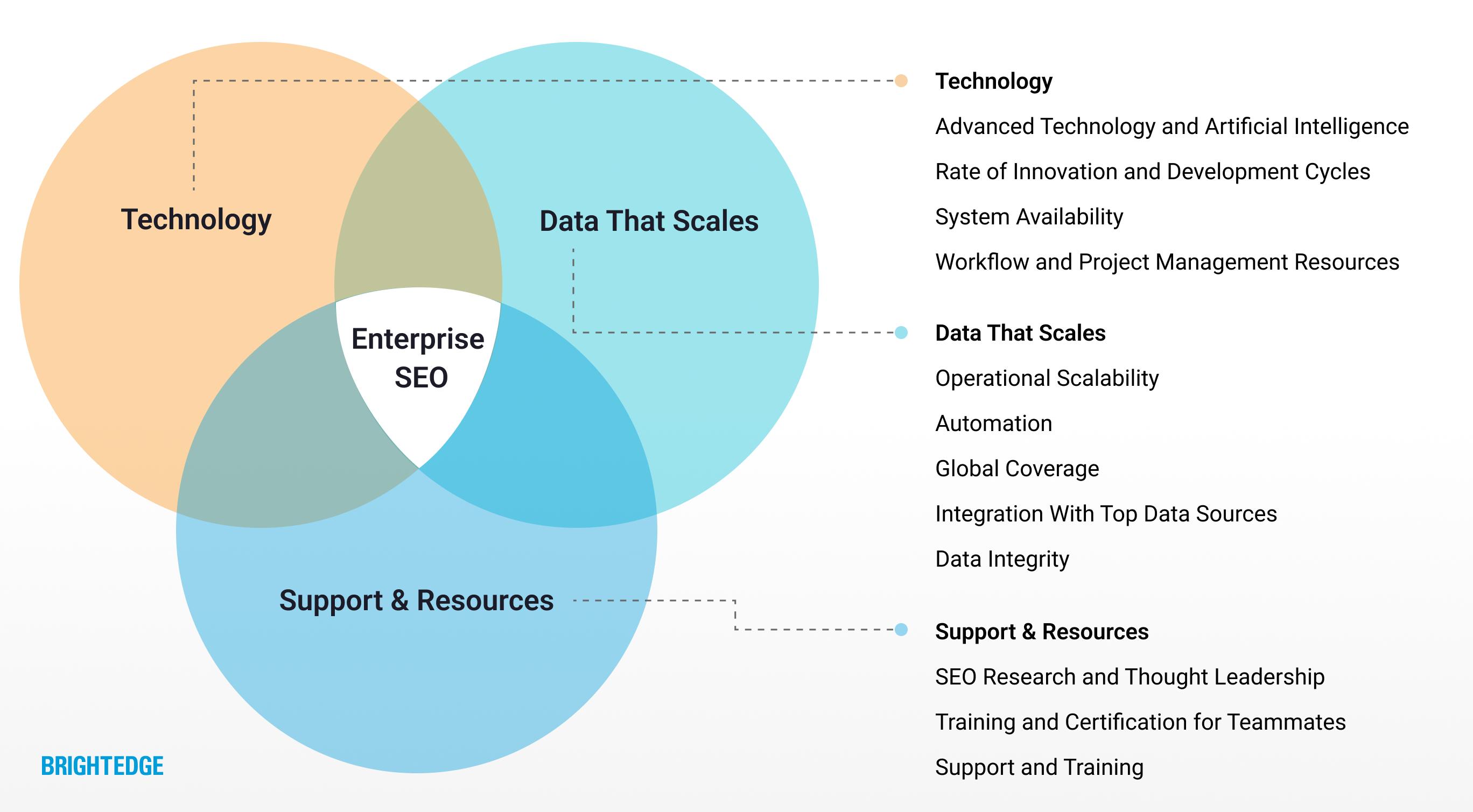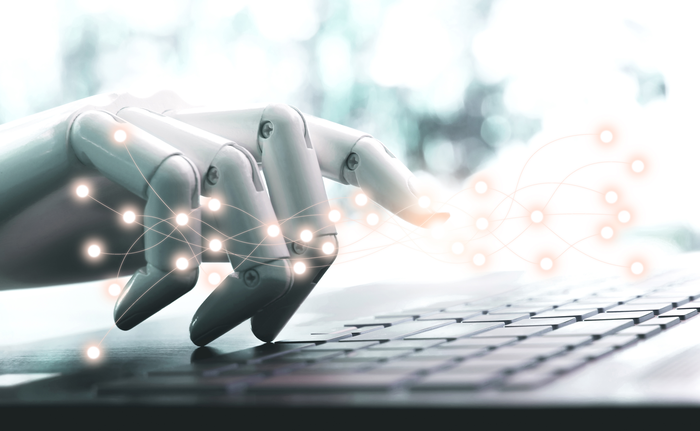 Advanced Technology and Artificial Intelligence
Having access to artificial intelligence allows enterprise SEO platform users to gain an advantage over their competitors. Artificial intelligence, machine learning and deep learning are becoming integral to the future of marketing. This technology helps enterprise-level brands by scaling marketing efforts based on continuously improving AI-defined optimizations and predictive analysis. Learn more about BrightEdge's SEO artificial intelligence solution.
Rate of Innovation and Development Cycles in Enterprise SEO
An enterprise SEO platform provider's engineering team recognizes that the SEO industry changes every week and accordingly invests time and effort to reading the signals and anticipating those changes. Additionally, a robust enterprise platform should reinvent itself based on the feedback of its users to provide improvements to the entire user base. For example, highly-effective custom reports can be created and made into templates used by others in the enterprise community.
Global enterprises work 24/7 and their SEO platforms must be available all of the time. The 99.99% uptime that BrightEdge delivers requires reliable code running on hardware and software that eliminates congestion, errors, failures and downtime.
Workflow and Project Management Workflow Resources
One of the key issues facing massive websites involves workflow management. With the immense scale of an enterprise-level site, one-off page optimizations and small content tweaks aren't viable. Enterprise SEOs need products that utilize logical and clear workflows for their teams.
Features should include the ability to assign tasks to team members, manage tasks per member, record notes, record events and milestones, as well as analyzing many pages or sections of a site. Enterprise platforms should enable robust user management and permission controls.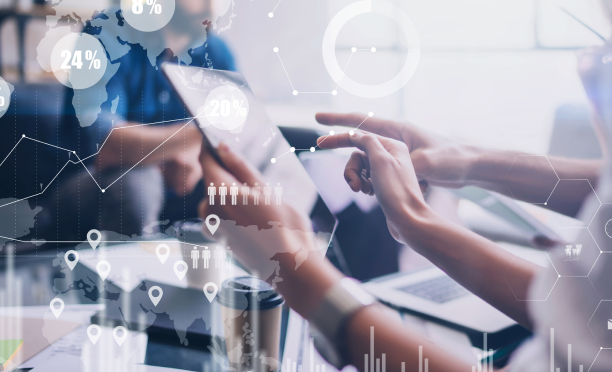 Customers work hard to grow their businesses at a rapid rate, and an enterprise SEO solution should have far more capacity than they need. Correctly-built architecture should scale ahead of its largest customers. For some enterprises, this means being able to add and track millions of keywords. It means being able to audit and report on the largest sites comprised of hundreds of millions of pages.
As search engine algorithm updates become more frequent and official communications on their details more vague, there is a growing need for enterprise technologies to place website content in a smart framework. In such a framework, the process of updating site content to keep on top of algorithm changes is automated and users can use AI-powered topic discovery to surface actionable and relevant topics for content creation.
Large-scale enterprises require automation like that enabled with BrightEdge Autopilot which allows marketers to automatically optimize the most critical and time-consuming SEO tasks. Additionally, the best enterprise SEO platforms monitor your site and alert you of opportunities and threats. Look for dashboards with automatic updates and distribution. Look for platforms that track and report on site changes to enable auditing.
Enterprise-Grade Global Coverage
While not all enterprise-level websites are global, many are. Global enterprises need global reporting and insights that enables them to scale their workflows and best practices across countries. Enterprise SEO has to source and report on Google, Bing, Baidu, Naver, and Yandex in all countries where they are dominant and provide insights on major local search engines.
Integration with Top Data Sources and Data Integrity
Enterprise SEO platforms have robust APIs that allow for easy and quick integration with major data and analytics providers, like Google Search Console, Google Analytics, Adobe Experience Manager, Adobe Site Catalyst, Majestic SEO, Facebook, Coremetrics, and Webtrends with additional sources being added each quarter. The data an SEO company uses to make decisions has to be updated regularly.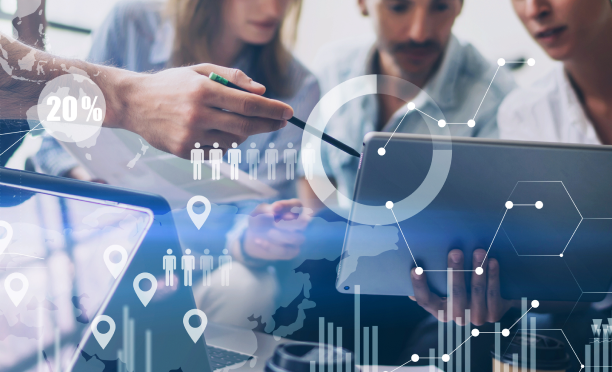 SEO Research and Thought Leadership
An enterprise SEO solution should be leveraging unique and proprietary data to deliver new insights about the industry and the development of market trends. This demonstrates thought leadership and shows the depth of data analysis and interpretation that customers should expect. For example, SEO practitioners are analytical and like to benchmark their SEO performance with similar companies. This is why BrightEdge created a set of benchmark reports by industry. Each of these reports use industry-specific data, top industry trends, primary marketing channels and tactics, content comparison benchmarks, industry-specific SEO click curves and primary SEO use cases and solutions for the industry.
Investing in and sharing research to educate the broader community - this indicates that the enterprise SEO provider is helping shape the future of the practice.
Training and Certification for Teammates
In addition to a well-organized onboarding program, providers should have online enterprise training and certification resources for the SEO team to use and share across the organization. Trainings should cover both product and industry topics to help enterprise SEOs evangelize SEO throughout the organization and drive adoption of the SEO platform.
Large enterprises expect and require customer service and support from experienced professionals who take the time to understand and resolve issues quickly. In addition to customer service managers, the best SEO companies also can provide solutions providers and professional services.
These are the primary criteria SEOs and digital marketing leaders in the largest organizations expect, and only a top enterprise SEO provider, like BrightEdge can develop and deliver.
BrightEdge: Everything You Need to Scale Your Enterprise SEO Strategy
BrightEdge helps brands strategically scale their SEO program. Through our platform built specifically for enterprise businesses, we help companies identify, execute, and measure all the areas needed to improve organic performance.
Each enterprise goes through extensive diligence to select its provider. Review the provider's list of referenceable clients, paying special attention to large global companies in related industries that have selected them as their enterprise SEO solution. Their case studies and testimonials reveal and reinforce the value the platform generates.

Request a Demo of BrightEdge Today!
Frequently Asked Questions
Here are some of the FAQs people have about enterprise SEO:
How does enterprise SEO differ from other SEO?
Enterprise SEO typically involves working with thousands or millions of pages to rank in organic results. This requires standardization of technical, content and offsite SEO to work towards a common goal. Enterprise SEO teams typically orchestrate projects across multiple disciplines to bring about positive traction.
Why should I invest in an enterprise SEO solution?
Enterprise SEO allows you to increase your output at scale, allowing for greater returns on your work by creating workflows across multiple disciplines. Based on BrightEdge research, enterprise sites can see as much as a 120% growth in traffic in a year with the right platform to power their work.
What are the benefits of enterprise SEO?
On top of the benefits of on-page and technical SEO, enterprise SEO reduces the manual work involved in scaling across pages and websites by automating repetitive tasks so teams can be strategic and focus on bigger picture customer needs.
How do I know if I need Enterprise SEO?
90% of surveyed enterprise organizations say SEO is a must have for this year. If one of your primary marketing strategies is improving organic search presence and you have ousands of pages that's supported by a robust content strategy, you should probably consider enterprise SEO strategies to help scale your efforts.
How do you develop enterprise SEO strategies?
Developing an SEO Strategy for an enterprise brand starts with quantitative and qualitative data, informed by your organization's marketing strategy, layering in competitive analysis and industry best practices.
How long does it take to observe enterprise SEO impact?
Organic results can sometimes take months depending on how fast strategies are implemented and how frequently a site is crawled, but you can estimate it based on analyzing these factors.