Fifteen years ago it might have been hard to imagine how much the Internet could change our society. It has influenced everything from how we shop to how we keep in touch with friends and family. These changes have not only caused dramatic shifts in the patterns and preferences of consumers, but they have also impacted how brands get in touch with their ideal consumers. This change is most obvious when you examine the practice of PR and SEO management to make sure you have SEO and PR working.
These two sectors arose from largely divergent parentage. PR has existed in various forms since the beginning of the 20th century, with the first press release being published in 1906. PR concerned itself primarily with publicity and sales.
Digital marketing and SEO, however, arrived with the growth of the Internet and started as IT-based specialties. The practices developed and matured as more people, and then brands, began creating websites and started to uncover ways to boost their visibility in the search engines by tweaking factors such as layouts and keywords.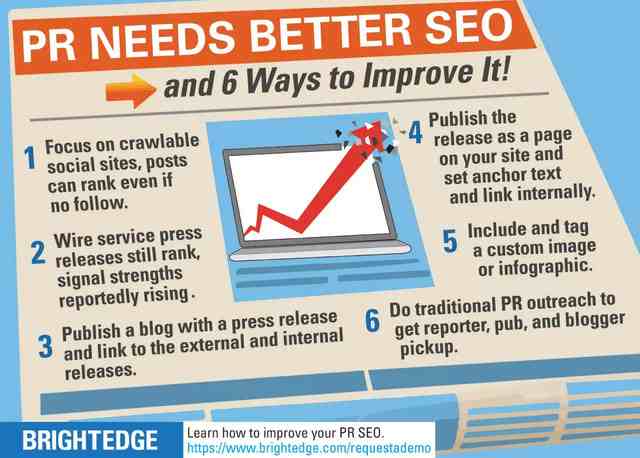 As SEO and PR have adapted to the rapidly changing world of modern marketing, they have intersected and become inextricably linked. PR focuses on drawing attention to the message of your brand. These professionals want to improve the reputation of the company and sell products to consumers. This has also become a central SEO objective.
For a detailed breakdown of how to manage a content-centric marketing strategy, be sure to read our free bonus piece on A New Era of Content.
The overlap between SEO and PR clearly indicates the importance of bringing them together to create a coherent SEO PR strategy. PR needs to become more SEO-oriented by understanding the critical roles of search and social in content promotion and brand development. At the same time, SEO needs to understand the value of PR in promoting brands, building loyalty and selling the company's products and services.
Here is what you need to consider when building your united SEO PR strategy.
How SEO and PR intersect
In 2013, Google came out and said that backlinks from press releases did not carry weight as they were unnatural links. This caused a considerable amount of conversation surrounding the role of press releases in a quality SEO strategy.
The reasoning behind Google's decision, however, was not an attempt to discredit press releases as a valuable means of communicating news with interested followers. Instead, it was intended to reduce the spammy practice of pushing out numerous --yet rather insignificant-- press releases to gather more links. Many brands would publish on popular PR sites while providing very little value for the reader, but still gather numerous backlinks and targeted anchor text for their content.
By minimizing the impact of the backlinks from press releases, Google could again try to shift the focus towards providing relevant useful information for the user as brands became less likely to create press releases unless the news is something of genuine importance.
Even without the value of backlinks, SEO and PR can work well together. When well-written and well-placed press releases attract the attention of the public, they will bring more traffic to the brand website, helping to boost rankings even without the credit for the backlinks.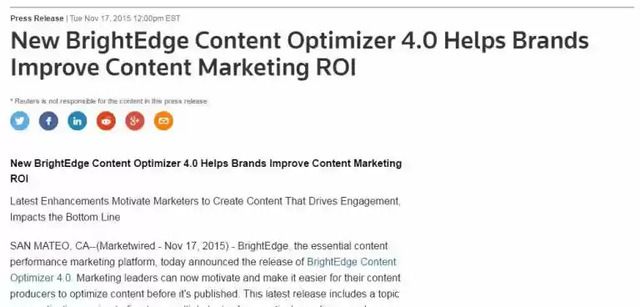 The PR initiatives also get the brand name and your company's accomplishments out in front of people. As people view you as an authority and leader in your industry, you will naturally increase your brand recognition and loyalty. Noteworthy releases can also help you attract the attention of journalists and major publications and encourage them to pick up your story, which will then further enhance your visibility and credibility. Our press release about the update of our Content Optimizer 4.0, for example, was picked up by Reuters, helping to extend our brand reach.
It is also important to note that the major PR wire services will help rank press releases well in both the general search results and the News section. Using these PR publication platforms can be a valuable means of gaining exposure. You can see the strong BrightEdge DataCube scores, high-ranking keywords, and universal listings for PRNewsire: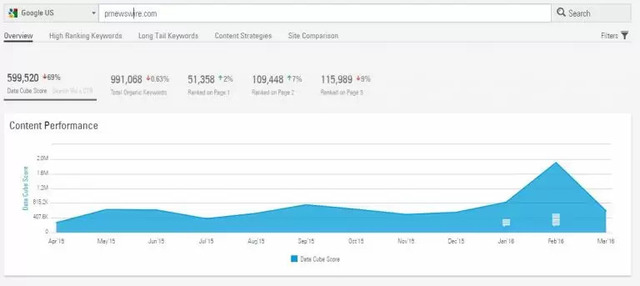 This BrightEdge Data Cube chart shows a significant number of listings in the top 5 positions.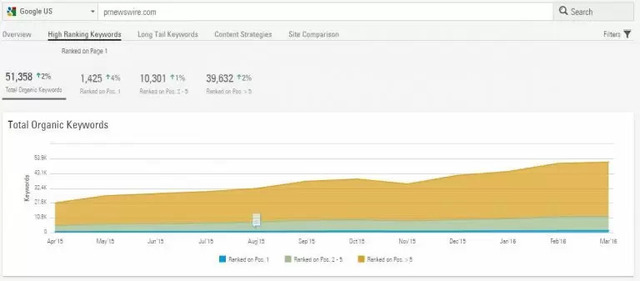 This BrightEdge Data Cube charts shows significant universal listing strength in Images, Carousel, Quick Answers, and some Local 3-Pack.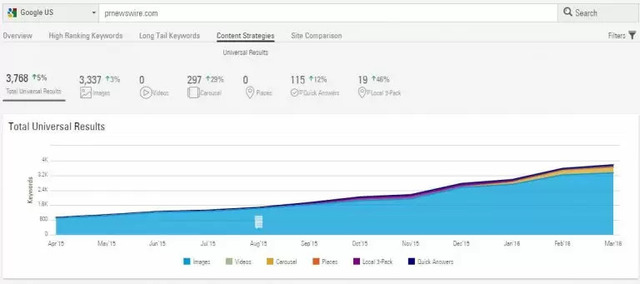 Publishing press releases on your own site can also help your page rank highly within the News section of the SERP.
SEO and PR best practices
Make sure your press releases always contain noteworthy information. Just like any other type of content, creating press releases that offer little value to your audience will not help you build your brand. In the creation of a unifying SEO and PR strategy, focusing on important news can also make your announcements more appealing to journalists and bloggers, increasing the chances of having your information picked up by a major publication. As an example, the opening of our new offices in Cleveland was picked up by the Tech Czar of Cleveland.com, which boosted local awareness and helped pave the way for a successful opening.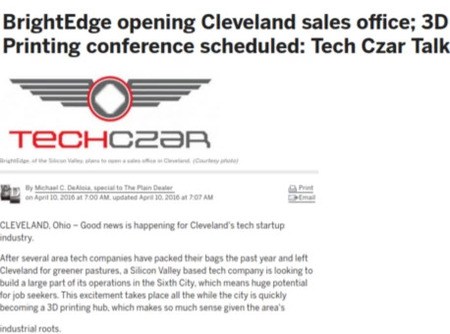 Create content and a web page that delivers a positive customer experience. Everything today revolves around the customer experience. Modern consumers have countless websites at their fingertips and they are not going to waste their time on sites that are slow to load, disorganized or do not show their value right away.
Have a strong press release in the crawlable distribution network. This means pulling together all your resources, including paid search and social media. Social media can be a fantastic tool for getting new information out in front of interested parties. Remember that posting links through popular networks, such as Facebook and Twitter is fantastic for exposure, bringing traffic and boosting interest. Main brand pages, such as your Facebook fan page or your LinkedIn company page, are crawlable and can also be great opportunities for posting press releases and information. Even Reddit can rank for applicable queries, but the links included are NoFollow.
Do not neglect YouTube. Videos and press releases can actually be quite a valuable combination. You can create videos that accompany your press release and upload them to YouTube to boost your attention for the announcement. The video platform star also allows you to post links in your video description, comment sections and your overlays.
Build relationships for some old-school PR. In addition to being an excellent platform for distribution, social media is also fantastic for building relationships with journalists and influencers. Nurture these relationships and then let your connections know if your company is publishing the high-value content they seek for their stories. Journalists are naturally more likely to review and accept pitches made by those with whom they have a relationship. It is similar to doing old school PR with a modern twist.
As with any type of content, it is important to remember the value of visuals. Creative content, such as custom images or infographics, will help to illustrate your point and encourage more people to engage with your content. Also remember to optimize your image for Google search to help people find it and click on your brand.
Build internal links. It is easy to overlook internal links, but they should never be neglected. Internal links help to show the Google bot how your new press release fits into the rest of your website. You can write blog posts related to the topic and link to the release. You can also create links going from the press release to other parts of your website to encourage the readers to explore the rest of your domain.
The creation of a comprehensive SEO and PR strategy can help brands get important company news out in front of the interested parties, improving reach and visibility. By combining these two aspects of brand management, businesses will be able to tap into the SEO benefits of reaching modern customers through the online world and the PR benefits of understanding news, storytelling interest, reputation, and sales.
Bring your SEO and PR specialties together so they can help each other grow.