There's been much discussion about how social media influences SEO, including references to "social SEO." So what does it all mean, and just how do social media and SEO work together? In this article, we'll explore some high-level concepts around the social signals used in SEO.
Some background: big data and social media
Over the past few years, there has been an overwhelming amount of data generated online. The sheer volume of global data (referred to as "big data") produced within this relatively short time span can be largely attributed to social media – 90 percent, in fact.
How do social, content and organic search fit together? As the graphic above indicates, organic rank in search engines is predominantly determined by content quality, and search engine algorithms use content sharing as a primary quality signal. The explosion of social data is reflected by statistics for social media usage and content sharing, which show that as of 2013, there were 1 billion Facebook users accounting for 3.3 billion pieces of content shared each month, while Google Plus accounted for 5 billion Google +1's per day.
How search enginges are adapting to create content for social
Bing
Bing began its foray into social with its incorporation of Facebook "likes" in its search engine results pages (SERPs) in February 2011. It then expanded its integration of social in its search results in May 2012, when it announced a dedicated social side bar on its SERPs, allowing users to readily view their Facebook friends' activity as it related to their search query. More recently, Facebook has given way to Twitter in Bing's search results, as Twitter entered into an "exclusive social partnership" with Bing in November 2013). In June of this year, Bing announced that users could "discover tweets directly in [their] search results." Bing's commitment to integrating social signals in its search results is evident in its webmaster guidelines, where it states:
Social media plays a role in today's effort to rank well in search results. The most obvious part it plays is via influence. If you are influential socially, this leads to your followers sharing your information widely, which in turn results in Bing seeing these positive signals. These positive signals can have an impact on how you rank organically in the long run.
Google
Google first ventured into social with its introduction of "Social Search" in 2009, which it described as an expansion of its personalized search results (instituted in 2007). Social Search highlighted "relevant public content" from the users' friends and social contacts at the bottom of Google's SERPs. It wasn't until June 2011 that Google launched Google+, its own social media platform, which integrates Google+ content into personalized search results. Several months later, in November 2011, the search giant announced it would start adding brands and businesses to Google+ with Google+ Pages. Then in January 2012, it unveiled "Search, plus Your World," which incorporated G+ profiles and "relevant web results" related to search queries in their SERPs. Marketers have also adapted to social in their SEO strategy. A survey by BrightEdge found 80 percent of marketers indicated that social sharing of their content as a means to improve rank would be "much more important" (31 percent) or "more important" (49 percent) in 2013 than in 2012.
Why brands need to pay attention to social
Clearly, social sharing of content represents an opportunity – if not an SEO imperative – for brands to increase their visibility in organic search, including their products, services and solutions. Embracing social also allows brands to "own" and manage their reputation, as well as engage with their followers and fans. Finally, a social presence can drive Web traffic, which in turn can result in increased conversions and revenue: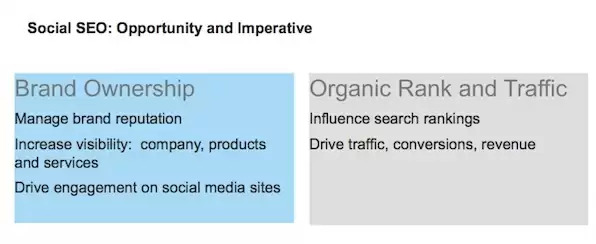 Case study: SEO and social 'synergy'
An example of how SEO and social work together to improve search ranking and customer engagement is the case of Tiny Prints, an online boutique specializing in unique designs and stylized cards for occasions. As a brand that relies on organic search to drive Web traffic and revenue, Tiny Prints sought to increase its conversion rate and boost search engine rankings using Twitter and organic search together.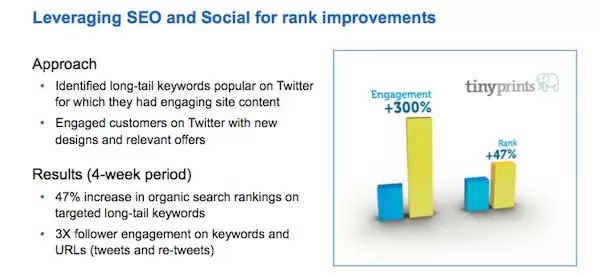 As the graph shows, the results proved that the strategy worked. By aligning its Twitter strategy with its organic search strategy, Tiny Prints realized a 300 percent increase in customer engagement on its Web pages and "long-tail" keywords, as well as a 47 percent increase in search rankings on those keywords and the individual Web page URLs that were trending on Twitter – all within one month! Stay tuned for our follow-up post on how you can leverage the suite of BrightEdge tools to rock your social SEO!