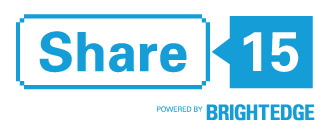 As digital marketing becomes increasingly sophisticated, the silos that once separated channels, campaigns and even the skills of marketers themselves have come crashing down. This was a message clearly delivered to our attendees at our Share15 conference last week. We had the pleasure of hearing from representatives from a variety of major brands, like Best Buy, IgnitionOne, Oracle/Eloqua, Marriott, Monster Energy and Adobe. These speakers deeply explored key topics, offering valuable insights and inspiring great conversations. Here were some of the conversations and presentations that dominated the digital marketing track.
Talent Management
As the digital marketing world becomes more complex, so does the role of the marketers themselves. Marketers can no longer succeed when they remain confined to a single, specialized role in digital marketing. The content marketer needs to be able to interpret analytics that tells him whether or not he is engaging the intended audience. The paid advertising specialist must also know how to draft content that will engage the people who click on her ads. Many marketers are beginning to see the value in branching out beyond their specialities. According to Adobe, an estimated 40 percent want to reinvent themselves, but only 14 know how to go about it. Jay Middleton of Adobe, Dan Mooney of John Wiley & Sons and Michelle Rife of BrightEdge offered some fantastic insights into this topic. The presentation included highlights such as:
the importance of providing training for everyone in areas such as digital analytics and social marketing
the biggest talent gaps are in areas such as analytics, mobile, content marketing, social media, email, marketing automation and SEO
valuable hybrid marketers also need fantastic interpersonal and communication skills to drive projects forward.
Integrated Campaigns
Customers themselves are also becoming increasingly sophisticated. They are no longer interacting with brands on a single platform. Instead, they are journeying between websites, social pages, paid advertising and reading reviews, all before they make a purchase. To meet this need, campaigns need to be similarly integrated. Failing to provide these customers with a strong, consistent brand image across the platforms will make the intended message much weaker, which can impact conversions and brand reputation. Mark Fiske of Ancestry.com, Alok Jain and Deepak Goyal of eZedia and Allan Price of Monster Energy addressed this topic, leaving attendees with new inspiration for leading the integrated campaigns back at their own businesses. Their talks touched upon highlights such as:
measuring success and distributing content through different channels tend to be among the chief challenges for marketers
content is the foundation of all integrated marketing
the value of content intelligence and effectively scaling content to drive success
it is possible for attribution models to change as you gain more insight or realize errors-- do not wait for the perfect model to get started
Paid, Owned & Earned
Paid, owned and earned media are an integral aspect of any digital marketing strategy. The intersection of these three has become increasingly apparent as businesses are able to see how they influence each other. For example, high-quality owned media, such as website content, will impact the success of a paid marketing campaign as well as the cultivation of earned media. A successful digital marketing campaign, therefore, requires a keen understanding of how these areas work together and how to design successful, engaging campaigns that appropriately use each specialty. Cindy Phan of VMware, Charmaine Madamba of Citrix, Michael Thomas of Noble Studios and Alex Edlund of the Marriott offered several case studies and intriguing examples that helped attendees see how these three intersect. They covered important topics such as:
The importance of data when determining strategy and success
The value of collaboration and cross-functional teams working together to take advantage of insights and best practices
In the end, the most important criteria of a digital marketing campaign is the revenue and profit it drives, so measure ROI
Cross-Channel Marketing
Successful marketing means looking at far more than different aspects of online marketing--there must also be recognition that consumers are not just interacting with brands while online. Interest might be sparked when seeing a commercial on TV or hearing one on the radio, for example. With successful cross-channel marketing, brands will keep their messages consistent across these various channels and understand how to integrate their analytics and attribute revenue to both on and offline conversions. John Hensel of Best Buy, Jennifer Day of Tableau and Ujjwal Bhattarai of Brady Corp explored best practices with our audience and had everyone leave feeling confident in their understanding of cross-channel marketing. They discussed key insights including:
the importance of using facts instead of opinions to drive marketing decisions
choosing and using metrics wisely-- do not go for flashy, go for valuable
the insights gathered when looking at the customer journey, such as from an email to making a phone call
cross-channel marketing means acknowledging that customers want to use more than one channel, such as searching for information online while in store
the value of understanding customers and the paths they take to purchases
Digital marketing continues to evolve as marketing techniques, and the customers themselves, become more sophisticated. The silos between different aspects of marketing and the roles of marketers are no longer enough to succeed in this rapidly advancing industry. At Share15, our speakers sought to explore these changes through engaging presentations that enlightened attendees, sparked excellent conversations and helped establish the conference as one of the most valuable events to attend all year. Take our digital marketing quiz to test your knowledge.