Domain authority and Trust Flow both measure the influence of a website as primarily measured by the number and quality of the site that link to it. When Google determines how well a particular page on your site ranks for a query, the algorithm is not only looking at the individual page that has been optimized for that keyword or phrase - it is also looking at the reputation of the entire website. That is why a site like SearchEngineWatch can publish a new post, and it will quickly rank highly on queries.

Meanwhile, your new blog that you started a few weeks ago might post a fantastic, insightful article but you cannot find your site until page three or four of the search results.
Established, reputable sites, like BrightEdge and SearchEngineWatch have a strong domain authority. These domains, which Google has already established as trustworthy, are regularly scanned by spiders to check for fresh content like this post. The strong reputation helps to boost the new web page, even before it has time to cultivate much traffic, many backlinks or other known factors in Google's algorithm. While much of SEO focuses on optimizing specific pages of content to perform well in the search engines, it is important not to neglect domain authority. As your overall site reputation improves, it will help to boost every page on your domain. Here are four steps you can take to start improving your domain authority or trust flow today.
Cultivating good backlinks
Your backlink profile is an important means of demonstrating your domain authority to Google. When one site links to another, in many ways they are putting their own reputation behind the second site. The site is saying that this source is reliable and trustworthy for their visitors. Websites, therefore, that cultivate many links from a variety of other reputable sites can be regarded as equally authoritative sites. As Matt Cutts from Google has said: backlinks are a really, really big win in terms of quality for search results - backlink relevance still really, really helps in making sure we return the best, most-relevant, most-topical set of search results On the other hand, sites that receive multiple backlinks from poor sites, such as spam links, may be seen as untrustworthy.
Although Google does not say that sites can be harmed in their rankings from bad backlinks, the possibility of this threat remains. It is best to use Google's disavow tool whenever needed. This tool will let Google know that you do not want to have anything to do with the poor links, which will help ensure that you do not receive any negative ramifications. Building a strong backlink profile can be a challenge. The most important thing you can focus on is producing high-value content that is engaging and people like to read. Then promote this content as often as possible, across social media and other distribution methods. You can also seek opportunities for guest posts to demonstrate your thought leadership. The more people who read and value your content, the more they will be willing and eager to provide you with backlinks from their own material.
Build internal links
Many sites neglect the importance of internal links. Linking from one page of content to other, relevant pages can help customers move around your site and understand your navigation and organization. Not only do these links help human visitors explore, they can also help the spiders crawl that arrive from Google and the other major search engines. This improves your reputation, resulting in stronger overall domain authority. These links can also encourage readers to remain on your site as they examine what you have to offer about their topic of interest. The more time people spend on the page, the higher your engagement statistics will be for the search algorithm, improving your reputation and rankings.
Reexamine technical SEO
There are also a number of other technical SEO methods that you should employ to boost your domain authority. It is important to go through your site and make sure that you are completely updated in the following areas:
Set up easy site navigation with the sitemaps uploaded and an organized, understandable domain
Use meta tags and meta descriptions to make it as easy as possible for Google and users to know when your site is relevant
Use alt tags for your images so that the search engines know what your visuals show
Make sure that the pages of the domain have been optimized with the appropriate keywords that reflect consumer vocabulary and queries so that it appears in the appropriate queries
Minimize the load time - Google and visitors do not like it when a site takes more than a few seconds to load
Build brand trust
As you work to build your brand trust, you will also increase your domain authority. Brand trust is something that will need to be cultivated across the web. To build brand trust, you need to begin, once again, with your content. Content that adds value and answers the needs of your customers will be content that is trusted. You should be researching topics and keywords that your intended audience is most interested in reading. The BrightEdge Data Cube can be an excellent resource to guide you in this area.
You will then need to develop content that addresses the needs of these consumers. The content should provide immediate value and go in depth with the topic - a cursory exploration or a reposting of what every other website already articulates will do little for your content exposure or your visitors. This content will be promoted on social media. On these platforms you want to cultivate a strong following with outstanding content and an interactive style. Ask questions of your followers, address their inquiries, entertain them with contests and reward them with occasional coupons or other bonuses. The BrightEdge platform provides detailed backlink count and Trust Flow information over time.
BrightEdge also displays the quality and Trust Flow of a site's backlinks.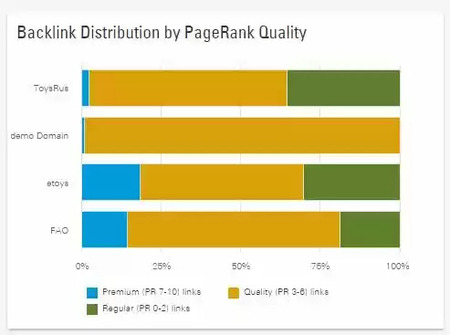 The BrightEdge SEO platform also breaks down the content types in which the backlinks exist.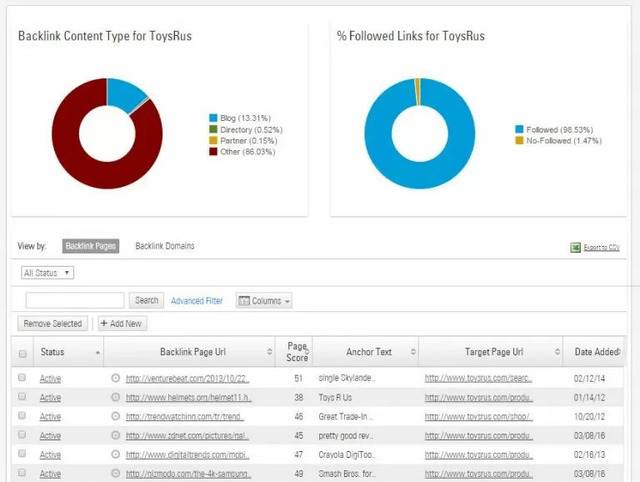 BrightEdge will also help a site identify the gap backlinks a competing site has that your site does not. You can also build brand trust by tapping into the influencers in your industry. Influencers are people that your customers already rely on for accurate information and advice.
When you build relationships with these influencers and they vouch for you by sharing your content or allowing you space as a guest poster, they are throwing the strength of their reputation behind you. This can boost people's trust of your brand as well. Your domain authority can have a powerful impact on how your pages rank and therefore the traffic you receive. Taking the time to follow these steps and boost your reputation can influence the ranking of every page on your site now and in the future.