After looking forward to it for so long, it's hard to believe that we're finally counting down the days — and hours— until Share15. New and enhanced additions like our hands-on learning labs, specialized conference tracks and more top brands in attendance than ever before are sure to make Share15 the biggest and best year yet. We're honored to host speakers, industry leaders, and brands from such diverse industries as retail, hospitality, software, and many more. With an unbelievable lineup of presenters and sessions, we decided it was time to create a central hub for all of the valuable content they've produced.
Below, you can find the ultimate list of pre-show content. This contains my own personal thoughts (after having the privilege of reviewing the content) as to what marketers will learn for Share15. Whether you want to learn more about upcoming sessions, discover new digital marketing best practices, or just need something to tide yourself over until the conference starts on September 21st, you're sure to find plenty of useful information to fit the bill.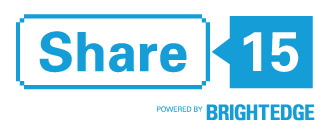 Note: final session titles subject to change at the discretion of the speaker
General Sessions
Content Performance Marketing Blueprint
Performics, Michael Kahn, CEO Content Marketing – Performance imperatives and blueprints for success Google, Matt Lawson, Director of Performance Ads Micro moments and the mobile content battleground – Case studies in success
Digital Elevation and Transformation
Salesforce, Woodson Martin, SVP Marketing Cloud Operations Technology shifts, systems of intelligence and engagement. Consumers and connected experiences – featuring success stories from global brands. Wiley, Clay Stobaugh, EVP and CMO The Wiley digital transformation story - A case study in execution. How to turn marketing from a cost center to a revenue center.
Digital Entrepreneurship and Leadership – Silicon Valley CEO Panel
Visionary Silicon Valley CEOs will provide insights from their personal journeys on what it takes to be a successful entrepreneur. The panel will share key strategies to help digital marketers build and lead successful teams grounded in innovation. Battery Ventures, Roger Lee, General Partner Zuora, Tien Tzuo, CEO and Founder BrightEdge, Jim Yu, CEO and Founder Ustream, John Ham, Founding CEO and Chairman
Search Marketing Track
Mobile Friendly Momentum
Home Depot, Sean Kainec, Senior Manager of SEO Caring about Mobile – Taking the right approach OpenTable, Denis Scott, Senior Director of Acquisition Mobile Success – Are you prepared to measure Adobe, Dave Lloyd, Senior Manager of Global Search App Store Optimization – The near and far future
Beyond The Algorithm
Sears PartsDirect, Jacqueline Urick, Enterprise eCommerce Manager Site structure, linking and the Sears site Time Inc., Binti Pawa, Head of SEO Why migration is a necessity not an option Epicor, Dawna Olsen, Senior Director of Corporate Marketing How Epicor handled Global site change across 17 sites
Breaking Borders
Phillips, Marco Musijsert, Global Search Lead How to grow your global search team and scale efficiently Schneider Electronics, David Fisher, Head of Global Search International Search, localization and team collaboration BeFound Online & Motorola, Steve Krull (CEO Befound), Michael Velasco (Director of Brand and Digital Experience, Motorola), and Bob Dearsley (Chief Executive, B2B Marketing Labs) Migration and managing multiple stakeholders Hilton, Melissa Walner, Director of Global SEO Global sites and microsites – Traffic impact case study
Scaling In-House
VMware, Adam Souza, Senior Web Marketing Manager Scaling In-House – The growth challenge and operational solution Wellbiz Brands, Danielle Paske, Senior Digital Media Manager Reporting and scaling search across multiple franchises Microsoft, Alex Volk, Director of Search Marketing Utilizing data to report success and fuel departmental growth – How Microsoft scales
Data Learning and Decision Making
Ben and Jerry's, Jay King, Senior Interactive Manager Injecting SEO intelligence into your creative team – Utilizing intelligent data Motovo, Sudhir Sharma, Director of SEO How data informs content decisions and improves performance Western Union, Stefan Zechner, Global SEO Manager How Western Union turns data into action and performance
Universal SERPS
Assurant, Duy Vu, Global SEO Manager Images, assets and infographics – The content SERP mix Bing, Vincent Wehren, Senior Product Lead Search evolved – From 10 blue links to answers to actions Stone Temple, Eric Enge, CEO Rich answers and SERPS - Do they increase your traffic? How can you get them for your site?
Content Marketing Track
The Demand For Content
Home Depot, Erin Everhart, Content Marketing Director How to build a customer-first approach to content Cabela's, Jesse Farley, SEO and Content Manager Content planning – Personas and positioning strategies and tactics WPromote, Michael Mothner, Founder and CEO How to create targeted content that engages, resonates and converts
Content Marketing Models
Prophix, Natasha Persad, Digital Marketing Manager Measuring the impact of content – 5 steps to ROI success Roaring Pajamas, Kent Yunk, Owner and Consultant Opportunity forecasting – The Content and SEO opportunity Kroll, Whitney Parker, Director, Global Digital Marketing The B2B attribution challenge – How to solve and build revenue
Scaling Content
Financial Institution from Australia, Kelvin Lee, Senior Content Manager Content strategies – How to plan for and build content cultures Maxim Integrated, Robert Reneau, Director of Digital The art of repurposing content – How to build and utilize shared assets cross functionally CareerBuilder, Allison Febella, Director, Global SEO How to scale content through organizational collaboration House of Fraser, Jamie Peach, Director of Global SEO Scaling online content in Ecommerce – Discovery, production and performance
Content And The Competition
Performics, Brad Beiter, VP of Performance Content How to size up your competition, bridge the gap and build a successful content performance framework OpenTable, Scott Lavelle, Director of Global SEO Utilizing user-generated content to give you a competitive edge The Network, Pia Adolpson, Content Strategy Manager Success at the intersection of competitive intelligence and content marketing Best Western, Felipe Carreras, Director of Ecommerce Scaling content to stay ahead of the competition – A story on Browsers v Buyers
Content Convergence
Wyndham Hotels, Richard Mastriani, Director of SEO Breaking down search and social silos to gain content wins Bazaar Voice, Michael DeHaven, Product Management and SEO User-generated content and optimization Google/YouTube, Suzanne Szostak, Brand Solutions & Content Merchandizing Lead Creating content that spans multiple channels – How YouTube stars are doing it Nina Hale, Deborah Carver, Content Marketing Manager Using search and social in synergy, an industry case study in success
Content Metrics
97th Floor (featuring Citrix), Chris Bennett, CEO and Founder Content measurement metrics, how to always win with content marketing Adobe, Kirill Kronrod, Senior Global SEO Manager Content, Quick Answers, SERP metrics and performance The Container Store, Cade Burk, Search Manager How to optimize content, products and pages for performance
Digital Marketing Track
Paid, Owned and Earned Media
VMware, Cindy Phan, Senior Manager, Digital Marketing Strategy Learning from the VMware journey through paid, owned and earned touch points Citrix, Charmaine Madamba, Senior Search Marketing Manager Paid and Owned media – How to mix content, mobile and user intent Noble Studios, Michael Thomas, Chief Marketing Officer How content and search fuels media convergence Marriott, Alex Edlund, Global Director, Search Marketing How Marriott launched a new brand across multiple media channels
Email and Automation
IgnitionOne, Dave Lawson, Director of Solution Consulting Email as a modern day marketing linchpin – How to automate an integrate Oracle/Eloqua, Tyler Altrup, Senior Consultant The path to behavioral marketing – How to tame digital complexity Listenloop, Rodrigo Fuentes, CEO Understanding display and marketing automation – Beyond email
Channel Marketing
BestBuy, John Hensel, Associate Manager How to target digital audiences – Cross-channel best practices that educate and convert Tableau, Jennifer Day, Senior Director of Demand Generation Improving multi-channel analytics – Metrics, visualization and simplicity Brady Corp, Ujjwal Bhattarai, Senior Search Manager The billion-dollar hole in attribution – Understanding on and offline revenue attribution
Content, Influence and Human Capital
Delightful Communications and Majestic, Mel Carson, Brand Ambassador How to influence the influencers – Creating brand advocates Adobe, Peter Krmpotic, Senior Product Manager Overcoming optimization challenges – Personalizing experiences Revana Digital, Travis Low, VP of SEO How to create centers of excellence to create engaging content to influence industry experts
Hybrid Digital Marketer
BrightEdge, Michelle Rife, Senior Director of Global Talent Acquisition The hybrid skills needed to elevate your career – The path to Marketing Director Adobe, Jay Middleton, Director of Global Search Marketing Onesearch – How to build and develop a multi-talented team and measure success Wiley, Dan Mooney, Director of Digital Analytics Hybrid digital marketing skill sets – A Wiley case study in execution
Integrated Campaigns
Ezdia, Alok Jain (Co- CEO and CMO) & Padmini Murti (Co-CEO) Scaling integrated marketing – Best practices to influence tomorrow's enterprise Ancestry.com, Mark Fiske, VP of Channel Marketing Attribution modeling and integrated campaigns – Choosing the right approach Monster Energy, Allan Price, Global Director of Digital Marketing Creating multiple assets for multiple channels – Trust and time travel We look forward to seeing you at Share15!! Take our digital marketing quiz to test your knowledge.