As states rolled out social distancing orders, BrightEdge began a deep dive into the digital world and the shift in search behaviors. We discovered that SEO is more important now than it ever has been before. We also discovered where search trends are headed in the future. In this installment of our series on SEO now for the B2B tech industry, we'll look at how B2B tech companies are handling the transition to online operations. Visit these pages for our previous installments on education, finance, and retail.
What is going on with B2B tech?
Since the start of the pandemic, B2B tech organizations have worked to adjust their marketing and sales strategies in order to attract more of their customers online. Buying behaviors have shifted, as well as search behaviors, and while some B2B tech companies saw a pull back, like CRM products and services, others saw an increase in interest.
McKinsey conducted a survey across 11 countries and found that B2B tech companies saw digital interactions were two to three times more important to consumers than sales interactions. Digital marketers at B2B tech companies are vital to the success of their business right now. Producing high-value, editorial content and offering a gateway for other businesses is likely to assist in continuing traffic to your site.
In our research, we found that B2B tech companies are currently either rebounding or stabilizing, depending on which category they fall under. Data Center and IT Networking are both rebounding, while IT Security and Collaboration are stabilizing. You can see what's happening with the B2B tech industry and other industries below.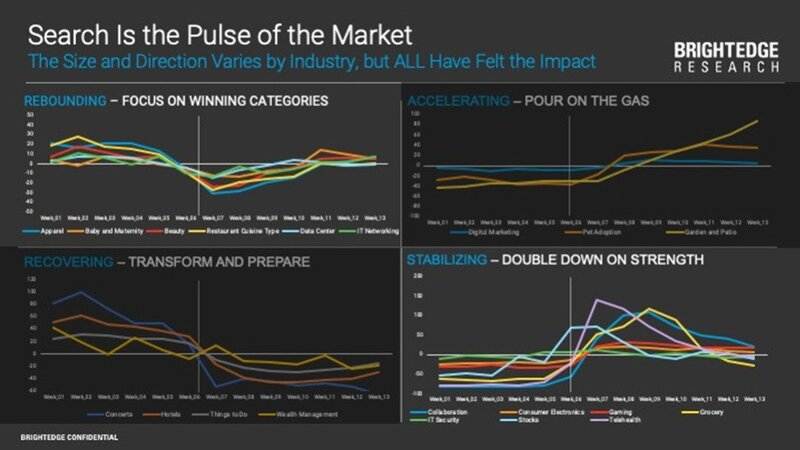 Tech companies should transform their marketing strategy to include cross-channel marketing techniques that work in today's digitized world and shift focus from traditional marketing to digital marketing. Because in-person events have been postponed or canceled, companies can move conferences and major events online. Rather than spending advertising budget traditional ads, brands can leverage digital marketing opportunities in SEO & PPC channels during this time.
BrightEdge recently coordinated our own digital marketing efforts to drive leads and opportunities for our research webinar SEO Insights, Opportunities, and Performance in an Era of Uncertainty. We brought together industry-specific research to educate our audience on how search insights have changed. We discovered just how many consumers were looking for digital education and we saw great results.
What content is resonating with consumers in the B2B tech category?
IBM discovered that video content is resonating the most with their audience. Tanu Vijayavargiya, Global Digital Analytics Lead at IBM says consumers are interested in the touch and feel of being virtually present. IBM utilized BrightEdge Instant to research what video content to create and understand new opportunities to pursue during the COVID-19 crisis.
Virtual demos, webinars, and how-to videos can all increase your organic traffic and keep consumers interested in what your business has to offer their business.
What should strategy look like for B2B tech?
As a B2B marketer, it will be instrumental to leverage a virtual strategy for events, your sales cycle and post-sales support. Vijayavargiya says B2B marketers should prepare for a true sense of digital economy– an economy based on digital technologies for economic ventures and personal interactions. Whether your organization is digitized or not will determine the overall impact COVID-19 had on your business.
B2B companies have seen very slight decreases in interest throughout the pandemic and in fact, we estimate they'll see an increase in spend in the coming weeks.
Companies, like IBM, understand that finding keyword intent and spending budget accordingly for keywords with intent is critical during this time and will likely remain critical in the coming months. As people continue to navigate through their pain points, creating content with high intent, long-tail keywords will help drive consumers to your content – especially more specific posts related to your business. Utilizing keywords through your content that will produce high intent is important to the success of your content.
In order to see success during this time, businesses should strategically leverage SEO. Consider using SEO to improve your performance for the more expensive keywords your company's vertical. As newcomers and your current competition shifts to the digital marketplace, expensive keywords will quickly clean out your PPC budget. Use this time to focus on a content strategy that attracts users and conversion rate optimization tactics to convert them.
Whether you're spending this time fixing technical errors on your site or strategizing your digital marketing approach, SEO will help drive the results you're seeking both now and in the coming months. We recommend refreshing your knowledge of SEO and the BrightEdge platform as SEO continues to be an ally. Dive into search results innovations, like Instant, that you may not have had the time for yet and develop a plan of action for your digital approach moving forward.