As businesses use their digital presence to communicate with consumers, the keyword "SEO" hit a new high in April 2020 with 1.5 million monthly searches. Brands are leveraging SEO more than ever to increase organic traffic over the last few months and for good reason.
Digital marketing became fundamental for business success as brick-and-mortar locations closed. People, especially business owners, are fearful of what the financial industry and their personal finances will become going forward. A PwC survey showed that 71% of people who responded have a concern of "financial impact, including effects on results of operations, future periods and liquidity and capital resources."
Where are people concerned when it comes to wealth management?
BrightEdge Instant shows us that "wealth advisor" and related keywords saw an increase in search volume beginning in February 2020 and continues to see a rise.

It's not surprising that people became increasingly interested in financial advice during these uncertain times. Dimensional Investing spoke with six top advisory firms about how they've been working and communicating with clients since the pandemic began. Partners from the firms have expressed constant communication, exercising empathy, and remaining calm while working with new and current clients.
Norm Mindel, Partner at Forum Financial Management, expressed that clients were considering making a mistake by going to cash and selling stocks as an immediate solution. While there is typically a small search volume for "go to cash", it did see a 320% spike in searches in March 2020.

As it is still unknown when businesses reopen and what the job market will look like following the crisis, people are looking at their financial options.
What happened to the financial industry in March 2020?
BrightEdge research discovered that from a financial standpoint, interest spiked. The impact of COVID-19 and a shutdown turned consumers attention to stocks and the impact it has on 401ks and retirement plans. March 2020 saw a stock market crash that Forbes called "the 19th worst in history" as it was down 12.5% in one day. March 2020 also saw some of the best days in stock market history. March 24 saw a 9.4% lift and was ranked 9th best in stock market history for one day. This could all be reason as to why Instant saw headlining volatility between February, March, and April.
Consider where the financial industry is headed
BrightEdge research shows that there are four stages industries are navigating through in response to the pandemic. They include rebounding, accelerating, recovering, and stabilizing. Based on our research, Wealth Management is recovering and Stocks are currently in the stabilizing stage.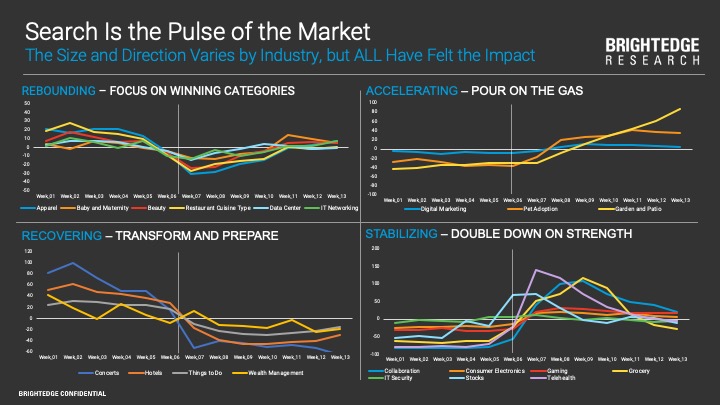 Utilize Instant as you drive organic results for finance specific keywords
In March, The keyword "stock market" saw a 231% spike in monthly search volume at over 11 million from its three million monthly searches in February.

"Stock exchange" and "stocks to buy" also saw a lifted monthly search volume in March and then an immediate decline in April. People became interested in industries that may have seen plummeting results at the start of COVID-19 but have plans to increase in the future.

For example, there was a 1,256% increase in search volume for "airline stocks" between February and March. As nearly all travel ceased in March, airline stocks took a nosedive. According to S&P Global Market Intelligence, shares of United Airlines Holdings lost 48.8% in March. Consumers know that as time goes on, travel will pick back up and airline stocks will level out. They understand that now is the time to invest.

Similarly, "zoom stocks" saw a 1,256% increase in search volume. Because of the immediate demand for virtual interactions, and in turn immediate need for video communication, people took an interest in purchasing Zoom stocks as well as Microsoft Teams stocks.

In March, companies, including Nationwide, Facebook, and Zillow all discussed either working from home through the end of the year or working from home permanently. Because of this, there is a need for cloud communication platforms that offer video collaboration to employees and business owners.
As businesses begin to open and work to find some type of financial normalcy or recovery, it is important to remember that SEO efforts can assist you in doing so. Utilizing SEO rather than PPC will benefit your business in the long run. Spending budget on keywords and advertisements for now will get you immediate results but as the world starts to perk up, SEO will prove to be more beneficial as buying behaviors normalize.

For more information on SEO in an era of uncertainty, check out our most recent research webinar, SEO Insights, Opportunities, and Performance in an Era of Uncertainty with BrightEdge, L'Oreal, and IBM experts.