The Local Three Pack
Introduced in 2014, the local three pack is a feature that occupies the top of the organic portion of the organic SERP, provides a map of the user's area, and provides address and contact information for three physical locations that might meet the needs of the user. It also provides review scores for each of the three listings. Here's what a typical local three pack looks like: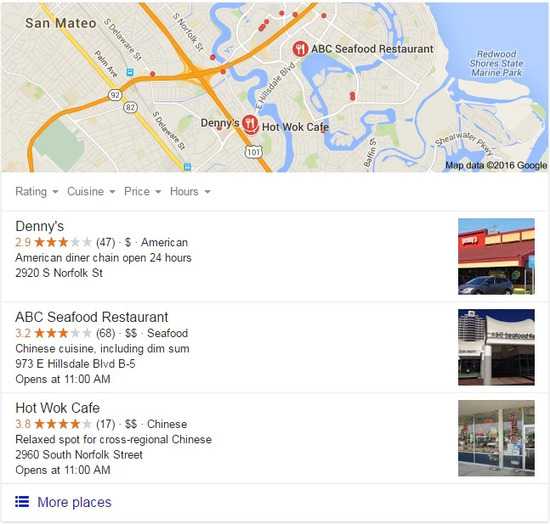 If a brand has physical locations this result drives traffic to physical locations as well as traffic to a website. If not, then keywords with this SERP feature need to be noted because significantly less traffic is going to make its way down to the traditional web listings. Now that we've covered what the local three pack is and what it is useful for let's dive into the world of micro-moments.
The "I Want To Go" Micro-Moment
Google has come on strong lately with the micro-moments concept. They believe that users have very specific motivations that brands can understand and help to answer. In response, Google is trying to provide content which is focused on providing a simple answer to the user's need. The micro-moment of interest to us is "I want to go." This moment represents a user who has intent to physically go to a location. They may be interested in a web page in order to find information about the location or to make an order prior to going there, but at the end of the day their goal is to go somewhere and do something. Since micro-moments are strongly associated with mobile search, "I want to go" is a very powerful example since a user can expect to not only look up a location to go to, but can actually be directed to that location.
Tying the Local Three Pack to "I Want To Go"
With a good understanding of the major components of the situation, let's look at the connection between the two. Google has the most sophisticated relevance engine in the world, especially since the introduction of RankBrain - the objective of which is to identify the content that will be best able to meet the quickly diversifying and evolving needs of their users. This helps them by driving additional searches and usage through their search engine. The result is profitable because it drives more market share and more ad revenue for Google. The interesting point here is that Google's algorithm is not only attempting to find the the best content for the user, it is also trying to provide content in the correct format for the user's consumption. The combination of the two factors provides the best possible experience for the user. In the case of "I want to go" micro-moments this means presenting the user with a local three pack full of relevant physical locations. This is the most efficient way to present the user with content to meet their needs. It also allows them to take action by linking directly to Google Maps for directions or turn-by-turn navigation.
Relating Back to SEO
Knowing how Google provides relevant content and appropriate types of results informs how marketers can benefit. The idea is to understand the micro-moment that you are dealing with in each situation. This will allow you to build the correct content to serve the user and be ranked by the search engine. To execute, group keywords together which have local three packs. Do so with the understanding that those keywords represent the "I want to go" micro-moment. Once that has been established then when you build or optimize content to earn traffic from a specific keyword, you will have a great indication as to what type of content to build for that keyword. Also, once you have built or optimized content for these keywords, your next objective is to get those pieces of content ranking in the local three pack.
Applying This Concept to Other Result Types
Can transfer this concept to other micro-moments. The simple answer is yes, you can. In order to do so, identify another type of content or universal category which Google has paired up with keywords representing another micro-moment. Once you have that, you can follow the same process of identifying keywords and taking the action that was outlined above.
In the long-term, this is a very strong way to organize your content creation and optimization effort, since it aligns with Google and helps to define what you need to build for any given keyword.
Scaling for Enterprise
The process of grouping, optimizing, and measuring results is fairly straightforward. The problem you may run into is trying to do this at a large scale, when the process of manually managing all of this becomes a huge hassle. BrightEdge can help with this. As the global leader in enterprise SEO, we are uniquely positioned to support you and make this process simpler and smoother. You can leverage the power of Keyword Reporting and Universal Results to identify which keywords have universal presence and where you are currently ranking. Once you have done that, you can track the impact of your optimizations on your bottom line by looking at traffic, conversions, and revenue performance using Page Reporting. Lastly, you can report on progress at scale by using StoryBuilder to create all the visualizations that you need and schedule them for delivery to your stakeholders.