Google's changes to the SERP for local-related queries impacts how brands effectively boost their visibility online with a local search strategy. We want to draw your attention to some of the recent adjustments seen in the ad portrayal on local search so you can adjust your local search strategy accordingly. Local search strategy comprises a critical segment in the marketing for many businesses. It impacts both in-person commerce and e-commerce significantly. A huge 78% percent of local-mobile searches result in offline purchases and 50% percent of mobile visitors will visit stores within one day. Given the significance of search in the success of local businesses, when Google makes changes to the SERP for local search, brands need to prepare themselves and make the appropriate adjustments to their local search strategy so they can continue to have the rankings and visibility they need to grow their business.
Google's experiments with ads in local search
Over the past few months, we have seen some experimentation from Google on the use of ads in local search. We had heard rumors that Google intended to start using ads in the local 3-pack, but we did not know exactly how the search engine planned on combining organic and paid results on the local pages. Last summer, people first spotted a local search pack that had one ad followed by 3 organic listings.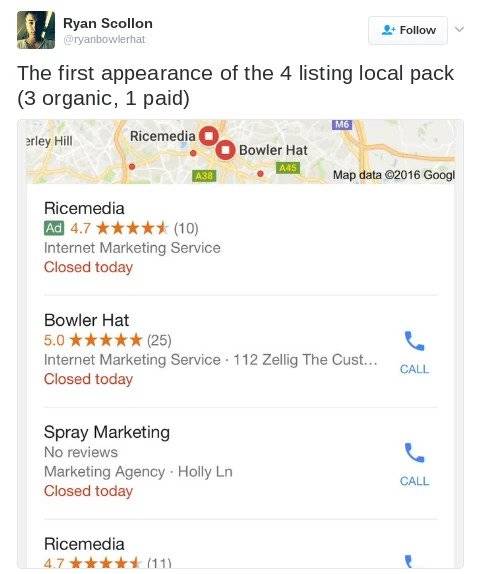 A few months later, in January, reports also emerged that Google shopping ads were appearing for purchase-related local queries on mobile.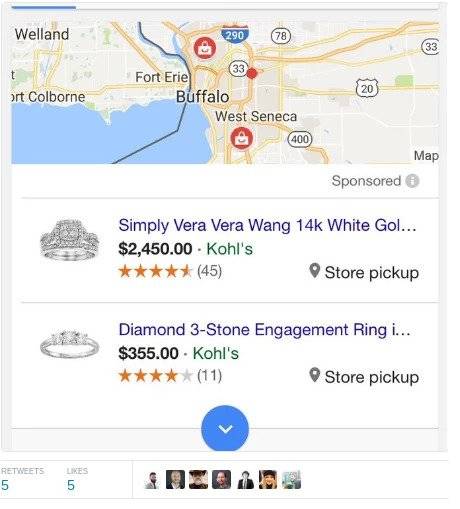 In both examples, however, these ads have not been replicated everywhere and do not seem to be widely used, yet. These changes have been significant because customers do pay attention to ads when they make local searches - 60 percent of customers say that they have used information provided in ads. The increasing prevalence of ads in local search means that many companies will need to make adjustments to their local search strategies to maximize their ability to attract customers interested in patronizing their stores.
How Google's new ads impact local search strategy
Given that such a significant portion of customers say that they pay attention to the information in ads for local search, it makes sense that this segment of optimization has been the subject of experimentation. This is all a part of Google's trend towards ad visibility. We all remember Google's changes to the SERP layout at the beginning of last year, when they increased the number of ads along the top of the results page while eliminating the ads that were once along the side. For many queries this change means that minimal organic results, and sometimes none at all, appear above the fold. Thus, brands need to pay closer attention to the intersection between PPC and SEO. Do not view hybrid marketers as a nice-to-have, but rather as an essential resource of the marketing team.
Using systems, like the BrightEdge platform, brands can quickly uncover which keywords that relate to their business have local 3-packs. They can also research the level of competition and the average search rates for these local results, empowering them to improve their targeting so they can focus their local search strategy on the terms that will provide the most return. Brands can use their PPC and SEO together to better target these important keywords. Since ads are incorporated closely into the standard local results, focusing your PPC efforts on the keywords that have high significance for your brand, but that you do not have the ranking you need, can help you gain the visibility necessary.
To maximize your opportunity, you should also pay close attention to how Google structures the local 3-pack. Google displays the information that customers want to find when they make a local query. Model your ads to include the same valuable information, such as hours, address, and phone number. This can help boost engagement with your visitors by ensuring that people have access to the information that they need and expect when they make a local search. Note also that when we first started hearing the rumors about the introduction of ads into the local SERPs, many marketers thought that we would see a 2-pack plus one ad. Although Google still seems to be in the early stages of introducing ads into local search, right now we are still seeing three organic slots open. This means that brands cannot neglect their standard local search strategy.
Brands that want to grow in local search need to focus on building their Google business page, including adding clear, appealing images, and by cultivating reviews. You also want to pay close attention to your Name, Address, and Phone Number, or NAP, as this has been shown to have a sizable impact on your rankings within Google. For more tips on optimizing for local search, visit NAP and Local. As you build your local search strategy with both organic and paid search, you want to make sure you continue to monitor your progress to make sure that you use your resources effectively. BrightEdge offers you measuring capabilities to ensure that you can look at your performance on a local level. See your rankings improve with local search optimization and monitor keywords in specific geographic areas to ensure your efforts match the needs of your local consumers.
Google continues to experiment with the SERPs to better serve the end user, and this includes their efforts to balance both paid and organic results. They have been experimenting recently with including ads in certain local searches, which is a trend that cannot be ignored by brands interested in developing a strong local search strategy. At BrightEdge, we will continue to help you remain on top of the latest developments and how you can use the platform to maximize your performance in the face of the ever-changing industry.