In just a few short years, nearly everything about marketing has evolved: the platforms, the strategies, the content, the channels, the relationships with customers, and the development of Marketing's role and SEO jobs in the buyer's journey. As the industry and SEO marketing strategies have changed, so have the jobs of the marketers themselves. Those who pay close attention to the ever-changing world of online marketing have noticed that certain positions have risen and fallen as the industry has matured. These are the trends we have seen in the marketing work as we head into mid-2016.
Across industry SEO jobs
In broad marketing jobs, such as those described with terms related to 'content strategy jobs', 'social media marketing jobs' and 'digital marketing jobs', the growth has largely been positive. Content strategy and social media marketing were both putting up very strong numbers throughout 2015. Digital marketing also put up some of the strongest number last year than it has since 2012.
All the data in this piece has been taken from Indeed.com on February 15, 2016.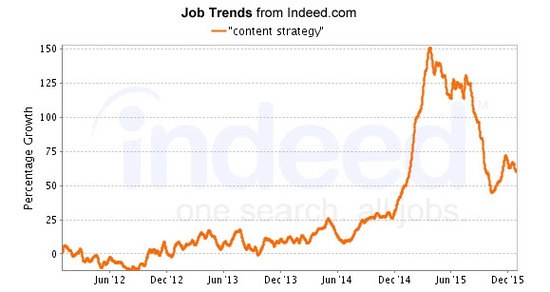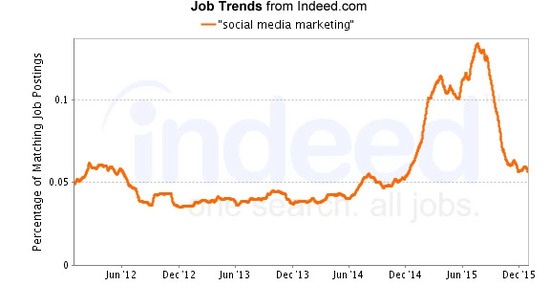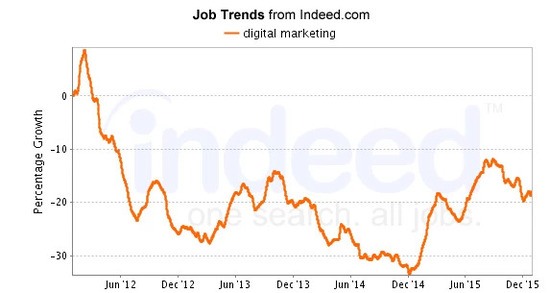 Research has uncovered the intentions of businesses in the industry; seventy percent of businesses say that they will be producing more content than they did a year ago. Within specific sectors, 90 percent of B2C marketers and 93 percent of B2B marketers say that they use content marketing. The premise of online marketing has firmly caught hold of the modern business. The reason for this popularity has been its success rates-- 72 percent of marketers believe that branded content is more effective than advertising in a magazine. This general growth of the industry has likely been an important factor in the popularity of these jobs.
Technical marketing SEO jobs
The data gleamed from Indeed.com saw tremendous growth in many of the SEO jobs related to the data collection and analysis side of online marketing. Specifically, marketing jobs related to 'Google Analytics', 'website analytics' and 'seo specialist' have seen strong growth, particularly since late 2014 and through 2015.
At BrightEdge, we have written repeatedly about the exploding importance of data-driven content and SEO jobs. The industry is producing incredible amounts of content, and for brands to remain ahead, they must find ways to remain relevant. Data is the key to understanding exactly what customers want to read and how they are responding to the material you produce. Properly using data will allow you to pinpoint your valuable content and create a more efficient and productive marketing strategy. The SEO jobs graph below shows one of the strongest positive trend lines.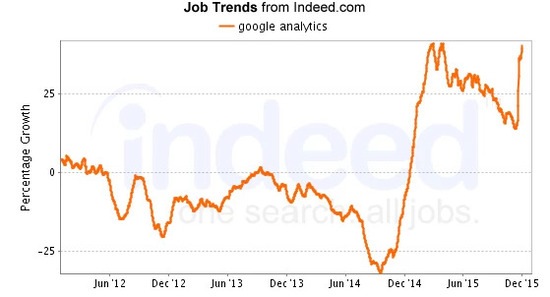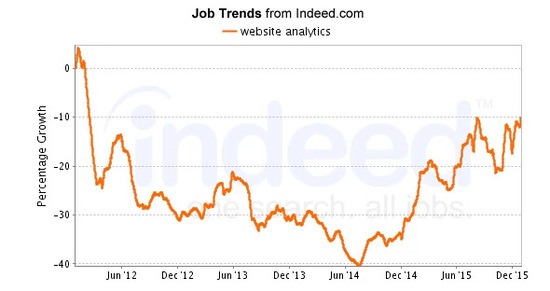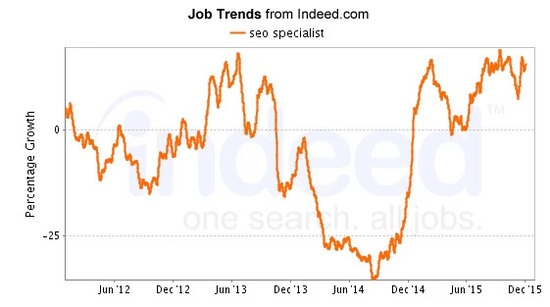 Decline in certain specialist SEO jobs
Finally, there were certain positions that we saw some decreases. We would venture to say that these fields are very specific-- they deal with very particular silos within the marketing industry.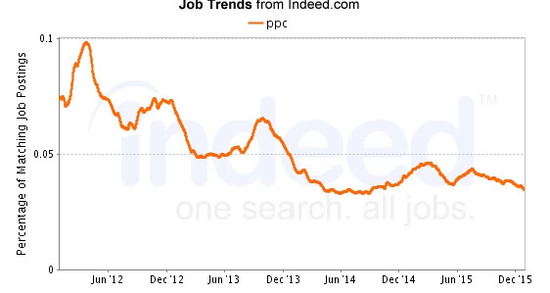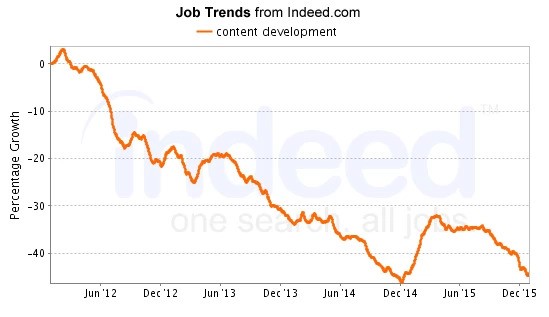 What intrigued us the most about the decline of these particular job titles, however, is that PPC and content are still integral parts of any successful online marketing strategy. Content, it could even be argued, is the cornerstone of the industry. PPC ads are still an important part of online marketing as they exist across nearly every platform and can still do a good job of enticing clicks and spreading the brand.
So why then, would the SEO jobs be declining?
The answer to this lies in a recent industry growth that we believe is just beginning-- the hybrid marketer. In the years to come, this idea of marketing professionals who are not relegated to a single area of online marketing will only become more essential and will likely impact all areas of the industry.
The birth of the hybrid marketing jobs versus SEO jobs
The hybrid marketer has been born out of efficiency and necessity. When online marketing first began, it was heavily segmented, just like traditional forms of marketing. Now, however, brands are realizing that all of these different silos need to be able to work together.
Content production must work hand-in-hand with those designing PPC ads to ensure that the content aligns with the targeted audience. Similarly, content producers need to be able to work with social media experts to make sure that the material meets the needs of the audience on these platforms. Your email marketers must work with your social media strategists to share videos or other interactive content.
Closing the gaps within your organization and filling your positions can be an effective way to meet this modern need, but this can be a challenge. A recent survey found that 30 percent of respondents said that finding candidates with the right qualifications to be a nightmare. Fortunately, there are a few things you can do to help your current employees build their cross-silo skills.
Offer training sessions both at your organization or provide employees with reimbursement for attending outside classes on the subject.
Encourage collaboration and develop projects that call upon the abilities of those from different departments.
Bring leaders from the different departments together and encourage them to work together to develop common agreements about language and strategies to help everyone see eye-to-eye.
Marketing professionals themselves, however, should be focusing on developing their professional skills to fill these open positions. Online courses, reading about specific areas of marketing and self-training opportunities will all help you boost your resume to better fit the needs of brands in need of hybrid marketers. Read our post on the best B2B marketing books to learn more about the B2B functions and systems.
The online marketing industry continues to change at lightning speed, and these changes are reflected in the marketing jobs and SEO jobs offered. Looking at the titles and the responsibilities can help us better understand the trends occurring and how they will impact the field in the coming months and years.
Whatever field you are in now, continue to invest in your professional development by securing industry certifications, like the BrightEdge SEO Certification. It will help hone your SEO strategy and execution skills and differentiate you from other candidates. Consider taking BrightEdge Digital Marketing Quiz and SEO Quiz to test your knowledge of online marketing concepts.
Increase your chances of landing a job
Read "A New Era of Content" - the latest e-book on digital marketing success that can help you land marketing or SEO jobs. Impress everyone in the interview mentioning 4 unique tactics from the e-book on how to create content that performs and drives better results online.
The white paper is based on the industry research by BrightEdge and iProspect and features the latest content and online marketing best practices.