One of the biggest changes to hit the SERPs in years rolled out this week: Google has eliminated the paid search ads on the right rail and added additional paid ads above and below the organic results.
SERPs Survey
BrightEdge performed an initial survey on the topic. Reviewing 12 industries with one query per industry, we found the following:
12 of 12 did not display ads on the right rail
11 of 12 displayed ads at the top above the organic results
10 of 12 displayed a local 3-pack, a local trend which appears to be increasing
10 of 12 displayed zero classic organic results above the fold
9 of 12 displayed news items with images mixed into the classic results
8 of 12 displayed ads below the classic results
The average number of top ads per SERP was 3
The average number of bottom ads per SERP was 1.7
The average number of classic organic links on page 1 was 8.9
So clearly the change is comprehensive and impacting most or all SERPs. Google has expanded the vertical real estate given to paid search results and is usually expanding universal results in ways that give it more influence over what is shown on the page. Other BrightEdge SERPs analysis has shown that optimizing for local and securing the additional universal search exposure of Local and Places gives brands up to a 21% improvement in traffic. Universal results have the effect of concentrating clicks at the expense of classic organic links.
SERPs - New Look
Below is a visual of the typical new SERPs layout. You need to go a long way down this insurance SERPs to get to the first organic listing.
SERPs Change - Paid Search Traffic
What does this SERPs layout mean for paid search traffic generation? It seems safe to assume that in terms of click distribution that it is neutral or better for paid search traffic. It is unknown if position 3 above the results costs more or less per click than position 3 on the rail did, but the reduced supply in above-the-fold paid search ads suggests more competition and upward pressure on price.
SERPs Change - Organic Search Traffic
What does this mean for organic search and content practitioners? With ads, universal results, and images taking up more vertical real estate, especially above the fold, the top 9 organic results become even more precious than before the change. In other words, being on the first page of the SERPs is in most cases more difficult than before the change. Winning in this context continues to mean having highly focused, relevant, original content with well-organized on-page SEO and backlinks from other web sites.
SERPs Change - To-do on the Platform
BrightEdge customers should create an Event in their account for this week as a reminder of when the change in SERPs (paid search) happened, so they can better interpret the impact on their organic results. BrightEdge is the only technology that shows marketers accurate universal listings to effectively track multi-media and universal optimization strategies. Track actual placement among all types of search results - local 3-pack, quick answers, images, video, shopping, places, and site links. Switch data and reports between blended and classic rank results to gain more visibility and insight. You can also see how your content is performing across device types, like mobile, and in different regions within the same country. The image below from BrightEdge StoryBuilder shows Classic Rank in blue and significantly different rank for Blended or Universal results, which include quick answers, images, videos, and shopping,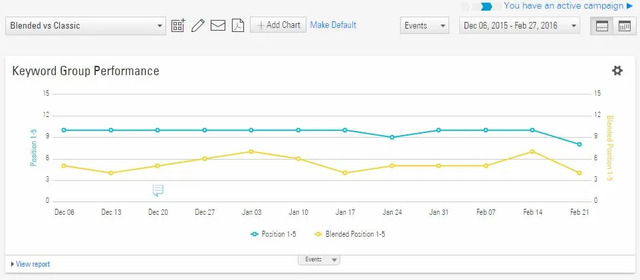 BrightEdge Recommendations provides content-based on-page recommendations which enable users to create high-quality, relevant content that guide multiple target keywords to an individual page.
BrightEdge Anomaly Detection enables you to build custom rules around virtually any data point which trigger alerts to specific users when critical changes, like this one, occur and change your rank and performance.
Using the BrightEdge platform means access to insight and more capability to respond to our always-changing industry environment. Contact your customer success manager to review your strategy and response plan or contact us to learn how to start using BrightEdge today.
Learn more about SERPs and universal SERP elements in this post.