Dear BrightEdge Customer,
As a savvy digital marketer, you are probably figuring out ways to address the recent Google announcement on making all searches secure, as part of the Hummingbird update. I wanted to take a minute to discuss this change, explain how BrightEdge customers are already set up to make the most of this change and give you an overview of the BrightEdge Secure Search Release that allows you to respond even more effectively to secure search.
Starting in October of 2011, Google began making secure search the default for authenticated users. This shift signaled to the market that the existing model of keyword-centric SEO, a holdover from PPC bidding, was undergoing major change. This week, Google has made secure search the universal default, meaning that 100% of searches are now secure and site analytics will no longer be able to provide user search query data to correlate keywords with site visits and conversions.
You are already set up for success
The secure search update in Google Hummingbird is a huge opportunity for marketers to focus on a content-based approach to organic search and manage performance at the page level. BrightEdge customers are uniquely positioned to make the most of this opportunity. In the words of Lowell Orelup, VP, Marketing at LendingTree:
"While our competition may see "the end of SEO" as a result of Google's recent Secure Search changes, we at LendingTree believe that this gives us a competitive advantage. For months, as Google has been stripping out more and more keywords, BrightEdge has helped us move our focus to a content-based approach, placing us ahead of the curve. And BrightEdge's latest announcement offers a clear path to proactively manage SEO at the level of revenue, conversions and traffic."
Existing BrightEdge innovations already enable page and content centric SEO
At BrightEdge, our top value is customer success, and we innovate to keep customers ahead of the changes in search and digital marketing. We saw the move towards 100% secure search coming and we have been investing in our platform to address this. Our platform is already infused with page and content-centric SEO analytics and recommendations that help you win in a secure search world. These innovations include Share of Voice, Page Manager, Site Audit, Total SEO and Content Optimizer.
BrightEdge secure search release sets you on a path to even greater success
Building upon these features to take you to a more content and page centric approach to search, we recently announced Page Reporting, a new technology that helps brands understand the true value of pages provided by organic search traffic, at Share13. For the first time, brands are able to understand their SEO performance across revenue, visits, and conversions at a page level. Performance can be rolled up into Page Categories/Business Units (i.e. Men's Apparel, Women's Apparel, Baby Apparel, etc.) as well as at a total site level. We are pleased to announce the Limited Release of this innovation and this will soon be available to all of our customers. Please feel free to browse Page Reporting to understand how it helps you address the challenges and opportunities of Secure Search.
Deeper integration with Google Webmaster tools will smooth the transition
The BrightEdge team is hard at work on deeper integration with Google Webmaster Tools, and further enhancements to help brands make the transition from legacy keyword-centric SEO to content-centric SEO.
Rest assured, we are on top of trends
I also want to emphasize that our innovations around secure search are guided by our investments in research and thought leadership so that we catch trends earlier than anyone else in our industry. Last month at Share13, we discussed a new research report showing the impact of secure search across our 8,400 brand customers. You can download the report here: http://goo.gl/Ib9OCP. We actively track the changes in marketing and are the first to address new trends.
Six ways to solve secure search within BrightEdge
How can you address these transformation in search? First, don't panic! As a BrightEdge customer you have access to data and insight to help you make the transition to content-centric SEO right now. You have the product functionality, the people power to guide you through this change as well as our assurance that we will continue to keep you ahead of changes!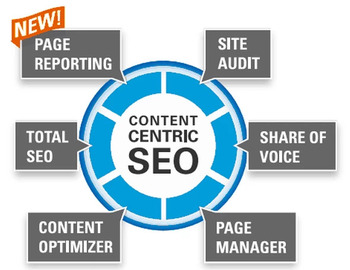 1. Adopt a page-centric approach to search with page manager
We recommend that customers log in and make use of Page Manager to understand the content-centric recommendations that are available today. Page Manager was designed specifically to help our customers transition from a keyword dependent SEO model to a page-centric model. All of our customers can make use of Page Manager today to see the performance of their site and access recommendations for their pages (as opposed to keywords).
2. Uncover competitive performance with share of voice and custom click curves
Building from there, you may use our patented Share of Voice capability in concert with Custom Click Curves to gain a true understanding of how your content performs across all device types vs your competition. Feel free to review the ShowMe videos on the page for each feature to get a guided tour. What are BrightEdge's Custom Click Curves? This capability allows you to apply a custom Click Curve for your business that estimates the actual search traffic based on historical or projected trends. This is a feature that was delivered back in 2011 to help brands create an accurate model of the traffic being driven by search keywords. For more information on this feature, please contact your dedicated customer success manager via support@brightedge.com.
3. Optimize your contnet from day one with content optimizer
Content is front and center of marketing. To make your content perform better from the time it is published, use Content Optimizer to integrate SEO best practices with the content authoring process. With Content Optimizer, authors gain access to SEO recommendations right within their CMS so that content is high-converting the moment it goes live!
4. Align your site with content best practices at scale with site audit
One of the most powerful set of features in BrightEdge, Site Audit helps you automatically assess your entire site for best practices and search engine quality guidelines, identifying issues across different page types, and of course, telling you how to fix them. As you pursue a content and page centric approach to search, use Site Audit to grasp how your pages are setup for conversions, across devices.
5. Gain an understanding of your total SEO performance
The transition to content centric SEO means that it is more essential than ever to gain a 360 degree view of your content performance across conversion metrics, geographies, local cities and devices. Total SEO gives you this understanding and look beyond keyword rank so that you know how your content impacts your business.
6. Contact us for page reporting
If you would like to deploy Page Reporting, which provides revenue reporting for pages independent of keyword data, please be sure to contact your customer success manager to let them know. We are actively tracking customer interest and working to help as many customers as possible with this transition. If you have an urgent need to understand your page specific revenue data today, BrightEdge Professional Services can help. Please email ps@brightedge.com for more information.
We are focused as ever on making you successful
Now that Secure Search is here to stay, we hope that you will find the innovations that BrightEdge has delivered more helpful than ever. Even in the face of massive changes like Secure Search, with accurate and scaled rank data, page-centric data and features, custom click curves and powerful content marketing capabilities, you can continue to manage your organic search channel successfully at scale. With a customer base of 8400+ brands, we have a strong pulse on what matters in marketing and you have my promise that we will continue to deliver ground-breaking innovations that will fuel your success!