Update: This blog has been updated with 2020 data and information.
The buyer's journey used to be a simple circular route from Awareness to Consideration to Purchase and (hopefully) back around again. Digital has transformed the buyer's journey into a complex maze of multiple touchpoints and increased the potential for crossed wires.
With 4.57 billion people using the internet in July 2020 alone, the buyer's journey now begins and, for many industries, ends in the digital landscape. 87% of consumers begin their journey digitally. This is a huge percentage jump since 71% in 2018. By focusing your attention on how your brand appears in search results, you can reduce the overwhelming nature of the modern buyer's journey, and make sure you are targeting the right content to the right audience at each moment in their journey to minimize poor bounce rates.
Naturally, you're going to want your content to rank above competitors. If prospects have discovered pain points and begin searching for solutions to them, this is your opportunity - right at the initial stages - to grab your prospects attention. If your content isn't optimized to rank well, prospects are finding your competitors resources at the beginning stages of their journey and therefore not finding yours.
What buyers discover in searches along their journey
A simple Google search has become complicated. Buyers no longer get the same results with the same search terms. Instead, each individual's buyer's journey is personalized based on the type of intent, device, location, time of day and any other past search history.
The layout of the search engine results page (SERP) is also up for grabs. There are now 50 different SERP elements and an infinite number of combinations where Google is understanding the intent of each search to present the most relevant and helpful information during the buyer's journey.
For example, if the user asks a question during a micro-moment search, Google might prioritize a Quick Answer, the highlighted section that appears at the top of the SERP whenever a user asks an information seeking question, like "How to…" or "What is…". Or when a location seems like the most appropriate result, the buyer will see a Local 3-Pack view showing nearby businesses who offer what they're looking for.
The four micro-moments of the customer journey
Micro-moments are when users leverage their devices to search for solutions with the intent to do something whether they're looking to do something, see something, buy something and more. You'll need to know the different moments as they're a crucial part of the customer journey and aid you in being there for prospects during these moments when they're looking to reach you via content. The four micro-moments include the following:
I want to know. During this type of search, users will search for a topic without a specific business in mind. Simply put, users are looking for their questions to be answered at this stage.
I want to go. Here, users are looking to go somewhere. This can include a vacation destination, a local business or any other physical place a user is looking to go to.
I want to do. At this stage, users are looking to learn to do something. During COVID-19, search engines saw a huge jump in searches for baking bread and at-home workouts. These are two examples that fall under "I want to do" moments.
I want to buy. At this moment, users are looking to purchase. Queries including "near me" or an actual product like "65" smart TV" indicate users are looking to solve their pain point with a purchase.
Buyers are expecting the straight-forward answers they're looking for
All of this has transformed the buyer. They now expect to see only the most relevant search results linking to dynamic content that reflects where they are in their journey. If your brand is still reciting the same stock answers, you're missing out, especially as millennials – now "the world's most powerful consumers" – are more loyal to brands that provide a personalized approach.
When the majority of every buyer's journey starts with search, you need to ensure buyers see signs for your brand on that first results page. Here are three ways to ensure you earn their attention.
Know the queries users are searching for
New York sports center Aviator Sports created a new webpage to promote its figure skating rink and classes. When it didn't generate the anticipated traffic, the company used BrightEdge's deep learning SEO technology to analyze the relevant keyword landscape. This revealed that while "figure skating" is the widely-accepted term in the sports world, regular people typically search for "ice skating." By optimizing this term on their webpage, Aviator boosted its potential search volume by more than five times.
Don't assume that buyers use the same language as you. It's critical to establish which relevant terms people actually search for the most. You should also explore which terms your competitors are ranking for and find out if there are any important categories where your brand does not rank.
Using Instant, you can easily discover real-time insights into the relevant queries users are searching for. You can also use Data Cube to locate the terms where your brand ranks and what language is used. You can also quickly compare your domain to any competitor to see what terms they rank for in the first page of search results that you are not.
Not only will you need to know which keywords you're ranking for, not ranking for, and which your competitors are ranking for, but you'll also want to find the searches that are most relevant to your prospects when solving their pain points. You can do a search for the queries you want to appear for. Look at what Quick Answers and People Also Ask results appear and ask yourself if your content is answering those questions consumers are looking for.
Demo Instant For Real-Time Search Results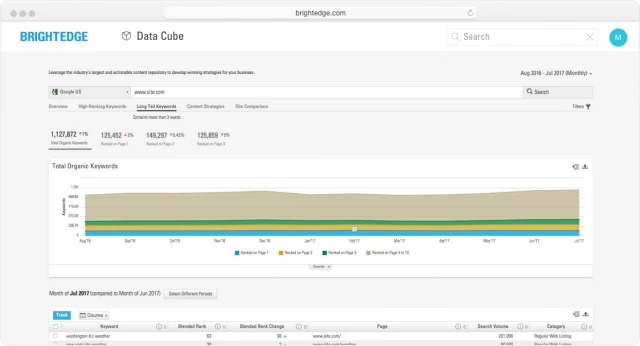 Create unique content for different search types
When cosmetics brand Kiehl's noticed that lots of people were searching for advice on using skincare products, it produced content to specifically answer the most common questions. As a result, the brand saw a 30% increase in its Quick Answer ranking. Are your prospects downloading resources from your site? Are they checking out blog content or watching videos? Discover the content your prospects are looking at on your site and create more of it for every step in their buyer's journey to help them move along.
Words used in a search are often an indicator of where a buyer is on their journey and you need to create relevant content for each type:
"How"/"What" – The buyer starts their journey by searching for information about a category. This is your opportunity to become a Quick Answer and produce interesting category content.
"Reviews"/"Best" – The buyer is interested and now considering their options. Help them by creating brand comparison content and promoting your good reviews and case studies.
"Buy"/"Order"/"Download"/brand term – The buyer is ready to make a purchase. Close the deal by showing them product pages and ensuring your brand features on Google Images and in the Local 3-Pack.
Using BrightEdge Keyword Reporting, you can easily organize and strategize on all of the terms where your brand is ranking on informational, consideration, or purchase terms. Keyword Reporting will also help you identify which terms have universal rankings, such as a Local 3-pack or Quick Answer, to help you optimize your pages for the right intent to secure those prized search spots.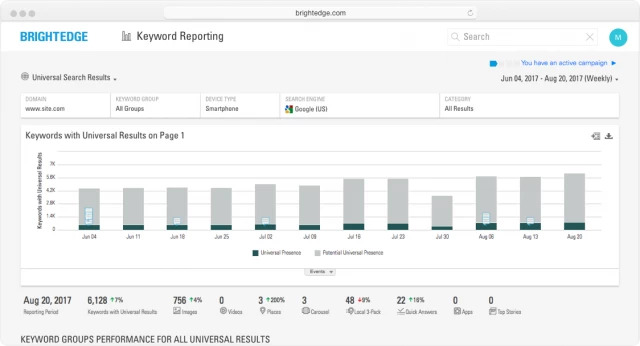 Optimize your content to rank for different search types
Digital Media Publisher targeting athletes Stack.com discovered 120 keywords initially and narrowed down their target list to focus only on terms with the highest organic potential. The brand then created targeted content for this subset, which increased site visits by 61%.
Once you understand the intent of each targeted keyword, you can maximize your organic effort by grouping keywords into three categories:
Defend – terms whose high ranking you need to maintain
Optimize – terms where you can achieve a higher ranking with some minor tweaks
Create – terms you are not ranking for and need to boost with new content
Leveraging BrightEdge's Visual Parser, the Intent Signal dashboard template will automatically do this analysis and categorization for you. Or consult Insights, which automatically scans your site for pages with errors that affect ranking or those where additional content like an image or Quick Answer might boost results.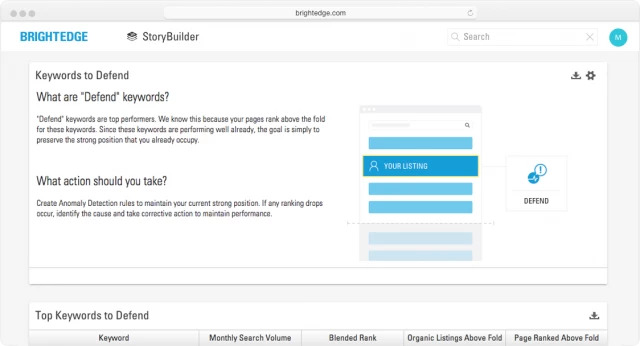 Adjust your strategy if your content isn't resonating with buyers
In order to understand whether your content is resonating with prospects, you'll want to measure and track your data. You can use Data Cube and Page Reporting to understand how your pages are ranking and for which keywords they appear in the SERPs. BrightEdge integrates with Google Analytics, therefore you can uncover all the necessary data to alter your strategy or keep it the same.
By keeping track of conversions, you'll be able to uncover whether or not your pages are working for users. If you notice a page isn't converting well, investigate the content and decide next steps. Why aren't prospects converting? If there isn't a CTA, add one and track whether or not conversions increase. If your page offers a CTA but it's not converting well, consider your options whether repositioning the CTA, choosing a more relevant one, etc.
Keep pace with technology
The world's leading search engine never sits still, therefore the buyer's journey will continue to change. Using a leading industry technology like BrightEdge will give you the ability to automate these processes and it is how the best SEO marketers keep pace for SEO reports. With all the tools you need to stay on the same path as your buyers, BrightEdge will keep you two steps ahead.