Case studies from the BrightEdge community
BrightEdge makes it easy for brands across all sectors to grow with their SEO initiatives. SEO plays a critical role throughout the buyer's journey, helping brands increase their visibility for potential customers and achieve SEO success. Quality SEO will help brands have a strong presence on the SERPs, casting them as industry leaders and insightful experts.
The top-of-the-funnel stage tends to receive the most attention from companies considering how to improve their SEO effort, but the strategy also offers considerable power for the rest of the customer journey as well. Customers use search throughout their buying process.
During the early stages, they tend to seek out educational content as they read a variety of articles and consume different types of content, trying to determine how they want to solve their pain points.
As they move forward with their top company possibilities, however, they still perform searches. These prospective customers want to compare the brands to others and look at the results other customers have seen during the middle stages of the funnel. As they prepare to buy, they will look for deals and promotions that help them get the best possible value and ensure that they receive the most value for their purchase.
The power that the Brightedge platform offers works for organizations of all sizes, therefore, can have a tremendous impact on SEO success, the funnel of clients, and their ability to bring in new customers.
We have selected three BrightEdge customers from different sectors who have successfully employed the platform and thus seen tremendous SEO success..
Kiddie Academy offers educational childcare. They wanted to focus on local SEO, to reach new customers, and broader SEO that would help them connect with potential franchise owners.
Based out of Atlanta, Thrive wanted to increase their visibility to new buyers. Their paired with AIS Media to create an SEO campaign that would help them meet aggressive business goals.
Philips Hue is a smart lighting brand that works to provide customers with the best lighting experience possible. They wanted to launch a blog as a pilot in the UK and then expand.
Strategies to nurture their SEO throughout the sales funnel
As these companies set about improving their SEO strategies, they had several commonalities, despite their diverse industries.
Each of them looked at gaps in their sites. To ramp up an SEO initiative, brands have to understand where the gaps in their current content creation process lie. This allows them to start to identify where they need to create content and how they can ensure that the content they produce encourages people to move down the sales funnel.
They used BrightEdge to find keywords that aligned with the customer experience they wanted to create. Keywords do not only matter at the top of the funnel. Knowing the terms people search for in the middle and bottom stages of the customer journey make it easier to create content that can bring people through all the stages of the journey towards conversion.
They understood the importance of using SEO throughout the entire funnel. They did not only look at the top of the funnel, but instead used their early stage content as a part of a larger strategy that helped them convert that traffic into customers.
As these three organizations set out to improve their SEO campaigns, they worked with the BrightEdge platform and team to experience some incredible results. Here are a few of the strategies and platform features that these brands use to drive their SEO success.
BrightEdge features to build an SEO success strategy
Recommendations
The recommendation feature of the platform allows site owners to easily see what parts of their pages need improvements. Rather than going through page by page, they can prioritize which changes will give them the best results. This allows them to see the most progress while optimizing their time investment.
AIS used the recommendation engine, along with preferred landing pages, to create content that was segmented to the needs of the audience. The recommendations helped them better optimize their pages to attract users at each stage of the buyer's journey.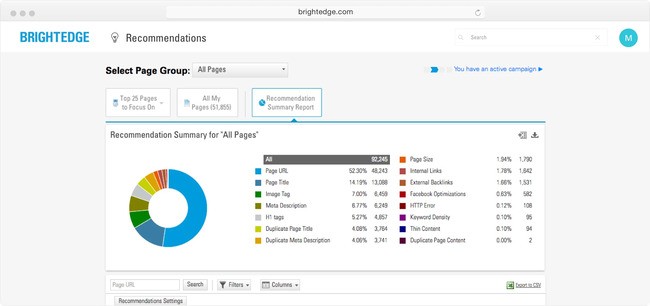 Data Cube
The Data Cube is the powerful BrightEdge feature that makes it easy to perform a variety of types of content research. For SEO purposes, it allows customers to identify keywords and easily understand their search value. With data such as the search volume, the level of competition for the keyword, and even if they keyword produces alternative types of results on the SERP-- such as videos, Quick Answers, or images-- customers can use this information to build a full strategy.
Philips Hue used the Data Cube to find keywords that they could use to create clusters of non-branded keywords. This allowed them to start to expand their blog by creating helpful content that could begin to earn them rankings. They were also able to find keywords that offered great potential for building a strong blog by finding the terms that had high search volume but low competition. This got their blog off to a running start.
AIS also used Data Cube to nurture their SEO success. Thy uncovered keyword opportunities that aligned well with aggressive business goals Thrive had put forth. Specifically, the brand was able to find the critical keywords that played important roles in customer decision making. They were thus able to map content that nurtured growth and kept customers moving through the buying process.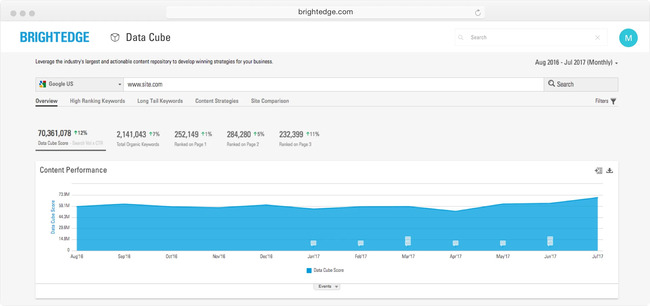 Customer Service Team
In addition to the incredible features on the Brightedge platform itself, the importance of the customer service team can also not be underestimated. The BrightEdge support team can use their knowledge of SEO as well as the platform to help customers achieve their maximum possible SEO success.
With the client Kiddie Academy, the BrightEdge team worked with their internal marketing professionals to find opportunities where they could win Quick Answer placements. The strategy worked successfully, which helped Kiddie Academy to dramatically increase their real estate on the SERP, and thus their brand recognition and the number of clicks they received to their site.
The BrightEdge team also worked with Kiddie Academy to identify gaps within the site. Working together to repair these gaps made it easier for the site to nurture customers and drive more business to the client.
Philips Hue also turned to the customer success team to maximize their results. The team worked with Philips Hue to identify important keyword clusters and potential terms that they could go after on their blog to increase their SEO success. This guidance helped them grow their blog quickly.
Results
All three groups saw dramatic increase in their SEO rankings by using these important features. Kiddie Academy saw a 249% increase in their high-ranking keywords in position 5 or better along with a 41 percent increase in organic conversions. Philips Hue was able to increase the readership by 10,000 additional visits per month and enabled them to roll their blog out to other important markets. AIS and Thrive achieved an 87.8 percent increase in page 1 rankings, increasing their market share. Their increase in organic leads led to major client deals.
Understanding the importance of SEO throughout the sales funnel can empower brands to get the most out of the BrightEdge platform and see strong results that will help them drive their brand. Come and explore our case studies for these three clients to learn more about their SEO success and how they reached the results they achieved.