Something really strange happened to me in March - something that never happened before. I visibly lost rank on some high-volume pages due to an identified algorithm change.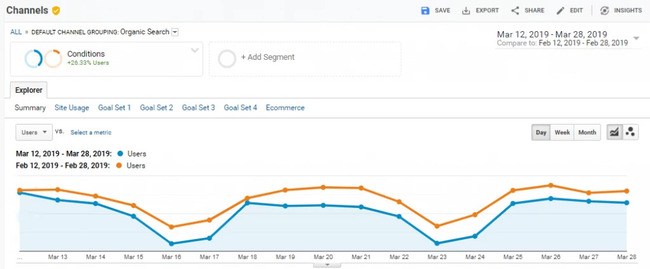 As a white-hat practitioner working on a brand property, I usually benefited from the prior algo changes that were released to thwart black hats and affiliates. The SERPs got cleaner and more directly relevant to the search intent. And that was good for users and for me.
I am the head of SEO in an SEO technology company, so continually growing SEO takes on added responsibility in addition to that faced by the community. My SEO traffic was up 80% year-on-year in February, and all was good. Exec updates were fun as SEO grew in absolute and relative terms. But then in mid-March it was down 20% week-on-week.
It is interesting to experience this first-hand, and the upside is that it helps me understand what others in the community might experience at these times, so I decided to publish a blog to help guide people through it.
So how should you respond when you see unexplained dips?
Don't react for 24 hours to see if the analytics data was incomplete.
Check and see if any changes were made to the site that might have blocked the spider's crawl or a mistake in robots.txt.
Look at the calendar and decide if there was a vacation that took people away from their computers.
In analytics, compare the effected period with the prior period and the year-prior period. If all channels are down this year and last it is a seasonal effect.
Check Google Search Console for notices, alerts, and errors. Then explore what happened with Impressions, Clicks, and CTR.
Check the channel mix proportions and see if another channel, like Direct, grew by the amount that Organic dropped. This could indicate a tracking or cookie problem.
Review Google Webmaster Blog and social media to see if there is discussion of an algo change.
You can post a question to the BE Certified Linked In group and see if others have seen a similar issue.
Determine if downstream results are also suffering or not. Often traffic from lower rank positions engages and converts better. If you see traffic down and leads holding steady, it suggests that Google has done a better job of understanding and mapping search intent to content. In my case organic traffic was down, bounce rate was down (which is good), time on site was up, conversion was up, and interestingly total conversions from Organic were up month-on-month.
Sometimes Google rotates new content into top positions to balance the self-fulfilling nature of high rank and traffic. It gives it more data to assess the desirability of the content.
Keep in mind: Organic is still the largest channel at 48% on average and much higher for B2B companies, Organic is a long-term play, so think in terms of months and quarters, Organic traffic has no media cost, so the ROI is usually the highest of any channel.
Now you have information and data that will help contextualize and explain the impact of the change. Showing that you have a good handle on the situation, even if you do not have an immediate fix, will go a long way to calming nervous executives.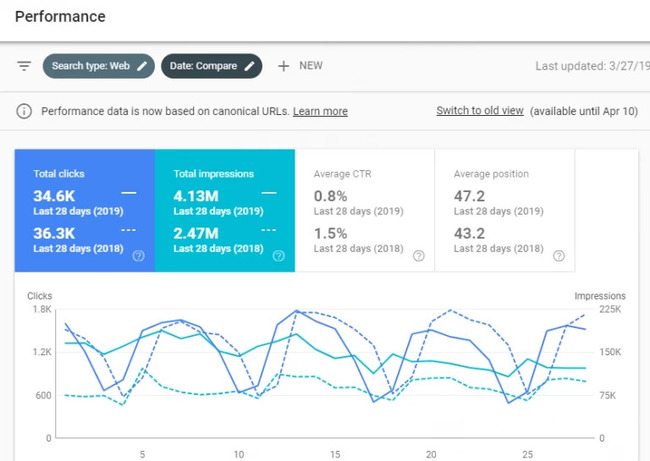 Google has filed for patents defining its use of neural matching, a component of its intent matching, but different from RankBrain. Neural matching uses synonyms to interpret search intent and select content for the SERPs. Barry Schwartz reported that Danny Sullivan of Google said that neural matching is in use in 30% of queries. Schwartz explained that "RankBrain helps Google better relate pages to concepts. Neural matching helps Google better relate words to searches." Glenn Gabe reported that Google clarified that the March 12 update was not related to neural matching enhancements.
So if your traffic drop was due to an algo change what can you do?
In the narrow sense and short term, not much. That is why BrightEdge does not closely track or analyze algo changes. They happen every day and Google's guidance and BrightEdge best practices are consistent:
Focus on high-quality content
Be authoritative, deep, and relevant, target over 1000 words per piece and preferably over 2000 words
Be original, fresh, accurate, and current
Be well liked and linked to internally, externally, and socially
Provide excellent customer experience and site performance
Consider using schema markup, which Google has been promoting since 2011 and people are starting to report positive rank and traffic impact from schema
This 6-point list will likely expose some areas in the content that has dropped that could use attention. If you apply these guidelines to existing content, you will, at a minimum, make content that is better for the users and voice devices and probably will improve in SEO performance as well.
Applying this thinking to my current rank-drop content, I noticed that the publish date of my piece was older than the publish date of the content that ranked above it. Further my title tag had a 2018 in it. Both of these violate #3. I updated the title tag, content, and publish date and I moved up 3 positions. It is a bit ironic that I published a blog on publish date and freshness around the time this happened.
The particular pieces were topical extensions from my core topics and themes, so there is less depth on these topics in the domain. That violates #2. This will require deeper content clusters and may take time. See also if you are interested our 3-part deeper dive on clustering as latent semantic indexing.
I have not promoted the pieces that dropped socially in a while, #4, so I will take that step also.
See, so Google's guidance is constant, but its algo tweaks are its effort to align further with that guidance. If you fail to keep these guidelines in mind and in execution, you could be at risk of losing rank as Google uses RankBrain AI and figures out ways to better align with what it suggested all along.