Our latest research at BrightEdge indicates that for those in higher education, 61% of their site traffic comes from organic search. The research from our individual partners aligns well with these numbers, as UC Davis told us that 56% of their traffic arrives from organic search, and Education Management II reported 50%.
The importance of a strong online presence for higher education SEO can also be seen within the target audience. In 2018, an estimated 12.3 million college and university students will be under the age of 25. This young demographic profile means that a large percentage of the intended audience has grown up with technology. This explains why three quarters of high school juniors and seniors report that college websites influence how they see institutions. Prospective students expect colleges and universities to meet and engage with them online.
To build a strong online presence, educational organizations can use a variety of BrightEdge platform functions to improve their optimization and content production. Here is what you need to know about higher education SEO and the BrightEdge platform.
The importance of site optimization for higher education SEO
Recall the statistics on the importance of higher education SEO for colleges and universities. BrightEdge partner Education Management II reports that not only does organic search drive half of its traffic, but it is also responsible for 40% of their site conversions.
"SEO is a key piece of our digital marketing strategies as Organic Search comprises almost 50% of our site traffic and 40% of site conversion volume." - Tim Kane, Education Management II
Those in higher education need to optimize content for organic search to ensure that their material can be easily found on the SERP. Higher education SEO in the current age requires brands to carefully plan their strategies around audience interests and technical site requirements.
On the BrightEdge platform, higher education SEO clients have access to the powerful Data Cube technology. The Data Cube can be used for keyword research. At UC Davis, our partners report using this feature to develop their strategies and to find new opportunities.
"I spend about 90 percent of my time on Data Cube, it was basically the main reason we bought BrightEdge. It is very helpful. We use it in our strategies and to find opportunities. It is critical in our content work and in competitive analysis." - Adam Napolitan, UC Davis
They have been working on projects related to topics such as "health." To successfully reach their higher education SEO goals in these areas, they will need research related to keywords in these areas that also apply to their university.
On the Data Cube, you can investigate different keywords and see the types of content that appear on the SERP. For example, higher education organizations will find that there are an estimated 3,000 keywords that appear related to "college diploma." They can then use this insight to find the keywords that appeal most to their audience and develop a content strategy based upon user intent.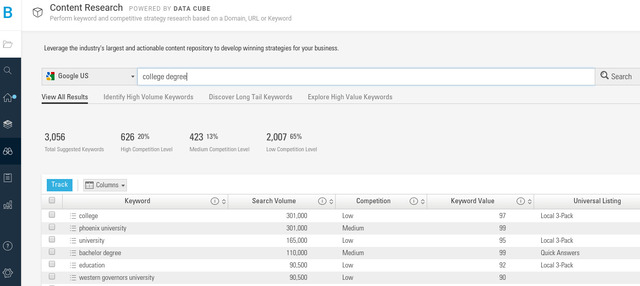 To further optimize their content, higher education organizations can also employ ContentIQ. As UC Davis said, this feature can be very valuable in the technical areas of SEO. By helping companies pinpoint essential higher education SEO aspects such as h1 tags and page load speed, they will make it easier for Google algorithms to understand their content and see its value.
Similarly, the Recommendations feature will help organizations uncover potential problems on their site and organize them according to importance. This technical SEO helps them remain on par with what incoming students will expect from their institutions of choice.
Watching the competition
As of 2012, 3,026 four-year schools and 1,700 two-year schools competed for the attention and enrollment of students interested in higher education. This intense competition means that for these schools to build a strong digital presence, they must also keep a careful eye on higher education SEO.
The Data Cube also plays a helpful role in this part of the digital strategy. Data Cube will show schools the keywords that their competitors rank for but they do not, thus empowering them to develop content that will fill these gaps. They will gain a more complete picture of how the other schools perform and what they need to do to maintain-- and increase-- their standings online.
The BrightEdge platform also contains Share of Voice. With Share of Voice, organizations can compare their standings to their major competitors. They will receive a visual representation of the percentage of the internet space they dominate, versus how much the biggest competitors for that space do.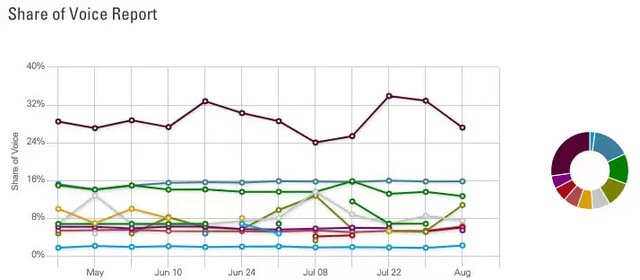 With Share of Voice, schools gain valuable information about which schools they need to pay the closest attention to. For example, they may realize that a school they had not even considered was their biggest competitor for keywords related to a significant degree program. This will empower schools to focus their higher education SEO strategies with a higher degree of precision. They can build strategies to counter the competition that poses the largest threat.
The information gained here can also play a valuable role in other ways. UC Davis SEOs, for example, can use it to show others at the institution "the light." They can see how higher education SEO efforts allow their school to start gaining on--or even outpacing--the competition in important areas.
Gauging progress with higher education SEO
As schools begin to build and improve their digital presence, you will want to monitor your progress and clearly see the impact that your efforts have had on your visibility and traffic. StoryBuilder on BrightEdge will provide you with this advantage.
"It [StoryBuilder] is great for metrics and keeping an eye on things." - Adam Napolitan, UC Davis
StoryBuilder makes it easy to customized dashboards to focus on the metrics that matter the most to you and your leadership at your institution. You can gauge KPIs, such as how many pages rank on page 1, allowing you to easily see your progress. You can also build customized dashboards that can be used when speaking with leadership, utilizing the metrics that capture their attention.
Our partners in higher education also mention using Keyword Reporting and Page Reporting regularly to further gauge their progress. They can monitor how keyword rankings respond to their optimization efforts on an individual level.
For BrightEdge partners in higher education, our platform offers the resources they need to compete and attract the attention of an increasingly digital audience. As our partners use the various features on the platform, they build a stronger digital presence and attract the site visitors and interest that allows their institution to thrive.