Google has announced the launch of Google for Jobs. Here's how this new feature will impact your ability to find the right candidates for your business, and how you can use it to your advantage. Nearly half - 46% to be exact - of U.S. employers say that they face talent shortages. In 2011, it took an average of 48 days to fill an open position. That average has now increased to 52 days. According to employers, the biggest obstacles to hiring are a shortage of candidates and lengthy hiring practices. Employees themselves have an enormous impact on brand success. They drive revenue, engage directly with customers, and become the face of the organization. Brands also need to consider that turnover impacts revenue and expenses. You cannot underestimate the importance of building a strong staff by finding the right candidates. Finding ways to overcome these obstacles can have a direct impact on brand success.
Job searches can also be a challenge for those trying to find a position. Candidates juggle countless job-hunting sites and have to sift through openings based on various personal criteria, including work hours and commute. Obviously, this can make the hunt for open positions inefficient and tiresome. Google announced this week its new Google for Jobs, which is designed to better match companies with candidates. Brands should pay attention because it will impact how they find the talent that will grow or detract from their organization. How is your SEO? Test your SEO skills in minutes with the SEO Traveler and SEO Explorer quizzes.
What will Google for Jobs do?
As Google described in their blog post announcing this new feature:
Today, we're taking the next step in the Google for Jobs initiative by putting the convenience and power of Search into the hands of job seekers. With this new experience, we aim to connect Americans to job opportunities across the U.S., so no matter who you are or what kind of job you're looking for, you can find job postings that match your needs.
With Google for Jobs, it will be easier for users to search for opportunities through Google and then receive information from across the web displayed in a standard SERP. For many jobs, candidates will be able to see reviews and employer ratings right alongside the job description. Users signed into Google will also receive valuable personal information, including projected commute times. Google plans on continuing to add more filters to their new jobs. These filters will make it easier for searchers to find positions that meet their various criteria.
Prospective candidates can also turn on search alerts to be notified when new positions become available.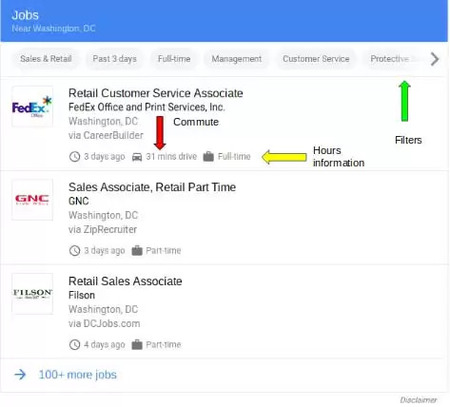 Google for Jobs is working with a variety of different major job sites including LinkedIn, Monster, WayUP, DirectEmployers, CareerBuilder, Glassdoor, and Facebook, among others, to find the new job openings to post. Google will also offer open documentation so that jobs posted directly from employers or other platforms can be easily found and promoted through Google for Jobs. For more insights on retaining search visibility with local audiences, read our article: Does Local Search Matter to Your Business?
How will Google for Jobs impact businesses?
Since employees have such an enormous impact on the success of an organization, it's important that businesses ensure that their job openings are discoverable by Google. This means using the open documentation for positions listed on their own websites as well as the third-party platforms from which Google will be pulling the openings. Since Google has positioned itself to dominate the job search market by creating such a prominent job search engine, jobs that cannot be found through Google may not attract the attention they need. Similarly, organizations posting jobs need to make sure that all the information about their openings is accurate.
Prospective employees will be able to filter openings based on criteria such as work hours and commute soon, even if they cannot already. Inaccurate information about these criteria can damage an organization's relationship with prospective employees and attract the wrong candidates. Verify all the information in the job description, including important keywords related to the position, the location, and the expected hours so that when the posting appears on the SERP, you will attract people who align with the expectations. Companies should also be paying close attention to their brand reputation online.
Since Google will be posting the ratings and reviews for many organizations alongside their job postings, a poor reputation could greatly impact the quality of candidates you receive. This requires you to think about not only how customers perceive your company, but also how employees see your organization. Building a strong company culture, where people feel as though they, and their efforts, are valued and purposeful can help make your company a more enjoyable and rewarding place to work, thus making your job postings appear more desirable. Despite the ability of the internet to immediately connect people across the country or look up virtually any type of information , job hunts have remained a struggle both for businesses seeking the right candidate and prospective employees looking for a position that meets their needs. With Google for Jobs, the search engine giant is aiming to help alleviate this struggle. Organizations who value talent acquisition should pay close attention to these developments, as the new system will impact how they find the people who will serve them well in the future.