This year Clay Stobaugh, EVP and Chief Marketing Officer at Wiley will be delivering a fascinating general session keynote on how Wiley has transformed their digital business. For those familiar with digital marketing thought leaders and influencers Brian Solis from Altimeter/Prophet, Lee Odden from Top Rank, Rob Garner (formerly i-crossing), Paul Roetzer from PR 20/20, Dan Siroker from Optimizely and Ann Handley from Marketing Profs all have books published with Wiley.
Wiley: Helping people and organizations to develop the skills and knowledge they need to succeed.
Wiley is a global provider of knowledge and knowledge-enabled services that improve outcomes in the areas of research, professional training and practice, and education. Through the Research segment, the Company provides scientific, technical, medical, and scholarly journals, magazines, databases and websites. The Talent Solutions & Education Services segment provides services, technology, insights and content that support learners and institutional partners in business and higher education to improve effectiveness by developing knowledge and skills. In Knowledge and Learning, higher education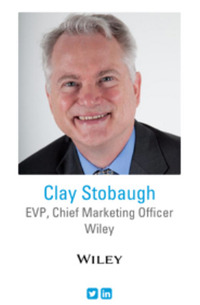 institutions, faculty and students benefit from Wiley's print and digital content, online program management services and course management tools.
As Chief Marketing Officer at Wiley, Clay Stobaugh is responsible for the company's marketing, communications and government affairs efforts worldwide. He leads Wiley's revenue-driving marketing initiatives through key disciplines in the global "Marketing Revenue Center" including customer experience, demand generation, CRM, sales enablement, social media, content marketing, digital commerce, digital analytics and SEO/SEM.
Clay is focused on developing customer relationships and driving new revenue opportunities, he is helping to lead Wiley's transformation from a traditional book publisher to a global provider of digital content and content enabled solutions. Last week BrightEdge had the privilege of meeting with Clay to talk through the Wiley digital marketing transformation. Below are a few extracts and insights from our conversation.
A brief history of change at Wiley
BrightEdge (BE): Please tell us a little about the history and the transformation at Wiley
Clay Stobaugh (CS): Wiley operates in three closely connected fields – higher education; professional development and lifelong learning; and scholarly research. In higher education many people still think that we're simply a book publisher. That perception is changing as Wiley is actually helping people to learn online. In higher education we have witnessed a transformation from traditional textbooks to adaptive online learning environments. If I take a business or accounting class using WileyPlus, for example, the platform will not just provide me the digital book content, but it will also offer assignments, tutorials and study aids that help me understand the material better, as well as the social capability to interact anywhere at any time virtually with the instructor and other students taking the course.
In our Talent Solutions and Education Services business, Wiley is investing in technology that will help a corporation skill-test people to ensure that they're ready for the job. We also provide certification and online learning solutions such as Cross Knowledge so employees can continue to grow and learn once they have the job. Finally, in our Research business, Wiley works with authors, societies and librarians to publish research that has an impact on our day-to-day lives. Here we are seeing some great changes in how information is used and shared, and as the needs of the research community continually transform, Wiley invests in tools and technology that supports these changes. What makes Wiley unique is that through each of these fields, we support all the elements of the knowledge economy – from education, to job skills, and research and innovation.
Digital transformation at Wiley – mind-sets, skillsets, and toolsets
BE: How do you view the role of the modern day digital marketer at Wiley?
CS: If you think about modern marketers there are three things we talk about - mindset, skill set and tool set. You are not a modern marketer if you have the mindset, but not the skills or tools. As management, it is our job to provide the tools, but they are expensive and complex, so we are responsible for training and creating organizational structure around those tools. As a marketer, I look at the digital tools and platforms that will give us the ability to measure and derive performance. We can then choose the tools that best drive revenue and have a place at the executive table.
Transformation, training,and certification
BE: How did you go about transforming Wiley to a digital organization?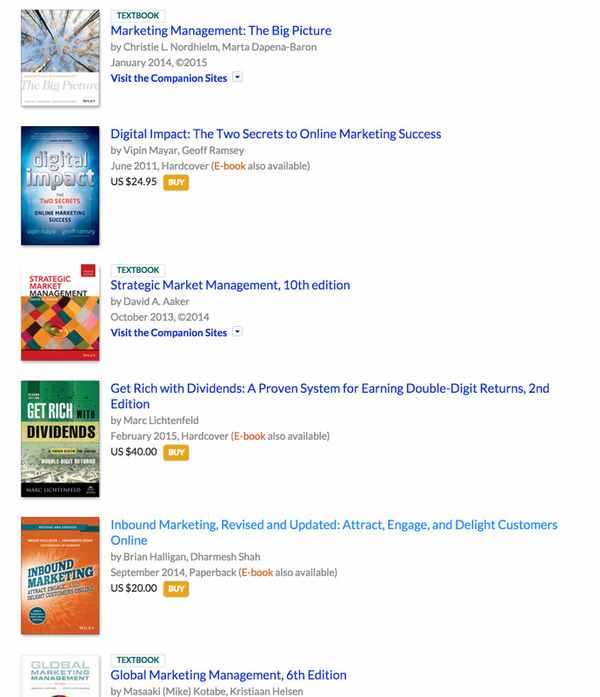 CS: I work very closely with Dan Mooney (who is going to share more insights on this at Share15), and the digital and SEO team, in our marketing revenue center and we've been working on centralizing our efforts for SEO. Search and content are pivotal to digital transformation success. BrightEdge is our trusted enterprise Content and SEO platform, and we have mirrored the excellent BrightEdge training and certification program to establish a certification for content and SEO within Wiley. There are three levels (beginner, intermediate and advanced).
Basically, we are making it easier for people to understand content and SEO — we have over 340 of our colleagues around the globe enrolled in our SEO certification. Bottom-up we have certifications and top-down we have SEO scorecards that evaluate the 'SEO health' of our businesses. It helps people to understand the importance of content and SEO and then how to act on that. The skill development and roll out of BrightEdge training and certification has been key. As with other marketing channels and disciplines we're making this a part of our culture to be modern marketers.
Measurement and success
BE: How do you approach measurement and results of content success?
CS: We are currently building out our CRM and our measurement capabilities, but we need that holistic single customer view of what we are doing. But before that is beneficial we need to make sure our employees know how to use/are trained on the sales and social and CRM tools and BrightEdge content and SEO platform. This mindset of delivering the skills and ultimately holding people accountable by measuring results is important.
BE: How does BrightEdge help you with this digital transformation?
CS: With BrightEdge the ability to identify content and SEO areas where we can improve and then show the transformation of that work has a high-value impact.
The BrightEdge platform enables us to identify problems most people didn't know existed.
Removing silos in the organization
BE: What is your approach towards digital collaboration?
CS: We have created an internal customer engagement framework. This is an 8-step process that goes through all the steps of modern marketing best practices. It starts with research to identify personas and customer journey maps and determine the correct KPIs. We then use these insights to drive our content strategy. Throughout the process, we measure and optimize.
BrightEdge's Data Cube has been an incredibly valuable tool for researching and measuring our content strategy.
With this framework marketers are equipped to evolve into modern marketers and they are not siloed into a single business department. I will be sharing much more on this and a framework for modern-day marketing success at Share15. To hear Clay speak register for Share15 before tickets sell out fast.
End Note: digital thought leaders - further reading
For those who like to read we highly recommend looking through the list of Wiley authors and the wealth of digital content and information.