We invite you to join the webinar to learn more about the Ultimate SEO Dashboard for CMOs on July 21 at 10am PST, 1pm EST. CMOs, do you want to know what SEO elements you should be keeping an eye on? SEO professionals, want to make your SEO program results command high-level interest and support? SEO requires time. It requires careful analytics and considerable number crunching to arrive at quantifiable results. This can be tedious and difficult for non-SEOs to follow and remain engaged.
This webinar is going to show you how to make this process easy.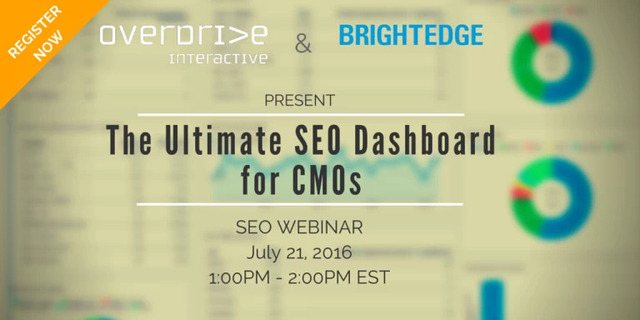 Learn how to create an SEO dashboard that will captivate and educate CMOs to reveal the true value and ROI of SEO. Join Jeff Selig, VP Media, Search, and Analytics at Overdrive Interactive for a webinar where he will share his proven BrightEdge SEO dashboard that dazzles CMOs and makes heroes out of SEO pros. The webinar will be co-hosted by Erik Newton, VP of Demand Generation at BrightEdge. By giving us just one hour of your time, we will teach you:
What SEO metrics your leadership and management really care about so they understand your progress

How to report on your campaigns so that your CMO begins to value SEO and what it can do for the brand

How you can improve your fact-based storytelling so that you will keep your leadership engaged during presentations

How you can use these reports to secure more resources for your SEO efforts.
If you are a CMO, you will learn:
What metrics you and your SEOs need to be paying attention to in order to gauge success

The impact that your team's SEO efforts have on your brand's revenue and growth

How you can tell if your investment in modern marketing is paying off.
Those who attend the webinar will also have the opportunity to secure a copy of a dashboard template and white paper from Overdrive, helping you take your SEO presentation even further.