As the Director of Digital Marketing for Maxim Integrated, Robert Reneau is in charge of managing the user experience, site planning and international business strategy for the group. Robert leads a team of marketers in the development of useful web applications and finding new ways to enhance the experience of a website visitor.
Robert will be joining us at Share 15 to speak about scaling content and how you can develop internal content-building processes that help enhance your digital marketing efforts while also creating a culture of content throughout your group. He was kind enough to sit down with us to talk about the latest in the industry and give some insights about his upcoming presentation.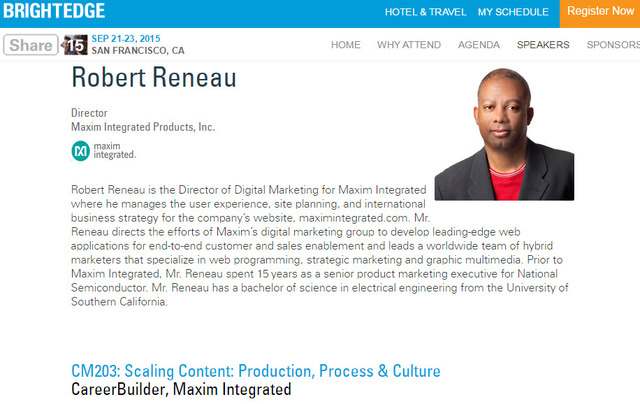 About Maxim at Share
BrightEdge (BE): Can you tell us a bit about your presentation? You do not have to give away the game, but give us some teasers about what we can expect.
Robert Reneau (RR): I am going to explore the art of repurposing content. I have found that many companies are challenged to produce consistent content at scale, so I will discuss how to take content and repurpose it so that it supports mass usage across multiple channels. I will share some of the best practices we use here at Maxim and I hope to provide some valuable insights for attendees about how to best succeed with content development.
Scaling content is something that is faced by many companies, so the topic should be relatable for just about anyone in the audience. I work on a global scale with the Maxim brand, developing successful marketing and business strategies. I believe that many attendees will be able to take away some great ideas for making content work for their businesses.
About the BrightEdge platform
BE: How has BrightEdge helped you succeed as a brand? RR: As I already mentioned, at Maxim we are dealing with a global audience. We needed a system that would allow us to monitor our progress and see how our sites were performing.
"BrightEdge allows us to do that. Its capacity to scale to handle our traffic from around the world and monitor the performance of our SEO efforts and our site rankings is incredible."
Recommended reading
BE: Have you read any great business books lately that you would recommend?
RR: I really enjoyed the book Sound Investments by Neville Goddard. The book is about making solid decisions that help you continually grow in abundance. This does not only apply to financial decisions, but also to a general way of living your life so that you can be successful in the areas that matter most to you. I have found that the lessons from the book are excellent from a personal standpoint. It really reminds you to look at factors, such as where you are spending your time, and how that impacts your success and your goals in life.
About the industry
BE: What do you think are some common challenges for people in the industry?
RR: I think demonstrating ROI, especially financial ROI, is critical for many businesses but struggling with accurate metrics is common. You have to track ROI across all your different channels and that can be a challenge, particularly for those in the B2B sector. I am regularly concerned with being budget conscious-- and I cannot imagine that I am the only one with those concerns. I find that the key to accurately tracking financial ROI is looking beyond the basic metrics that tell you how many people read your content or how many people shared your content. You have to measure your cost per lead during your content marketing campaigns as well as your cost per sale. Use this information to refine your campaigns and gain a better understanding of your marketing financials.
BE: What new marketing frontiers are you excited to explore?

RR: I am really looking forward to trying advanced personalization techniques - taking user information and leveraging it to provide the most relevant content at a user's fingertips. The techniques have been evolving for us at Maxim and we have been looking to build out a platform. We are now in a position to dive in deeper during the next fiscal year and it should be an exciting adventure. It was wonderful having the opportunity to speak with Robert Reneau in preparation for Share15. We are just weeks away from the start of the conference and it will be fantastic to listen to Robert's presentation.
If you have not signed up yet, register today. We hope to see you there.
Conference Details September 21-23 Westin St. Francis San Francisco, CA