Marketing channels are the different platforms that you can use to connect with leads and promote your brand, products, and services. Each channel has its own audience that it is most effective at reaching. Understanding how the different channels interact and where your target audience is most likely to be found is critical for forming a successful multi-channel marketing strategy.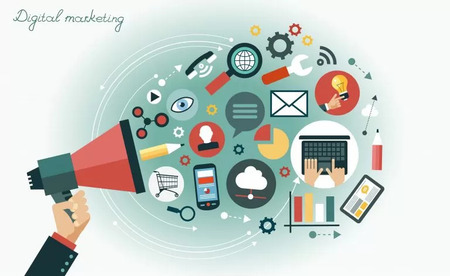 Marketers around the world agree that multi-channel marketing is important for brand success. Ninety-five percent say that multichannel marketing is important for retargeting.
Despite this initial enthusiasm, however, only 14 percent currently have coordinated, cross-channel marketing efforts that allow them to take advantage of the full benefits of the multi-channel approach. Understanding how to optimize the use of the different marketing channels is essential for moving forward in the world of marketing technology so that brands are able to provide consistent, personalized experiences for their customers.
As the web becomes increasingly saturated and competitive - 50 percent of both B2B and B2C companies say they will be increasing their budgets for content marketing in the coming year - understanding how to provide this type of outstanding user experience is the key to standing out and growing your brand.
Understanding the different digital marketing channels
There are a variety of different digital marketing channels that you should be familiar with as you begin to develop your own cross-channel campaigns. Here are the main ones that you should examine to get started.
What is content marketing?
Content marketing refers to the organic marketing practices by which you create high-quality, optimized content that is designed to serve the needs of your target audience at precise points of the buyer's journey. To effectively use content marketing, you need to understand SEO, use keyword research to identify topics and terms that matter to your target audience, produce quality writing, and access metrics that let you see how well your content is pulling in new customers.
What is paid marketing?
Paid marketing refers to your advertising efforts where you pay each time someone clicks on ads that you display on a number of different platforms. Your ads might appear on SERPs, on the borders of various ad-friendly websites, or on social media platforms. To succeed with paid marketing, you need to use keyword research to know the terms that will matter the most to your target audience, behavioral tracking that lets you know how well your ads are attracting the right people, and metrics that let you gauge your success.
What is social media marketing?
Social media marketing describes your interactions with people through the major social media platforms, such as Facebook, LinkedIn, and Twitter. It might include some paid advertisements you place to attract people to your page, promotions you run, the posts you make, the conversations you inspire, and the community you create. You need to build a strong, engaged following through regularly posting valued content, initiating and participating in conversations as well as hosting promotions and contests. You will need to track people's behavior to see which posts and images are the most popular and beneficial as well as metrics that measure the impact of your following on brand success.
What is email marketing?
Email marketing describes the messages that you send out on a regular basis to maintain and nurture the relationships with your prospects. You have the goal of coaxing them closer to the conversion point so they become a paying customer. To effectively develop an email marketing list, you will need a good lead capture process, including strong assets that encourage downloads and effective landing pages. You will also need keyword research to know what interests people for your email content as well as metrics to gauge open rates and click-through rates to learn about the success you are having with your titles, content, and interest rates.
What is mobile marketing?
Mobile marketing means understanding that these digital marketing channels must also be compatible with and effective on mobile devices. There are now more searches performed on mobile than on desktop and nearly 2/3 of Americans are now smartphone owners. Mobile will only dominate an increasing percentage of American digital life as the devices become more prominent. Brands need to make sure that their various types of marketing strategies work well on mobile to capture the potential of these users. In addition brands need to increase their focus on apps, local, and multi-device communication as applicable.
Other channels
In addition to the digital marketing channels, many brands will also find it helpful to use offline channels, including TV advertising, radio, and in-store promotions. When brands intimately understand exactly who they are targeting, they will find it far easier to know when to use offline channel marketing strategies and which ones will be the most successful with their audience.
How to bring the different marketing channels together
To see success in multi-channel marketing, you need to bring these various marketing channels together around common goals and with a strong monitoring system that will let you gauge your success level.
Your buyer personas are necessary. You must have a keen understanding of your target audience, including what is bothering them, what is motivating them, and what will drive them to pick your company over the competition. Taking your insight about your target buyers, you must then determine the types of topics these people are most likely to be interested in, the platforms on which they will congregate, and what they need to see from the brand to be persuaded to become a lead and then a customer.
Develop a common campaign that stretches across multiple platforms. You need to build a campaign for a particular persona that has common goals across all of the platforms. You will need to understand how the different platforms interact and how they will work together to reach the preset goals. For example, as a brand succeeds on social media, they will generally see their traffic, backlinks, and engagement metrics improve. This in turn can improve their rankings on search.
Measure the campaigns. There should be concrete KPIs in place that will let you see how each aspect of your campaign is performing. See how well the campaign as a whole is reaching your overarching goals, such as an increase in brand reach, share of voice, or revenue. You also want to see how well each component of the campaign performs, including the incoming traffic from each component and how those particular people convert. Look for the overall weakest and strongest aspects of the campaign and how the different marketing channels were able to work together
Run the campaigns again. Once you had the chance to build the first multi-channel campaign, you now have the experience to use to build subsequent campaigns. Refine the weaker areas, capitalize on your strengths and build a fresh campaign that will take advantage of the latest in channel marketing.
Understanding the different channels and creating campaigns that draw the different options together can help your marketing efforts thrive and improve your ROI. The stronger the relationship you can cultivate between these different marketing channels, the easier it will be to create a consistent, personalized experience for all customers.