Google recently announced some changes to their mobile SERP layout that are intended to make it easier for customers to recognize the branding of different sites and determine which pages they want to engage with. Read more about SERPs and the primary SERP elements.
Although the change might not be as dramatic as some other Google layout updates, it may have an impact on how organizations optimize their branding for mobile devices. It gives organizations the opportunity to catch users' eyes immediately through images that appear at the top of each result, and every site should take advantage of this change.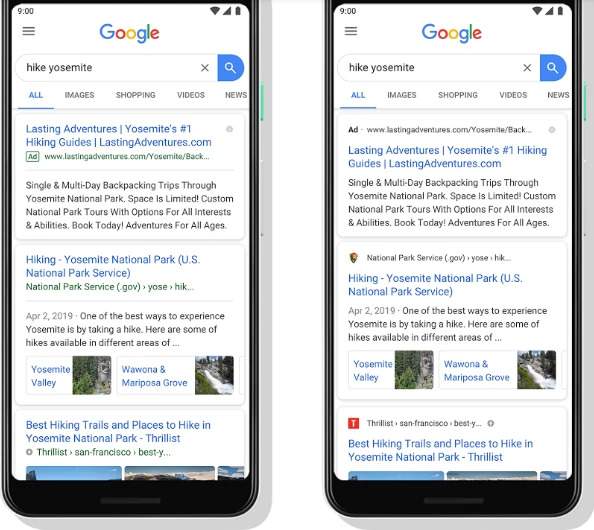 What this mobile SERP change will mean
Google has explained that this change will place the URL and a small icon at the top of each result. The search engine giant expects that the placement of these features will make it easier for those browsing the SERP to know where the information comes from. This should help users determine easier which sites they want to explore.
How this impacts site owners
With the URL and small icon at the top of the search results, this provides site owners with a good opportunity for branding. Images naturally catch the eyes of users, which is why Twitter posts with images see 35% more retweets than those without.
With your image featured at the top of your result, it will catch the eyes of prospective visitors. It will also make it easier for these users to remember your site when it appears in multiple searches they make. This will improve brand recognition.
Google has also said that this new layout will make it easier for them to add more action buttons and search result cards in the future. If they proceed with this plan, it may provide more opportunities for customers to contact you or make a purchase from you directly from the mobile SERP. Optimizing product listings and meta descriptions with this potential in mind may help brands get in front of these future potential changes.
When you look at the new mobile SERP, it also appears as though ads are now a little harder to distinguish from organic results. All that distinguishes them is the placement of a small 'AD' label before the URL. This might increase the opportunities for brands to boost clicks and traffic through PPC, particularly on high-value queries.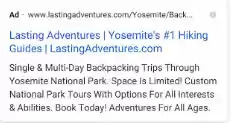 How site owners can choose the image that appears with their organic results
For brands, the placement of the small icon with the URL at the top of the search results presents the greatest opportunity for improving branding. Therefore, organizations should pay close attention to how they select their image and ensuring that it has been set up properly to avoid missing out on this space.
To begin, carefully choose a favicon that properly represents your brand and will be memorable for users. People who see it should be able to quickly identify the brand, which will help them recognize your organization as they encounter it in different situations.
Google warns site owners that this image should not be suggestive, inappropriate, or contain any hate symbols. Failure to abide by this guideline will result in the favicon being removed and a default icon taking its place.
The favicon should also be a square with a size that is a multiple of 48. For example, it can be 48 px by 48 px, 96 px by 96 px, and so on.
Keep in mind also that not all image types are visible on all types of browsers. To ensure that your favicon can be seen on all of the browsers, use ICO, PNG, or GIF (not animated GIF) images. If you do not want to use any of these, JPEG would be the next best solution, as the only browser that does not support this type is Internet Explorer.
Once you select a favicon to use, keep your selection consistent. Do not regularly change it as this can hamper your branding efforts. Customers will not be able to recognize your organization as quickly, and Google might not see the change immediately.
Here are the instructions from Google for adding your favicon: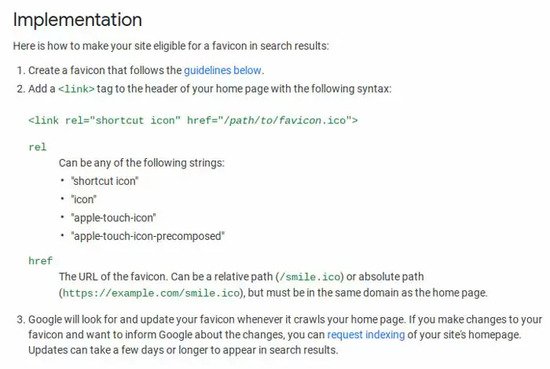 How our community should optimize for Google mobile changes
To ensure that your brand remains fully optimized for the opportunities this change presents, we recommend the following steps.
Carefully select your favicon and set it up following the steps and guidelines outlined above. This image offers you an excellent chance for branding and should not be passed over.
Test how your page results appear on mobile devices to ensure that you have followed the steps properly.
Use BrightEdge to monitor your clicks and traffic to see how the image placement impacts your site results.
Make sure your URLs are properly optimized to contain proper keywords so that when they appear at the top of the search result, they look appealing for customers.
Continue to take advantage of PPC for queries you struggle to rank for.
Optimize your product listings, site descriptions, and markup so that your website is ready should Google add more search result cards or action buttons to the SERP in the future.
Google continues to look for ways to create a superior search experience for users. As the SERP changes, brands need to pay close attention to ensure that they take advantage of each opportunity presented. The opportunities from branding here should not be passed over by any organization.