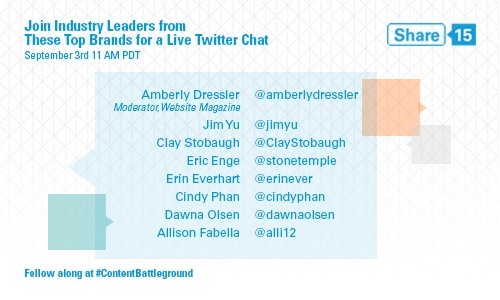 As Share15 approaches, we're doubling down on our efforts to spread the word on content performance marketing. With content in mind, we're excited to extend an invitation to our upcoming Twitter chat!
Follow #ContentBattleground on September 3rd at 11am PDT to see Share15 speakers from brands, like Cabela's, The Home Depot, VMWare and Stone Temple Consulting (and a few big-brand special guests!) discuss and answer questions on all things related to content performance marketing. And don't forget your own questions! We want to hear from you. The session will be moderated by Amberly Dressler of Website magazine.
So why #ContentBattleground? With brands opening microsites, producing how-to videos, and even opening their own publishing houses, content marketing has never been more prevalent — and essentially more competitive. As more and more brands invest in content, the landscape becomes increasingly crowded: a true content battleground.
But it's not enough to just show up and stake your claim anymore — with more and more competitors entering the landscape, brands are finding that they have to fight amongst each other for share of voice. That's where content performance marketing comes into play. While churning out content and spreading it around haphazardly may have worked once, the game has changed. For the best shot at success, marketers need their strategies to be powered by data-driven insights. When they see where they stand, where their competitors stand and where the opportunity areas are, they can develop a clear plan of attack that will lead to victory.
We look forward to discussing the Ins and Outs of the #ContentBattleground with you during our Twitter chat. And to continue the conversation, don't forget to register for Share15, where we'll have dozens of sessions and hands-on labs that can continue to arm you with information to help you find success on the content battleground.