Have your Google Places search results been erratic lately? When Google released an update to its local search algorithm on (or around) July 24, named "Pigeon" by Search Engine Land analysts, it dramatically affected a number of industry verticals. Our SEO analysts looked to BrightEdge's Data Cube before and after the Pigeon update (June through August), analyzing all U.S. desktop queries for which Google displayed Google Places (the "local pack") results in its SERPs, bucketing those queries into industry groups (verticals) based on their keyword structure.
BrightEdge's analysis found that Google is displaying local pack results for 11.26 percent fewer queries overall. BrightEdge Cube data also confirms that real estate queries experienced a dramatic decrease of 63.45 percent in their appearance rate in Google Places results. The impact to the real estate results was also reported by Andrew Shotland at Search Engine Land, as well as others in the SEO community. Queries related to jobs and careers saw an even more precipitous drop of 67.68 percent. The hospitality, food, and education sectors were the apparent winners of the Google Pigeon update, as queries for all enjoyed a double-digit boost in local pack appearance of 28.40 percent, 19.34 percent, and 13.22 percent respectively. The complete findings from the BrightEdge Google Pigeon analysis are shown below*: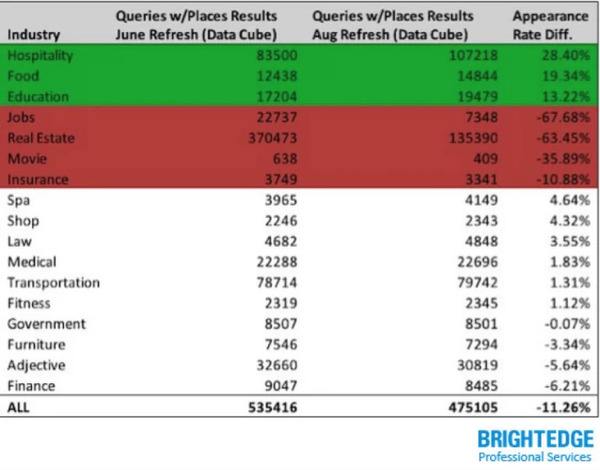 *Note: Queries that were difficult to classify are included in the final "All" row, but weren't mapped to a specific industry, so industry rows do not sum up to the "All" row. Thanks to lead analyst, Nicole Lai, of BrightEdge's professional services for the data analysis.
Leveraging the BrightEdge platform to optimize local search
As with all things related to the SERP, Google is also optimizing its result set, so fluctuations in your own SERP results are to be expected. A smart strategy for tracking and optimizing your brand's local search visibility is to tap into a platform like BrightEdge. The BrightEdge S3 platform helps you win the local SEO battle by:
Identifying concrete ways to position your business not only to appear in classic listings, but also in the Universal or blended results such as Google Places, Carousel, Images and more.
Monitoring and growing your visibility for all of those different search results, across hundreds of combinations of cities, countries and devices.
BrightEdge's Google Pigeon analysis conclusion
Our analysts conclude that those U.S. businesses with a brick-and-mortar presence that are well optimized for Google Places ("local pack"), and rely heavily on it for rankings and organic search traffic, might expect to have seen performance volatility that closely correlates to that of their local pack appearance rate in late July when the Google Pigeon update rolled out.