SEO research is a multifaceted, long-term process. An effective strategy has numerous components, from initial keyword research and competitor analysis, to ongoing tracking and maintenance of rankings.
SEO tools are essential when it comes to effective strategizing. Without them, it's impossible to perform even the most basic SEO research tasks. Improving your research process will positively affect organic performance, helping drive and retain traffic and bolstering growth for your website. However, one problem with using tools is you are often siloing your data or exports in different areas like personal computers or the cloud, working against clean governance. Having decentralized data often requires you to peice it together somewhere else to get a holistic view to draw actionable insights. By leveraging an enterprise SEO solution like the BrightEdge platform, you can access a host of features that help draw a complete picture, from a central data source, with the added benefit of integrated workflows. No more having to glue together exports from free or paid softwares and toolbar extensions!
In this post, we'll cover five essential pillars of SEO research in 2022. We'll also use examples from the BrightEdge platform to demonstrate how the processes we outline work in practice.
1. Establish Clear, Metric-Driven Content Ideation Processes
Content ideation—generating topics for blog posts, articles and marketing materials for your site—is often seen as being synonymous with keyword research.
But it's crucial to keep in mind that ideation encompasses multiple activities. It's about more than just generating a list of potential keyword-related topics and ranking them in terms of volume.
Keyword research is vital. But trend monitoring, website traffic analysis to uncover interests, competitor research, brainstorming, and more are all key aspects of the initial stages of the research process.
Furthermore, all content ideas should be passed through a data-based filtering process. After you have generated an extensive list of topics and associated keywords that align with your business goals, tools enable you to prioritize entries according to three key metrics: volume, competition, and value.
Example: Data Cube, BrightEdge's Keyword Research Tool
BrightEdge offers the following features in its keyword research tool, Data Cube, as part of our enterprise SEO platform to help with keyword discovery and prioritization:
Keyword ideas - Data Cube provides sets of semantically and topically related terms based on core keywords, building and developing on the initial research process.
Long-tail keyword discovery - The long-tail keyword tab in Data Cube provides high-value, low-competition keywords that represent immediate ranking opportunities.
Search volume, value and competitiveness - Filters can be applied to keyword lists to pinpoint the most promising instances and identify the best places to pursue rankings—regular listings, carousels, answer boxes, etc.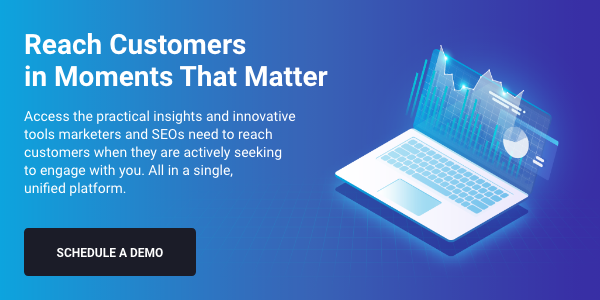 2. Perform Data Research on Existing Content
Many SEOs assume that their job is done once they've ranked a piece of content. But defending existing rankings is just as important as achieving new ones. What's more, optimization opportunities can be leveraged on pages that are ranking well but have the potential to do even better.
Defending pages essentially consists of tracking top-performing content and remaining alert to any drops in SERPs. Remedial action, such as fixing technical issues and improving the quality of content, can be taken to restore rankings.
Existing content is also a useful guide for determining which topics are likely to do well, particularly when seen through the lens of competition metrics. Essentially, this involves creating pages covering subjects similar to those you already do well with. However, it's important not to cannibalize content, which can detrimentally affect rankings.
Example From Intent Signal, Bright Edge's On-Site Optimization Engine
Intent Signal is BrightEdge's feature for identifying ranking opportunities in existing content. It enables SEOs to undertake the following tasks:
Identify pages with high ranking potential - Pages that rank below the fold on the first page of Google have the potential to draw large amounts of traffic if they can be optimized.
Monitor existing pages that rank above the fold - Tracking content above the fold is essential for maintaining rankings. This Intent Signal feature monitors so-called "Defend" keywords and alerts users to any drops in rankings.
Identify opportunities based on existing content - Intent Signal helps SEOs identify keywords related to high-performing pages that represent low-competition ranking opportunities without cannibalizing content.
3. Identify On-Page Opportunities
On-page analysis is about identifying opportunities for improvement that can bolster rankings. Potential areas for consideration include link issues, HTTP errors, page load times, and so on.
Tools are best used in conjunction with well-known platforms like Google PageSpeed Insights, and offer additional information. They also provide ongoing automated reports, which are useful for monitoring purposes.
In particular, browser extensions make identifying problems easy. You can use them when naturally viewing your site, which is sometimes the fastest way to find issues on high-priority pages.
Site crawlers, typically provided by SEO research platforms, find on-page opportunities at scale. As a result, they identify all the issues on a website instead of finding one-off problems.
Example: ContentIQ, BrightEdge's SEO Audit Tool
ContentIQ is BrightEdge's enterprise-level site audit tool. It has the capacity to monitor millions of pages and has the following functionality:
Report features - ContentIQ tracks a range of on-page signals. These include HTTP errors, site speed, broken links, and more.
Automated "health" reports - ContentIQ generates automated performance reports, allowing organizations to track site health. An overall score is included in the report, along with more granular crawl information, which helps identify specific problems and areas that require attention.
4. Ensure Ongoing Landscape Analysis
One of the most effective ways of generating new content ideas while at the same time ensuring you don't fall behind your competitors is by monitoring the market.
Market analysis involves:
Tracking demand around specific topics.
Monitoring keywords in light of increasing volume.
Generating intent data (data that measures the likelihood that potential customers will make a purchase) around keywords with commercial intent.
Pinpointing areas where your content mix might have gaps, especially in relation to high-growth keywords.
It's also good practice to incorporate insights from industry publications into your research strategy, as they are typically very good at identifying fast-moving trends. For example, only a few years ago, voice search was one of the main innovations in SEO. Today, chatter focuses on all of the technologies that comprise Web 3.0. Staying up to date with major shifts in SEO enables you to shape your voice and communication channels effectively.
Example: BrightEdge Market Insights
Market Insights is BrightEdge's comprehensive analysis tool. It's an out-of-the-box solution and is capable of handling large amounts of search data to provide actionable SEO and market insights.
Here's a brief overview of its main features:
Demand analysis by topic and subtopic - Demand analysis by category, subcategory, topic, and subtopic enables SEOs to stay abreast of market changes and monopolize on seasonal and emerging keyword opportunities.
Market opportunities and intent data - Intent reports allow organizations to track intent data around keywords, which is helpful when allocating resources and increasing the ROI of spending on SEO.
Missing content - This feature identifies potential high-converting keywords that would fit within a site's existing content structure. Market Insights also uses search data to pinpoint underperforming content which should be prioritized for improvement.
5. Conduct Competitor Research
Competitor research fulfills several important objectives and helps identify possible strategic directions to take.
Competitor research achieves the following objectives:
Allows businesses to identify keyword opportunities, especially when sites with comparatively low authority rank highly for certain terms.
Provides insights into on-page SEO practices that can be replicated.
Alerts SEOs to industry trends and aggressively targeted high-converting terms.
Ongoing research is also a fantastic catalyst for productivity within an SEO department. It energizes and motivates teams by creating a sense of urgency and positive competition.
Example: Share of Voice, BrightEdge's Competitor Research Tool
Share of Voice is BrightEdge's competitor analysis tool. It provides data and insights in the following areas:
Competitor presence for keyword groups - This feature enables SEOs to track companies' share of voice for keyword groups, providing a full overview of competitor activity, keyword targeting, content priorities, and potential partnerships (with non-competing sites).
URL analysis - Specific URLs can be analyzed to glean information about content strategy, on-page SEO, and backlinks.
Conclusion
Forming a holistic SEO strategy is the most important part of organic success for your organization. Execution and reporting come later, but creating a bulletproof, process-driven plan of action that matches your overall marketing goals is imperative for achieving core SEO key performance indicators (KPIs).
Using enterprise SEO platforms such as BrightEdge that combine multiple point solutions will strengthen your organic performance while combating competitive advantages by identifying their top-performing areas.
Enterprise SEO platforms such as BrightEdge combine dozens of features that help craft, execute, and report on your SEO strategy, which simple point solutions cannot compete with. Having multiple tools is tough to manage in a tech stack, and generally leads to inefficiencies such as storage of data, taxation of your webinar, or lack of interconnectivity in your teams. Enterprise organizations lean on platforms like BrightEdge when they want a myriad of tools, governance, scalability and workflow all-in-one to really drive performance.
Tools are an essential aspect of search engine optimization, especially if you are an enterprise company and you care about governance and having a platform to keep them all in. Pick yours carefully and learn how to use them effectively.
Other Resources
A Beginner's Guide: Understanding SEO Keywords 101
If You Care About User Experience, Invest in SEO