"Share of Voice" is a powerful digital marketing feature of BrightEdge's S3 platform. Providing brands with strategic insights into their global search engine results page (SERP) performance by device is just one of its cutting-edge hallmarks. Here, we'll go over best practices to leverage SOV for:
Competitor analysis and benchmarking
Brand monitoring and reputation management
Business unit benchmarking
Content research and development in the SERPs
How Share of Voice works
Share of Voice (SOV) offers insights into your digital marketing strategy by helping you to:
Understand the entire global SERP landscape (encompassing over 300 search engines, including Baidu), by device (desktop, tablet and smartphone).
Understand your competitors' strategies with a complete picture that includes research into both direct and indirect competitors (by product, pages and groups).
Monitor all of your digital assets in the SERPs (including social media networks Twitter and Facebook), for reputation management and copyright issues, as well as for identifying potential commercial and content partners.
See the most accurate global picture of your keyword visibility in the SERPs on a weekly basis.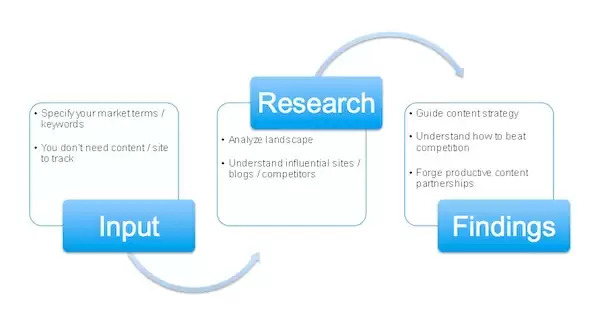 Four keys for unlocking Share of Voice success
First, to access SOV in BrightEdge, go to Analysis > Share of Voice. In this post, we'll talk about how to access varying results through different views of the data that is available.
Competitor analysis and benchmarking
Visualizing the full competitive landscape involves both research and benchmarking the competition. By using SOV to its fullest, you can gain these insights. SOV gives an unlimited picture of competitors against your keyword portfolio. This helps you to understand direct and indirect competitors. Move away from benchmarking your SEO performance against just two to three competitors by using SOV to gain insight into the full SERP competitive landscape.
The SOV feature will allow you to identify who your true competition is online, what content gaps exist in your strategy by analyzing the competitor, and understanding the competition's backlink strategy by page (via the Majestic SEO integration). You can then feed your insights back into SOV to further inform and drive your digital marketing campaign. This is a regularly updated indexed, so these strategies will constantly be refined based on the landscape changes.
Brand monitoring and reputation management
As you know, brand monitoring and reputation management are critical. With SOV, you have the tools to see the global SERPs for your brand and your brand's extensions, and detect negative listings and copyright issues, as well as "rogue" affiliates.
SOV allows you to track your brand's keywords by:
Creating a "branded keyword group" including terms like "[Brand + location variant] reviews" to review your online reputation.
Identifying which sites and pages are ranking for these keywords.
SOV's brand reputation management feature lets you:
Review content to understand what is being said about your business and products online, which enables you to understand positive / negative sentiment.
Develop appropriate strategies to address concerns like client outreach, and content creation aimed at displacing negative reviews.
Beyond mere competitive analysis, SOV can be used proactively to identify sites to possibly partner with, either commercially or for content syndication purposes.
Business unit benchmarking and global targets
"Average rank" is dead. So SOV is the SEO industry benchmark by which to measure your success! With our dashboard feature, you'll easily grasp the competitive SERP landscape to set realistic benchmark targets, whether by business unit or for global benchmarking. Many leading agency partners of BrightEdge use Share of Voice to benchmark the success of content marketing campaigns. For example, increasing Share of Voice from two percent to five percent can be a strong sign of success with regards to visibility improvements within the SERP. Additionally, if traffic on a certain Web page or page groups has reduced month-over-month, you can look at the correlation with SOV to understand what's happening.
Content research and development in the SERPs
The fourth best practice for leveraging SOV is to monitor the digital marketing landscape before you start generating content. This gives a roadmap for content creation that follows input, research and findings:
As the graphic above indicates, SOV will help you understand what matters to your brand before you launch a website, much less generate content. By providing insights into influential sites, competitors and blogs, you'll be able to create an intelligent content strategy and SEO campaign. We have numerous content writers who will utilize Share of Voice to understand the SERP landscape effectively on new keyword or topic area they want to explore for future content. This can be a good workflow process to help enable the content writers for research, as well as fully understand the competition within the SERPS on the new topical area.
Share of Voice in sum
In conclusion, SOV can be leveraged in many ways throughout the lifecycle of your digital marketing plan:
Start competitor research and benchmarking.
Monitor and control brand reputation.
Use as a primary measurement of success in the SERPs.
Gain access to informed content development.