Auditing your website's content is much like undergoing a physical exam. You may dread it at first, but it's a smart practice that uncovers where you need to focus in order to improve your health, and helps you understand what's working in your approach and what isn't.
As an enterprise-level company that devotes valuable time and resources to every marketing channel, you know how essential it is to budget and plan for results. An SEO content audit will help you accurately assess the return on your website's content investment, and formulate an informed strategy looking ahead. In this post, I'll discuss how to benchmark your site's content based on key SEO metrics for both your main Web pages and your blog.
The SEO content audit: getting started
Starting from "ground zero" in an initial content audit, you need the right tools, then you need to define metrics and gather data around those metrics. Once you've delved into the data and interpreted what it means, you can then set goals for your site's content performance based on those insights.
The tools
There are several resources available to assist you in extracting all the data you need from your website to perform website audit and SEO content audit, including BrightEdge's SEO platform, Screaming Frog's SEO Spider and Majestic. Each of these resources has their own set of features designed for different needs. For those operating at scale, BrightEdge's SEO platform offers analytics and reporting tools measuring organic search and revenue performance at the individual Web page level and for groups of pages.
Creating your SEO content audit
Regardless of what tools you'll employ, all data should be organized well and exported into a spreadsheet (such as Excel), with the columns designating the specific metrics tracked and the horizontal rows showing the individual page URLs to be audited. Here's an example of what the spreadsheet may look like, with columns showing key metrics like:
Pageviews: Total number of pages viewed -- repeated views of a single page are also counted.
Organic visits: Shows how many visits came from the organic channel.
Bounce rate: How many people came to the page and immediately left without interacting with it?
Page speed: Gauges how fast or slow a page loads.
Conversions: Whatever your conversion goals are – form fills or product buys – how many are happening as a result of that page?
Word count: The total number of words on a page.
Code-to-content ratio: How much actual text content exists versus code?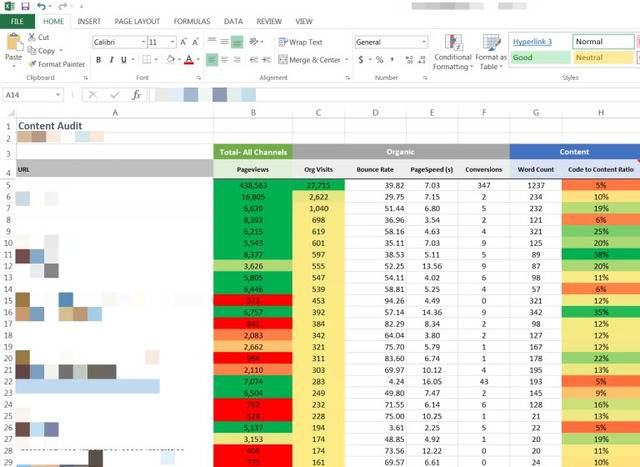 Every metric tells a story. The next step is figuring the "why" behind the metric data, and then putting together some next steps. For example:
Would adding more content on the page help lower the bounce rate?
If you have a low word count, does that result in "thin content" that could be deemed "low-quality" content?
How about images and video -- would that help improve conversions?
What if you're showing a slow page load time – would that be from the video or images on the page?
SEO content audit: main web pages
For your main website pages, you'll want to collect all the data, but focus on the Web pages that are key to your business. On a spreadsheet, you may organize those key pages so they are positioned below one another; that way you can see the metrics for each page and how it fares against other important pages in that group. The most important pages of your site typically represent the "core" of what you do. For instance, your home page, and key information-rich pages or landing pages likely would be priority for scrutiny in your audit. That said, your most important pages might not necessarily be the best-performing pages. Findings such as this underscore the value of an audit, informing both your strategy and resource-allocation decisions for the site. By simply knowing which Web pages need bolstering, you can then focus your SEO efforts on them for the coming months. You may also choose to do a second-tier prioritization of your Web pages. Identify, based on what the data is telling you, which pages you can make small tweaks to that will move the needle drastically (at BrightEdge, these seemingly minor yet quantum content optimization opportunities are referred to as "striking distance").
What about your blog?
While pageviews, bounce rates and time on site are all important metrics to gauge the success of your blog content, in today's current Web environment, you'll need to measure social signals. These will indicate how (or if) people are engaging with your blog content. By examining the number of Facebook shares, tweets and Google +1s, for example, you can not only determine what is resonating with your readers, but also what direction you should take your blog overall. For instance, if you discover your blog is receiving more engagement from how-to pieces versus interviews, you may choose to include more instructional posts. An obvious "red flag" is if your blog content is not being shared at all. In that instance, you need to examine ways to improve upon that, such as creating a more solid community around your brand or ensuring that the blog is set up well technically for social sharing. Using BrightEdge, you can get a picture of your engagement metrics in the "page report," as shown in the following screenshot: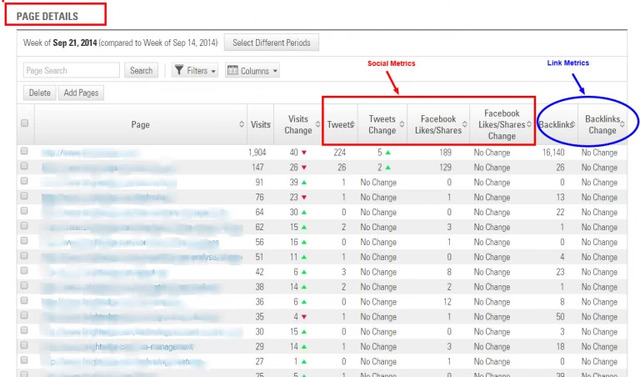 You'll also want to consider backlinks as part of your blog metrics. These show a vote of confidence that your content is likable and sharable. Blogs with a lot of quality links show "credibility." Your own social media metrics can be informed by a relatively quick secondary audit of your main competitors, their backlinks and social engagement metrics. This type of analysis can be used to come up with similar ideas in that niche. For example, during a recent SEO content analysis of UPack.com, I noticed that this content had a lot of backlinks as compared to the site's other pages. If you were a competitor, or even as UPack.com, you might want to create similar content around something like an "ultimate checklist for after you move."
Every SEO content audit tells a story
Consider your SEO content audit as the outline for a story. The more you dive into the data, the more rich the plot and honed-in the characters become. Slicing and dicing this data is one of the important jobs of a technical SEO, and one of the ways technical SEOs inform a brand's organic search content strategy. Once you've established your own site's "once upon a time," you can continue to use content audits to provide a feedback loop to the content strategy that has been implemented, as well as testing out those tweaks and changes you've made as part of your optimization plan.