In yet another tectonic shift in the local SEO landscape, Google ended its local "carousel" organic search results on November 13. To date, it primarily affects listings from desktop searches for restaurants, hotels and related business categories. Gone is the interactive "black bar" of local search results that were displayed side-by-side at the top of Google's vertical results, which accommodated up to 20 listings. The search giant has replaced it with a "3-pack" display representing the top three local organic search results. When it introduced the local carousel in June 2013 via its Google+ page, Google offered an example of local carousel organic search listings for Mexican restaurants in New York City.
Now Google's search engine results page (SERP) listing for Mexican restaurants in New York City looks like this: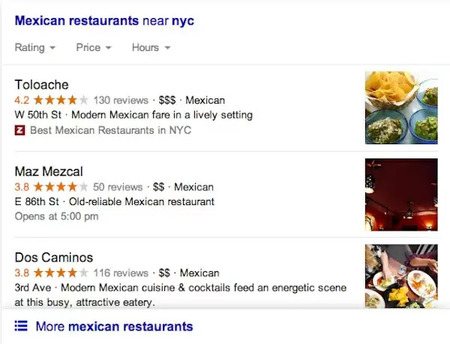 By clicking on the "more" link at the bottom of the SERP 3-pack listing, users will land on a new page of local search results displayed as a vertical organic SERP listing.
The individual results show the business address, reviews and a description of the business, as well as a map to the right of the listings.
When Google launched its local carousel, marketers adapted quickly. In fact, BrightEdge CEO Jim Yu discussed a new set of best practices for Google carousel optimization that same year, noting "with 20 results appearing in the carousel. It means your business is competing for attention with 19 other businesses." However, some of Jim's tips in that article may be all the more important now, as businesses will vie to be among the top three organic search results of Google's new local SERP 3-pack. For additional tips on local SEO, you can check out this post by BrightEdge's Mark Mitchell, which discusses local SEO factors, how Google My Business factors and on-site optimization tips. BrightEdge will be conducting its own research on this new development, and will be sharing the results with you soon. Stay tuned!