Local SEO has undergone a number of changes over the past few years, led by both Google and the overall trend towards mobile search. Among the more notable of local SEO changes initiated by Google is its introduction of Google Places (now called "Google My Business") and its local "Carousel" - and most recently, its update ("Pigeon") to the local search algorithm. As a search trend in general, mobile has rushed to the forefront, carrying with it significant implications for local SEO.
First, a brief history: Google Places was first introduced with Google Plus (Google+) in 2011, becoming Google+ Local about a year later, which made it essential for businesses to create Google+ pages and profiles to which to tie their sites' URLs directly.
The most recent name change to "Google My Business" came in June. Google My Business also integrates Google Maps and the Google+ platform (including G+ reviews) within its local search results. Then came Google's interactive "Carousel," unveiled for desktop in June 2013, which proved to be a game-changer with local search listings represented side-by-side at the top of its traditional top-down results, and incorporating details such as review-based scores as well as the physical addresses and photos of local businesses.
Most recently, Google's update to its local search algorithm in July (dubbed "Pigeon" by Search Engine Land in the absence of a formal name by Google) has meant a shifting local SEO landscape that BrightEdge CEO Jim Yu recently discussed at Search Engine Watch.
The local-mobile connection
Alluding to its "Zero Moment of Truth" (ZMOT) directive, Google states on its "My Business" page (referenced above): "Give customers the right info at the right time, whether that be driving directions to your business in maps, hours of operations in search or a phone number they can click to call you on mobile phones." Google elaborates on the local-mobile connection with its November 2013 "Mobile Path to Purchase" study, in conjunction with Nielsen. The report reveals key findings:
Consumers are spending time researching on their smartphones (15+ hours a week), their research starts with a search engine (vs. a mobile site or app), proximity is important (69% expect businesses to be within five miles of their location), immediacy is key (more than half want to purchase within the hour) and mobile influences their purchase decisions (93% go on to buy).
Jim Yu has also discussed the boom in mobile search extensively within the past few months. Citing data from the BrightEdge 2014 Mobile Share Report, he wrote for his Huffington Post column in July:
Mobile is commanding more of the organic search market today than ever before. Smartphones account for 23 percent, and combined with tablets' 12 percent share, mobile now equates to fully a third of today's organic search traffic. And in the coming year, smartphone share is poised to balloon by at least another 50 percent.
Now let's explore some tips to help you optimize for the best local SEO techniques, and ways BrightEdge's Local SEO Management tool can help.
Best local SEO techniques
1. Distance from geographic center: having a physical address for your locale matters!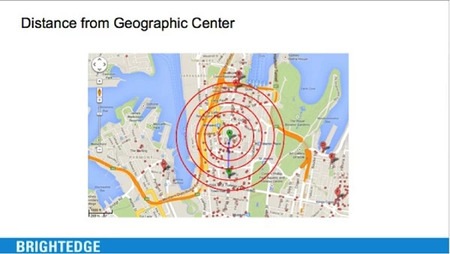 2. Consistency in your business name, address and phone number (N.A.P.) across your website's local URL and Google My Business pages, as well as within local directory listings, is essential. 3. Prominence of your business page: To calculate the local prominence of business, Google looks to local "citations," or Web pages mentioning your business. It gauges the quality of these citations as well as the quantity. Generating user reviews on your "Google My Business" page and other sites (such as Yelp) improves your business's credibility and in turn, its prominence.
Google My Business optimization
Optimize your Google My Business by considering the following steps:
Name: Business name
Categories: Carefully choose the five most important categories based on important keywords
Description: Contains the business name and keywords
Additional details: Keywords for products and services, as well as local information
Business related photos and videos
Reviews
On-site optimization for local
You should also perform on-page optimization for any local-focused pages on your site. Check out the following table for tips on how to optimize those Web pages: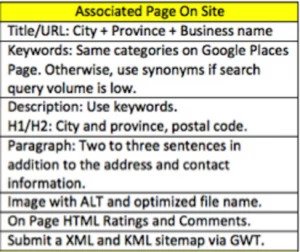 Don't forget about Schema.org markup as well in order to help boost the search engine's understanding of the content on the page. For contact pages, you can communicate things like address, phone number, hours of operation and so on. Check out the LocalBusiness markup here.
How BrightEdge can support local SEO
Details on optimizing your local Web page and its corresponding page in Google My Business, as well as local competitive analysis resources, are available through BrightEdge's Local SEO Management. For instance, with Google My Business, you'd be able to generate reports like this using BrightEdge tools.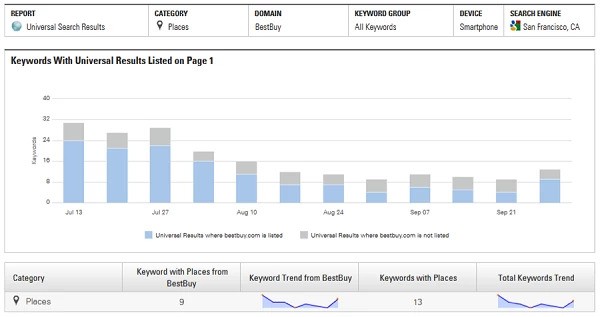 Using BestBuy.com in San Francisco, as an example, this report shows Universal Search result listings for all keywords in Google My Business accessed via a Google search on a mobile phone. Digging deeper, the report can break results down by image, video, shopping, Places and Carousel results. This helps you to not only understand which keywords you currently have visibility on in Universal Search results, but also identifies opportunities - for example, how many of your keywords show any Universal Search results that your site is not showing up for at present.
All of the information available through the BrightEdge SEO platform can be tracked easily by creating a dashboard. Among the valuable insights you can glean is identifying high-priority keywords within Google My Business where your business is not ranking. While there is a host of local ranking factors, and what we've discussed today still only scratches the surface, optimizing the basics is the very first step in any long-term local SEO strategy.