BrightEdge proudly announces its next-generation site audit solution with advanced crawling capabilities and full integration within our SEO and content performance platform.
Unplanned site changes severely impact organic search performance
In fast-paced, agile environments, multiple teams across an organization are responsible for creating content. It is estimated that 4.6 billion pieces of content are produced daily. And content creation is only getting bigger: 43% of companies reported increasing their content marketing staff levels in 2016.

With so many moving parts, and some team members failing to adhere to SEO best practices, technical errors, and unplanned site changes can occur. Site errors – including duplicate content, pricing errors, missing tags, and broken links – lead to penalties and lower ranking and provide a poor user experience. And when web pages see a downturn in organic performance, the result is decreased traffic, conversions, and revenue.
To prevent this from happening, a site audit is a critical first step in assessing your website's health and identifying the technical errors that impede organic performance.
ContentIQ provides the power and flexibility needed in today's site audit solution
We are pleased to announce the launch of BrightEdge ContentIQ, a new and improved site audit solution. Now all BrightEdge customers can add ContentIQ to their BrightEdge platform to identify the site errors that impact organic search performance.
Using ContentIQ you can:
Utilize best-in-class crawl technology, parsing the content elements used to build today's web experiences
Target site crawls to just a few sections of your website or crawl your entire site – scalable to hundreds of millions of pages
Set custom crawl settings to match your organization's unique digital standards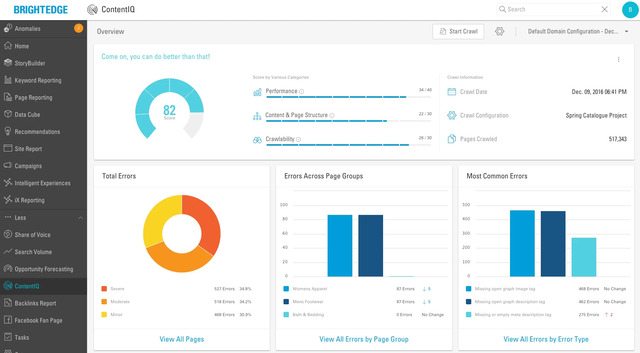 Updated crawl technology for a comprehensive assessment of site health
Web developers and content creators are now tasked with creating dynamic web experiences across multiple devices including desktop, tablet, and mobile. Traditional site audit solutions, which focus on crawling static HTML in a desktop environment, no longer provide the insights needed to fix the site errors that impede performance today.
ContentIQ technology parses the content elements used to create today's web experiences, including progressive web applications, sophisticated JavaScript frameworks, schema, social tags, and more. Errors are displayed according to severity and by section of your site, allowing you to click in to investigate further and prioritize errors to fix.
Customize your crawl and access insights directly within the BrightEdge SEO platform
Other site audit solutions are fixed and rigid and may not single out the specific site violations that you care about. ContentIQ lets you adjust your crawl settings to comply with your organization's digital standards, including content governance, web accessibility standards, and website architecture. You can isolate your crawl to focus on just a few pages or to complete a full audit of your entire website.
And since ContentIQ is available within the BrightEdge SEO platform, you maximize efficiency by identifying, fixing, and monitoring site errors within a single workflow. This means that you can use BrightEdge platform features in conjunction with your ContentIQ site audit data. For example, use StoryBuilder to build engaging dashboards and charts that demonstrate the impact of recent site revisions.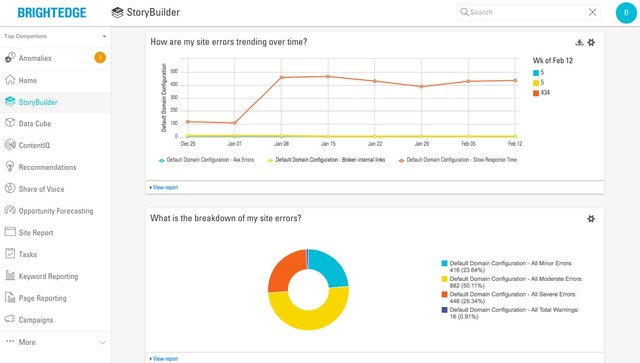 With ContentIQ, you gain an upper hand on the site violations that are keeping your performance down. Providing customizable settings, best-in-class crawl technology, and integration within an SEO platform, ContentIQ gives you peace of mind as you identify, target, fix, and monitor the violations that most threaten your site traffic, conversions, and revenue.
ContentIQ is available to all customers as an add-on to the BrightEdge search and content platform. Ask your Customer Success representative about ContentIQ, or schedule a demo.