Websites today have become increasingly complex. Pages are expected to have far more than just words: visitors want to see images, videos, well-crafted content, and social media integration. Content that features interesting and engaging images receives 94 percent more views than content that does not. Additionally, as many as 67 percent of customers also believe that clear images are more important than product information, descriptions, and even customer ratings when deciding what to buy. These extras give the website the impact it needs to attract visitors and convince them to spend time on the website, engaging with the brand.
Companies today have a variety of tools at their fingertips for creating these dynamic and engaging websites. For large enterprises, Adobe Experience Manager (AEM) remains one of the most popular web content management systems available. For those who are unfamiliar with the system, here is a basic introduction to the capabilities of the platform.
Manage a website with Adobe Experience Manager
Adobe Experience Manager provides website developers with all the tools they need to develop and manage a high-class website. Development begins in the author environment, where people can create a variety of different types of content to publish on the website. This includes web pages, publications, and any other type of content. For those developing websites as a part of a corporation or business, with Adobe Experience Manager it is possible to coordinate tasks or establish workflows to control who on the team must review content before it can be published.
With Adobe Experience Manager, creating a page within the site the user simply needs to select Create Page from the drop down menu.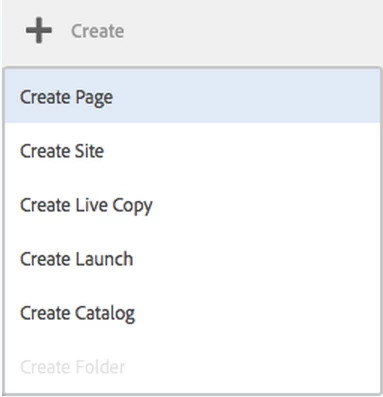 Once the page has been created and reviewed, select publish page.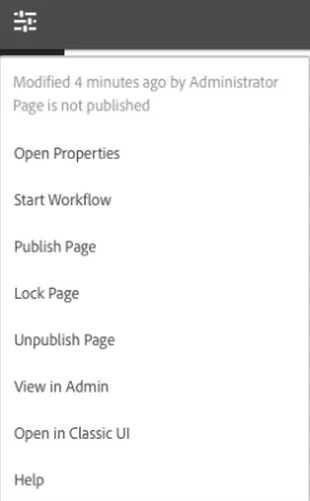 From within Adobe Experience Manager, users can also easily verify how their pages convert to mobile viewing (learn more about mobile e-commerce) to ensure a positive user experience for those on smart devices. They can also tag the pages, edit manage page titles and meta descriptions and other features that help the pages get indexed and allow visitors to easily navigate the site.
To enhance the website even further, users can also easily upload, edit and use a variety of digital and rich media features with Adobe Experience Manager. Users can adjust details, such as the format and resolution, beyond the basic size and cropping edits available. It is even possible to create interactive rich media, such as doing a 360-degree spin of products.
Videos can also be edited, recut, and published right from the platform. These additional features within Adobe Experience Manager make it easy for users to streamline the production of rich media without having to use a variety of different types of products and platforms.
E-Commerce and Adobe Experience Manager
Adobe Experience Manager works well with sites interested in running eCommerce sites. Site owners can use the Product Information Management system to ensure accurate product entries. The platform will make it easy to keep track of inventory and pricing so that customers receive updated information when they visit the site.
Site owners can enable a few different types of search, including an eCommerce search or a third-party search. These features help to make the customer experience easier as they can search for terms related to the products they want to find.
Users can also create branded shopping carts to ensure that the entire shopping experience fits with the company. Creating a personalized experience for the visitor is also possible and easy to implement. Sites can include features such as 'Recently Viewed Products' and other options that keep users engaged and interested in what the company has to offer.
Marketing
AEM allows users to run successful marketing campaigns from the first step to the last. The easily customizable platform makes it easy to maintain brand identity throughout all the pages. Adobe Experience Manager also easily integrates with BrightEdge technology, allowing companies to optimize their content for SERPs and organic search.
BrightEdge Content Optimizer works by combining the power of BrightEdge's groundbreaking Data Cube with the capabilities of AEM. Brands can research what topics potential customers are searching for and the types of information that they want to find. Content can then be developed and optimized to meet this need. Marketers can use the optimizer to check for the best content structure while also receiving real-time feedback on how to create the effective content being sought by the brand.
Once people have begun to use the website, Adobe Experience Manager also makes it easy to track and optimize the rest of the campaign. Using data derived from visitors, companies can perform tasks such as:
Create more effective buyer personas for page visitors
Analyze consumer behavior and use it to create a more personalized experience
Use the data gleaned from subscribers to create emails and other communication from the brand that are as personal and relevant to the individual as possible
Since social media has evolved into such an important factor in any quality marketing campaign, Adobe Experience Manager also makes it simple and straightforward for users to add the various social tools to the websites. These social media tools help customers connect with brands they appreciate, offering more opportunities to engage with the consumer base and grow the reach of the company.
To further cater to the growing percentage of visitors who will be accessing the website from a mobile device, Adobe Experience Manager also makes it easy for companies to develop mobile apps that integrate perfectly with the wider brand and marketing objectives. These apps include analytics, a dashboard that makes them easy to modify, and options to review apps and test them on devices before release.
Additional marketing strategies, such as running promotions on an eCommerce website, are also popular implementations of the Adobe Experience Manager potential.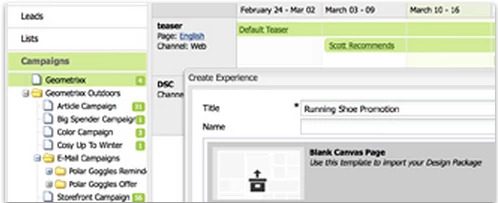 For customers interested in finding a web content management system that allows them to build a website that is easy to use and visually outstanding, Adobe Experience Manager is considered the industry leaders. It gives companies the tools they need to create a site at scale that will stand out from the crowd.