Optimizing a page as you develop it can present a challenge: a number of different strategies and factors fight for your attention, and it can be overwhelming to know where to begin. When trying to retroactively optimize an existing site, the job can feel even more strenuous. To be successful, it is critical to know which SEO strategies will have the greatest impact on your site.
Your optimization process and strategy depends on multiple factors such as:
Types of content, such as blog or product page
How are your existing top-ranking pages structured (what strategies did you use to make them successful?
For each keyword, what is the intent of the keyword in search, and how is that mapped to your customer journey (is this keyword tied to information seeking or purchasing driven)
BrightEdge Recommendations simplifies the most impactful actions to take to optimize your pages. It provides a prioritized list of steps to take to increase the visibility of your site. Below is our breakdown of what BrightEdge Recommendations is, why they matter, and how to put them to work for your organization.
What is BrightEdge Recommendations
The BrightEdge platform will bring in a variety of different data points to help it better understand the unique needs of your content. It looks at the keywords you want to rank for, the content of the page, and your competitors on the SERP to better understand what this specific page needs to improve rankings and visibility for searchers. Therefore, the recommendations you receive are completely customized to meet the needs of your page and your site.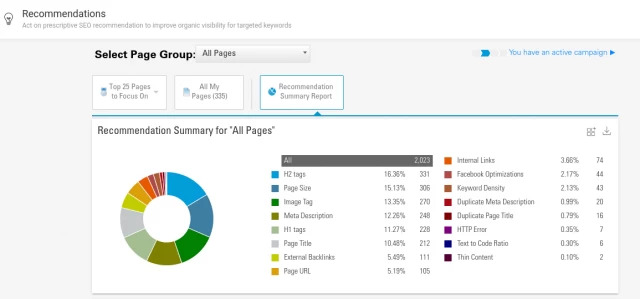 The recommendations offered by the platform can also adapt if the SEO rules that you establish for the site change. If you decide that you want to target new keywords or reach new goals, your recommendations will adjust to help you meet those goals.
As SEOs and digital marketers, you have to balance many different roles and tasks throughout the day. You do not have time to complete every optimization opportunity, particularly if a step will have a minimum impact on your actual site performance. The prioritized list from BrightEdge Recommendations, however, will let you know which steps will have the greatest impact on a particular page, helping you capture the largest possible wins as quickly as possible.
Why does BrightEdge Recommendations matter
Competition becomes increasingly fierce across the web with each passing year. More than a billion pages live online, and more than 40,000 exabytes of data will pass through the digital ecosystem by 2020. As marketers, you must remain keenly aware of your competition and what you can do to succeed in this environment.
You should also note that about 52% of clicks will go to the sites that achieve the top three organic spots on the SERP with over 90% going to the results on the first page. Getting your content to rank on the first page, and even in the top three, therefore, will have a tremendous impact in your visibility and the amount of traffic and leads you can harness for this particular piece of content.
BrightEdge Recommendations help you remain competitive within your sector and grow your business. These actionable insights provide you with a better understanding of SEO. Customers like Alison Tyler of CION Investments and Jeff Selig of OverDrive Interactive appreciates "the ability of BrightEdge to interpret the number of data points that come into the platform and convert them into specific actions that brands can take to improve their rankings."
How to implement BrightEdge Recommendations
Recommendations make it easy for you to share tasks with other members of your team, track progress, and see results. Right from the platform, you can assign recommendation tasks to subject matter experts on your team. This straightforward process makes it simple to verify that each important task has an owner and a timeline.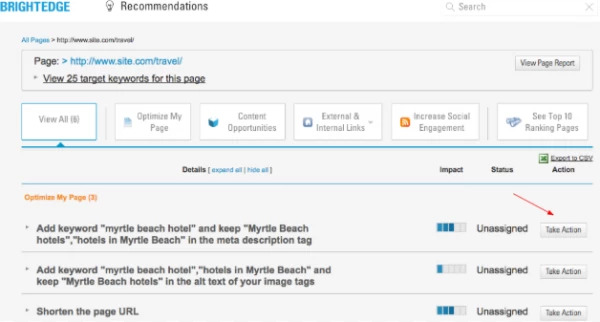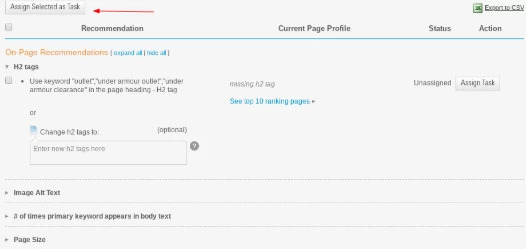 When the tasks get completed, the platform will then generate an automatic event tag. This will allow you to monitor the success of the page before and after the recommendation was used in reporting, quickly highlighting your progress and your success.
To keep team members focused on completing the tasks of the recommendations and achieving the goals, educate them about the importance of SEO and how the BrightEdge Recommendations are generated. Keep track of past successes you have seen after taking action based on the BrightEdge Recommendations. You can let your team members see the before and after story so they better understand how these optimization strategies impact the business. This will help you achieve buy-in from other members of the team and maximize your return.
Some people also find BrightEdge Recommendations useful before they even start writing a piece of content. In addition to the prioritized lists of tasks for existing content, brands can also look at the recommendations for keywords. This can help you plan a new piece of content.
Natalie Starzynski of Astute Solutions, for example, said her and her team "like to go into the Recommendations for a particular keyword and look at insight such as the top 10 pages for that keyword on the SERP." They can then use this insight to better plan their content development and create material that they feel confident will outrank their competition.
BrightEdge Recommendations offers brands a valuable source of insight and understanding. You will grasp how your content calendar measures up to your competition and receive an itemized list of tasks you can take to improve your standings. You will be able to complete your tasks more effectively and efficiently, delivering performance from organic search.