Adobe Summit 2015 was the largest and best Summit yet. The event attracted 7,000 attendees this year - far exceeding the 5,500 they expected. The key themes of Adobe Summit could be summed up as:
Context Means Everything - getting the right message to the right person in the right place and at the right time,
Agile Analytics and real-time marketing,
Content Tracking. The Adobe team put on a great conference, and BrightEdge was proud to be a major sponsor.
The BrightEdge team had a fun and productive time at the Adobe Summit and had valuable interaction and exchanges with marketers and executives from nearly 1,000 companies.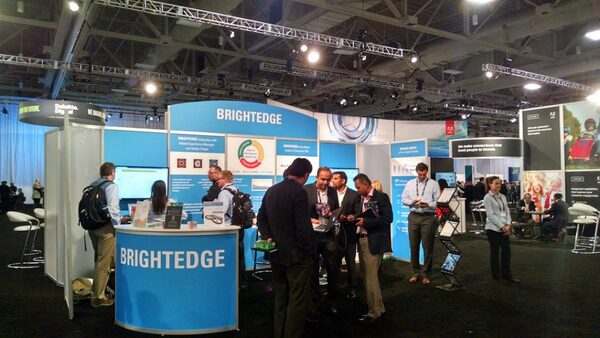 Many people stopped by and talked with our team at our booth in the community pavilion, including existing customers and future customers. We demonstrated BrightEdge S3, our industry-leading search and content management platform. Visitors and press were excited about Content Optimizer 3.0, the latest release of that product that integrates with Adobe Experience Manager (AEM) and provides actionable insights, guiding you to create in-demand content which outperforms your competitors and is optimized at the time of creation.
The conference was abuzz about Landing Page Optimizer (LPO) Intelligence, a new BrightEdge product we announced during the conference and which Adobe featured during a number of their sessions. It provides valuable industry and competitor insights to marketers using AEM's new performance-targeting capabilities. It was great to get to show off our current and new products and hear first hand how impactful they are to our existing customers. At the Summit Adobe introduced innovations to Adobe Marketing Cloud to help marketers deliver customer experiences that get results:
And the winner of the drone is: Besides learning about our products and grabbing some swag, booth visitors entered into a drawing for a Parrot AR2.0 Drone, which includes a live HD video feed to your phone. I'm happy to announce that C. Moore of U.S. Bank was the winner and will soon have a whole new perspective of his neighborhood.
The BrightEdge team will be heading up to Seattle at the beginning of June for SMX Advanced, and we hope to see you there. And, we are actively planning for BrightEdge's Share15 event, which will be in San Francisco September 21-23 and have an open call for speakers. You can nominate yourself or someone else on the Share15 speaker nomination page.