BrightEdge Social-Share Analysis
Tracking Social Adoption and Trends
Overview
In this Social-Share Analysis, we provide our regular update to earlier findings on adoption of social tools,
such as social plugins and social links by leading websites. In addition to this we are extending our analysis
to regularly uncover insights around key social media trends. This month we took a deep dive into Twitter's
massive data stream to find compelling insights.


New Findings
Tweet Buttons Drove 7x More Link Mentions for Websites
The question of what drives the most link mentions for websites on Twitter is key for savvy marketers
looking to take advantage of the rapidly growing influence of social media on marketing. Our study,
which included a detailed analysis of 4 million randomly sampled tweets indicates that sites that had
adopted the Tweet Button drove almost 7 times more link mentions on average than sites that did not
have the button.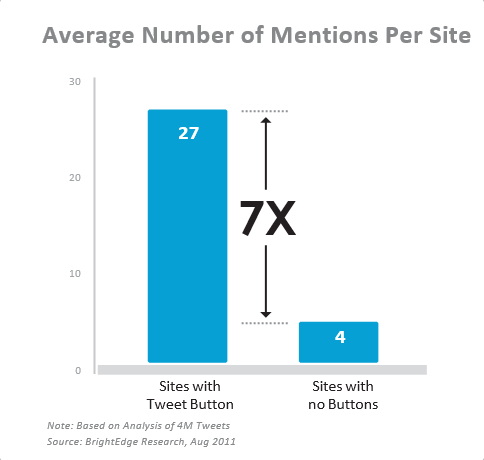 Sites that have not yet implemented the Tweet Button are most likely missing out on an easy way to drive
more mentions and market exposure. These additional mentions represent opportunities to tap into the
large number of followers reached by each tweet and drive additional referral traffic.
Social Adoption Trend Analysis
Compelling Opportunity for Websites and Brands
Our latest analysis on adoption of social links and plugins by leading websites showed continued growth.
Over half of the top 10,000 websites (53.6%) now have social links or plugins with one or more of the four
major social networks (Facebook, Twitter, Google+ and LinkedIn) on their homepage. This compares to
52.8% of the same websites having such links and plugins a month ago.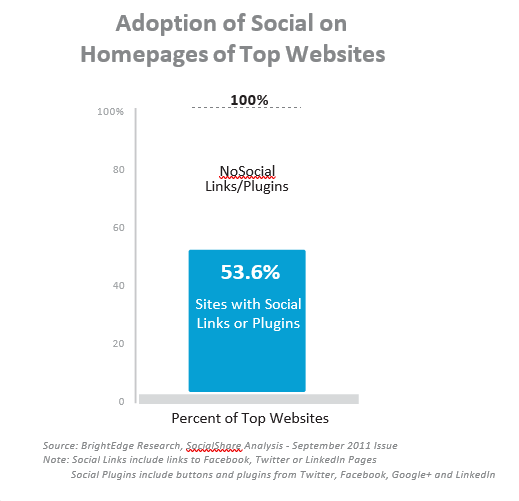 While this growth is healthy, there are still a surprising number of major sites that have not fully
embraced social marketing. The absence of any social engagement vehicles such as Social Links,
Facebook plugins and Twitter Buttons on the homepages of a large number of major sites shows there is
significant untapped opportunity for social media to drive greater marketing exposure for brands.
Breaking out the data by each social network shows growth across most networks. Unsurprisingly
Facebook and Twitter with their massive networks of 750 and 250 Million users respectively, dominate
the social real estate on the home pages of top sites.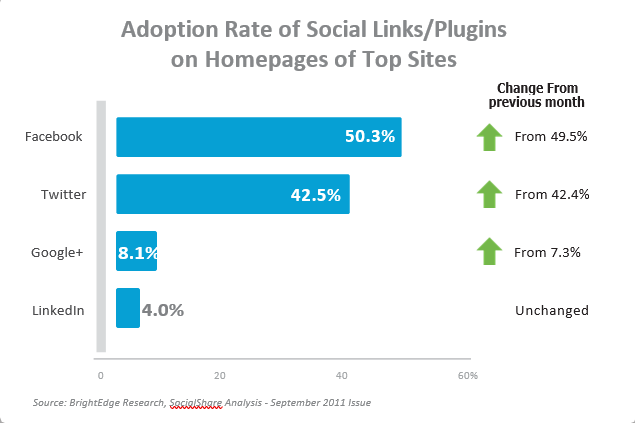 Conclusion
Social represents a massive opportunity for brands and websites to get increased exposure at a fraction
of the cost of other methods. Simple best practices such as implementing on-page tools like Twitter for
Websites and Facebook Plugins can make a huge difference. But a large number of major sites are still
missing out on this opportunity since many have not yet adopted these simple but highly effective
best practices.