For digital marketers who work in e-commerce or retail, Black Friday and Cyber Monday are two of the most important days of the year. These two days represent the kickoff of the holiday shopping season, and many brands offer special deals and incentives for their customers, leading to higher sales volumes, site traffic and activity. And with 2021 predicted to be the highest retail holiday season on record, we wanted to look at the early data to see what happened.
At BrightEdge, we were curious to see if there are discernable changes in how Google is treating searches on Black Friday and Cyber Monday and how they are treated in the weeks prior to and after the events. This insight could reveal whether there are experiences that are best served on transactional days. We have been tracking 500 e-commerce related keywords (including informational, navigational and transactional intents) over the course of the last month to get a sense of how results fluctuated to accommodate the shoppers on these days. While we did not see any dramatic swings with share of voice, we do see some interesting fluctuations this year.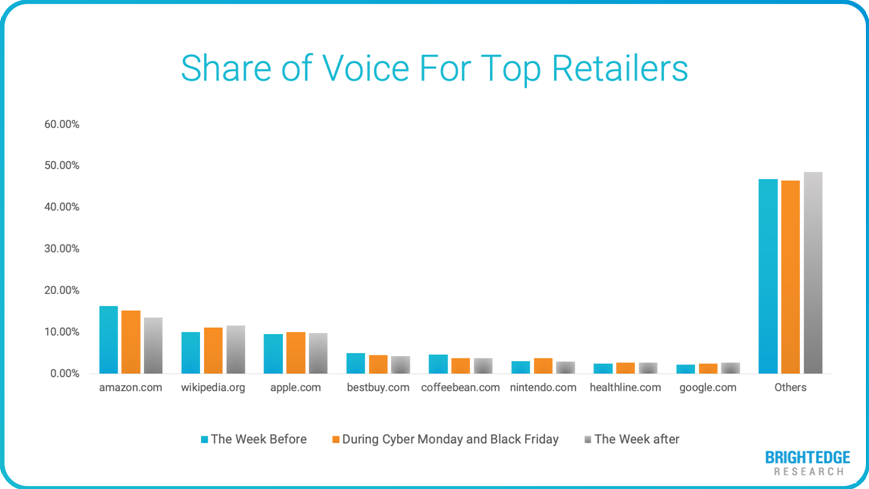 Here are some insights we gathered:
Amazon's dominance is less apparent in the heat of Black Friday and Cyber Monday
For the 500 keywords we measured, we saw Amazon's share of voice in organic results decline while during the two days, we saw brands like Apple, Nintendo and Healthline see an increase in their organic presence.
Regular web results get more diverse as the holiday season kicks into gear
As we move into the holiday season, we are seeing more players gain market share in organic, with the "other" category up almost 5% from where it was during Black Friday and Cyber Monday.
Informational content still matters
As shopping continues, contrary to what we may have expected, we saw Wikipedia's visibility in organic results increase. This could be due to a rise in shopping feeds and paid results requiring organic to fulfill more informational needs during these times. Interestingly, Wikipedia's increase in visibility is almost the mirror of what we are seeing with Amazon.
When we looked at the types of pages that were preferred, we did not see dramatic fluctuations, but there are a few movements that align to what we saw with share of voice.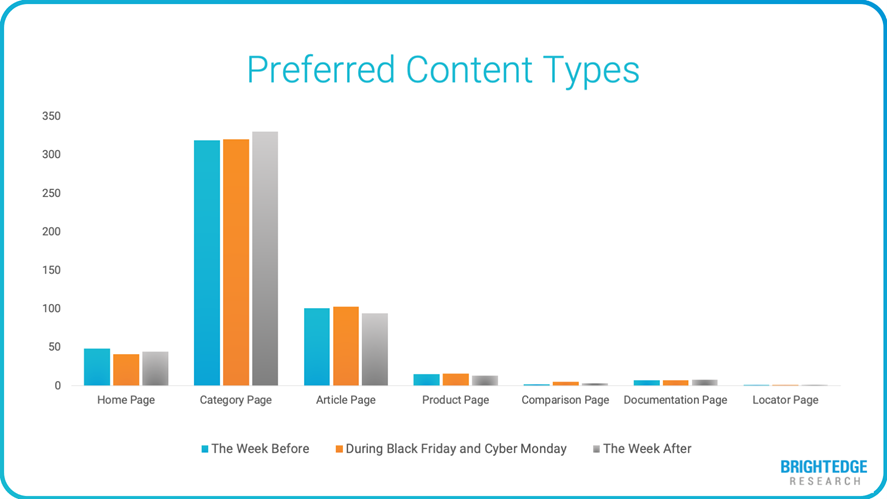 Category pages continue to dominate e-commerce
If you joined our webinar, Critical Shifts in E-Commerce: Preparing for the 2021 Holiday Season, you heard us discuss the importance of category pages. Based on the data, we see category pages are only gaining prominence as holiday shopping is in full swing.
The homepage continues to lose ground
During Black Friday and Cyber Monday, we saw homepages give ground to article and product pages in search engine results pages. While this was not a dramatic shift, it was enough to suggest that richer and deeper experiences do incrementally better during peak shopping periods. If you are launching new products or running promotions, a big splash on your homepage is great, but you need to make sure those deals are prominent on your category and product pages as well, because those may be the pages your customer sees on a search result in lieu of your homepage.
Article and product pages are losing steam following Cyber Monday
While slight and incremental, it is interesting to note that coming out of the peak days, the page types we see being less prominent are product and article pages. This is interesting to note because we see the category level pages rise in nearly the same proportion. This anecdotally suggests that in the height of shopping seasons, the more of a rewarding category level experience you can provide, the more likely you will be rewarded in organic results. This makes sense in conjunction with what we see with share of voice as well, where brands like Nintendo and Apple are offering popular products this season and win with category-level pages related to those products.
It was also interesting to see the before, during and after aspects across site types. We were curious what schema was the most prominent for pages during Black Friday and Cyber Monday. Schema is a markup language that helps search engines understand the context of the content it is crawling (so instead of a series of numbers, schema can be used to tell a crawler that this is a time or date). The results suggested a lot of page structure information, but also some revealing insights as to what is and is not being conveyed by the winners this year.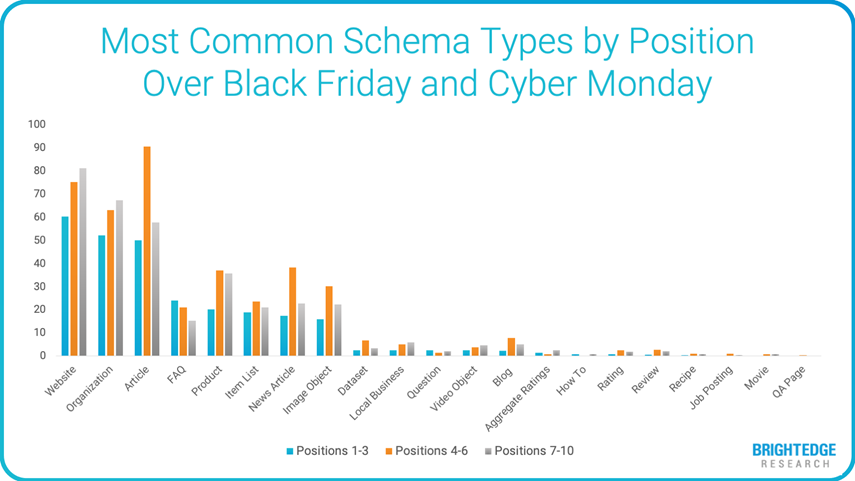 Site architecture schema doesn't translate to higher rankings
At the very least we're seeing winners in e-commerce are giving context of who they are, but it isn't a direct correlation to better rankings. Fewer winners in the top 3 positions are declaring the site type and organization schema than those occupying the lower third of the results.
FAQ schema is more present with higher ranking pages
Unlike architectural content, we do see FAQ schema more likely to be present in the top 3 rankings than in the lower third for the keywords we evaluated. This supports a key observation we've made: searchers favor a richer shopping experience as evidenced by the predominance of category pages, fewer homepages, and more brands winning on the peak shopping days. In that vein of richer shopping experiences, it would also follow that easy access to answers about the products creates a positive experience. If you have FAQ content, even if it links out to a separate page, ensure that it is easily identifiable by the search engines on these pages.
Product schema is still important
Per what we observed with the slight increase in Wikipedia's share of voice during Black Friday and Cyber Monday, we suspect that could impact how much product schema was present in the top 3 results. We do note that outside of structural schema, it is the most prominent type we encountered in rankings 4 through 10. Ensure product schema is incorporated in both your category pages and product pages to help engines understand the context of the content.
Ultimately there are hundreds, if not thousands of factors that will determine how and why a page ranks in a certain position for a particular keyword for a given user. But looking at the macro conditions, we do see some slight variations in how results are treated before, during and after peak shopping times. For e-commerce, it appears critical that you focus on the shopping experience your category page offers by providing useful answers to customer questions while making it easy to get into products they may be shopping for.We hope you had a successful kickoff to the holiday shopping season and wish you a great return in Q4!