A brand marketing strategy encompasses everything from your color scheme and logo to the interactions and experiences consumers have with your brand, your products and your services. Your brand strategy should plan for every step in the customer journey that your customers will take while interacting with your website, your social media, an in-person experience, an experience with a customer service representative, etc.
While building the elements of your brand marketing strategy, ask yourself the following questions.
Who is our audience?
What are our brand values?
What promises do we intend to make and keep to consumers?
What personality or tone does our brand have?
Where should our brand be sold or promoted?
Brand strategy must-haves
A why? What is your brand's purpose? Are you hoping to make life easier for consumers? Are you going to be part of some of the biggest moments in a consumer's life? Develop what your 'why' is and maintain it through all channels and content.
A voice. What type of personality do you want your brand to have? Are you educational and formal, empowering, fun or something else? Use this voice through all company facets including email, social media, in-person or tele engagement, internal communication, etc.
Consistency. When a consumer comes across your brand via social media, their experience should be the same as when they encounter a customer service rep. Maintain consistent experiences through all communication channels.
Emotion. Most brands have the ability to connect with consumers on an emotional level. By identifying a connection, you can leverage a consumer's emotions to build a stronger connection and trust.
Be relatable. Being a relatable brand will help you build trusting relationships with consumers. Use likeable visuals that speak to more than just your brand, respond to consumer reviews, highlight your company 'why' and share real stories on how your brand came to be.
A logo. Your logo will be one of the most important visualizations for your brand. Coca Cola, Starbucks, Nike, Apple and McDonald's are some of the most well-known, recognized brand logos in the world. Make your logo as unforgettable as these
Design and marketing assets. You're going to need an arsenal of assets. Print, media, fonts, color schemes, email banners, internal documents and more.
Include a social media marketing strategy in your plan
Social media is constantly evolving. Initially, it was a way for people to interact with their friends and family. Today, it's a common way to receive news, information and networking interactions. For brands, it's becoming the primary place to interact with consumers, showcase products or features and much more. Because of this, it's a great idea to have a social media brand strategy as part of your overall brand strategy.
Take the following steps to ensure a solid social media marketing strategy.
Set goals. Do you want to grow your following? Are you hoping to generate a percentage of sales or leads through social media? Whatever your goals may be, start planning by mapping out exactly what they are. Knowing that they can evolve throughout the year as well. If you're not meeting goals, regroup and rethink your strategy.
Know your audience. This is important to your overall brand strategy, but really narrow it down for social media. Use relevant hashtags and follow accounts that relate back to your brand. Consider collaboration efforts with other likeminded brands to attract their followers as well. This is essentially the "backlink" of social media.
Create a social media content calendar. There are going to be reasons to create posts on the fly like a new product release or an unforeseen pandemic like COVID-19 but for the most part, you should be posting planned posts regularly.
Create an influencer strategy. Aimlessly choosing influencers to drive brand awareness isn't going to cut it. In order to maintain both a successful partnership and successful brand promotion, you'll need to choose influencers in your industry. You can easily find them through social media platforms by searching relevant hashtags.
Research seasonality. BrightEdge Instant offers keyword research capabilities for you to find keywords and their search trends. Below you can see the volatility of certain keywords throughout the year. Plan the most relevant social posts for your brand at the most opportune times to make a sale.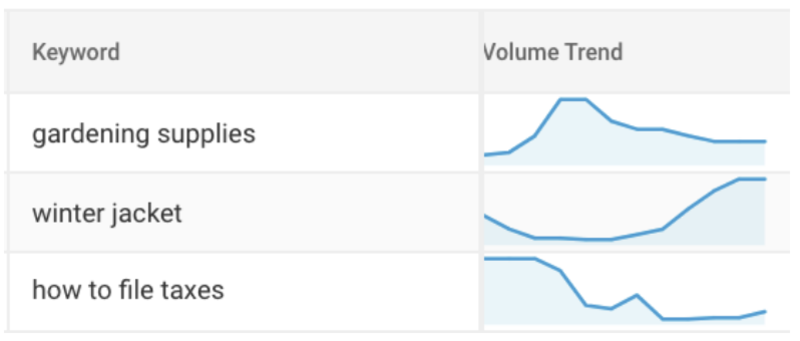 A brand marketing strategy is important to the overall health of your brand. That includes awareness, consumer relationships, recognition, how you handle hardships or company hiccups, etc. Developing a brand strategy your audience can get behind is key. Keep your strategy and brand in mind throughout all campaigns, posts and consumer interactions.