Over the past several years Google has placed a heavy emphasis on driving more personalized and contextually relevant search results. One of the main ways it achieves this is through localization of search results based on where a user is located geographically when the query is entered – a fact further compounded by the rapid growth in mobile search. With so many variables likely to impact your organic visibility it has become increasingly more important to understand how a site is performing across different local markets. Even if your institution is a single campus, it's likely to have an interest in attracting the best and brightest students on a national-level. The following analysis highlights some key strategies for uncovering more about localized performance in key geographic markets and some actionable steps for optimizing your campaign.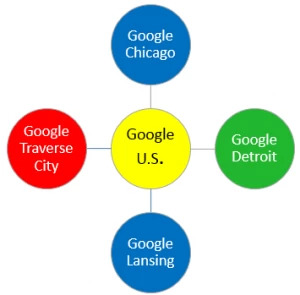 Findings Summary: Tracking Google US Rankings is Just Not Enough
With the help of industry-leading SEO platform BrightEdge, the education SEO team at Fathom recently collected keyword data from five unique local search engines for a traditional university in Michigan. The research's primary goal was better illustrate the differences in non-branded keyword rankings in Google local search engines vs. Google US over a three-month period. This analysis highlighted that non-branded keywords in Google's geo local engines, on average, had a ranking difference of 11.06 positions from the Google US engine. Perhaps unsurprisingly, the rankings performance was generally more positive for local engines closer to the University campus (i.e. in Michigan) as compared to Google Chicago.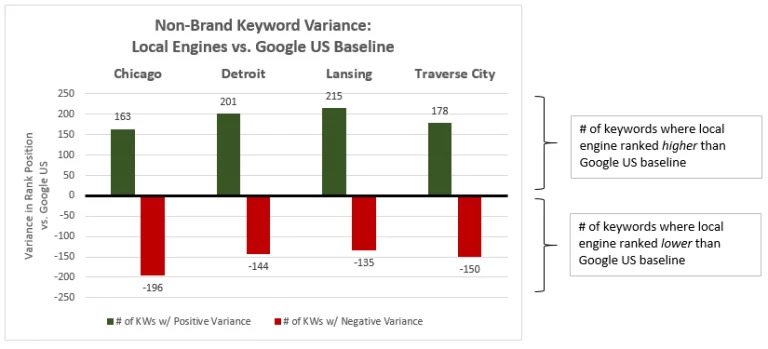 Additionally, an average of 51.94% of the tracked non-branded keywords were shown to have varied rankings across the different local search engines or displayed significant swings in rankings week over week. These swings were defined as volatility.

8 Steps for Improved Local Search
With ranking fluctuation data in hand, Fathom and BrightEdge compiled an 8-point list of action items for colleges to execute in order to improve local search performance:
Track keywords at the local level: Understand that Google's location-customized search doesn't always behave in the same way as Google US. Enhancing local campaigns will be much easier when you understand these differences, and platforms like BrightEdge make local monitoring
Set measurable goals: Defining ideal outcomes will help in setting agendas and outlining next steps. If the goal is to increase traffic from a particular location by 10% year-over-year, start by using targeted queries in location-specific content.
Cover the on-site basics: It seems like a no-brainer, but making sure your site loads fast, is tidy and optimized for local search is imperative. Use geographic keyword modifiers and schema markup where possible to set the foundation for local engines to find you.
Tap into universal results: A large part of local search success for universities now involves universal search. Optimizing your social profiles, videos and images as you would written content is a must. This boosts the chances of gaining valuable recognition in Google Images, "carousel" and "places" listings.
Cater to underperforming areas: Chances are you won't be seeing the same success in each local search engine; knowing your trouble areas can help you create a plan of attack. You might consider creating geo-specific content like location pages or even investing in offsite advertising like radio spots or billboards.
Build credibility with local institutions: Partnering with local personalities or establishments in mutual areas of expertise can be a great way to build shared content and gain traffic to your site via external links.
Make friends with paid search: Building a sustainable local presence can be a long project. Rely on paid search while in the process of developing content to support organic search. Bidding up in areas of concern allows schools to gain at least some share of a particular results page or dominate it where they already have visibility.
Generate visibility outside your core market: Knowing that higher volatility in rankings exists in search engines outside of the physical location of the school, you'll want to gain traction in these external markets. You could consider generating additional press around an out-of-state college fair or a feature on an alumnus doing great things in a crucial market.
Interested in learning more? Get the complete case study on local search for colleges and universities.