Organic search remains one of the most powerful channels for marketers. Success in the channel relies, in large part, on well-reasoned and well-executed SEO strategy, but the work of SEO is too often misunderstood or undervalued by the business. As a result, getting buy-in for even seemingly obvious SEO projects can feel like an uphill battle. That's why it's just as important to translate the purpose and benefits of SEO for key stakeholders in the business as it is to have the right SEO strategy.
For brands, especially those with large-scale websites, even seemingly minor initiatives can require substantial investments of money and people to execute well. Securing organizational buy-in to the value of any project requires the SEO team to:
Translate the initiative's benefits for multiple audiences to win initial buy-in. How does the initiative drive better marketing results? How do the better marketing results support the larger business objectives?
Communicate the results of the initiative following implementation.
1. Translate the benefits of SEO
Let's explore three examples of SEO initiatives and how they translate for a digital marketer and for an executive. In simple terms, our goal is to answer for each audience, "What's in it for me? / Why should I care?"
So, how do we make something that's often viewed as cryptic and tactical into something that will excite a digital marketer and executive approvers? We frame it in terms of their priorities.
EXAMPLE 1: SEO CONTENT OPTIMIZATION INITIATIVE
Implement Bulleted Lists with Schema to Appear in Google "Quick Answers" Results for a Keyword
SEOs know that providing context for content on the page can be critical for winning universal search results and promoting elements of the site that are zero-click. One area where this can be helpful is to win the quick answer result for a given query. Using schema tags to help search engines understand the context of the content can influence an algorithm to use your content for the quick answer. Winning this result in a search result means more visibility, more clicks and better positioning for your brand. Make sure other stakeholders in your organization understand and appreciate the impact on company performance.
SEO RESULT: Win incremental and highly coveted real estate in the SERP (search engine results page) and provide the right experience for zero-click results
MARKETING RESULT: Expand reach by engaging audiences that are unlikely to click on traditional SERP links
BUSINESS RESULT: Grow revenue by capturing missed revenue opportunities in organic search
EXAMPLE 2: SITE AUTHORITY INITIATIVE
Secure backlinks from .gov sites required to compete for a set of keywords
In some instances, SEOs still need to engage in backlink campaigns. White hat methods for obtaining backlinks are a collaborative effort that requires input from PR teams and other stakeholders in the organization. But in some cases, if your site doesn't have the authority or credibility to win a first page result for a competitive query in an important space, you may need to build links from authoritative sites such as government or education resources. This can be challenging for SEOs because not only can this require significant work and sometimes financial investments (licenses, published studies, etc.), but the concept of backlinks isn't always readily understood outside marketing. As a result, SEOs need to translate this tactic's benefits into things that are more universal.
SEO RESULT: Secure page-one search rankings for difficult-to-win YMYL ("your money or your life") queries
MARKETING RESULT: Solidify brand credibility and improve qualified traffic
BUSINESS RESULT: Reach a greater volume of qualified customers
EXAMPLE 3: TECHNICAL SEO INITIATIVE
Implement Hreflang Tag Across Sites Serving Multiple Regions
SEOs know that the hreflang tag is essential if you're working with sites in multiple regions with multiple languages. It helps ensure that proper content is being served to the proper country, but to non-SEOs, "Hreflang Tag" could just as easily be the name of a Danish heavy metal band.
Implementing hreflang tags correctly across multiple sites with multiple stakeholders can be resource-intensive and, as a result, risks being de-prioritized if the stakeholders don't fully understand how misaligned pages can be detrimental to the user experience and ultimately undermine marketing and business goals. That's why it's important to connect the SEO result to marketing and business results.
SEO RESULT: Search engines can properly index content for their intended regions
MARKETING RESULT: Improved engagement that ultimately drives more traffic
BUSINESS RESULT: Expanded regional visibility and more qualified visitor conversions
While simplistic on the surface, these translations are a meaningful and powerful enough starting point to engage key stakeholders in a conversation about the value of each initiative. Support the conversation with historical insight into the SEO problem and post-implementation impact projections. Start by building allies within marketing and team together with them to win support from executive decision makers. Oftentimes, you'll gain more than approval, you'll win advocates that will support the initiative beyond the initial approval.
2. Communicate the results of the initiative
Securing approval for future SEO initiatives begins before you even know what those initiatives will be. It starts when you report on the outcomes of the current initiatives.
In order for reporting to scale company-wide, you must:
Automate repetitive reporting and data collection
Simplify how your company sees SEO insights
Orient your data to what each team cares about
Reduce friction between data and insights
AUTOMATE REPETITIVE REPORTING AND DATA COLLECTION
One of the biggest challenges SEOs face is managing and reporting on the data the practice generates. This problem is compounded as the SEO program expands and acquires new stakeholders. Our internal studies show that SEOs can spend up to 4 hours a day cobbling together reports using various point solutions. In order to mitigate this work, eventually data collection, synthesis and organization needs to be consolidated and automated in a cohesive enterprise SEO platform. This often requires investments in time and money. Because the benefits are not always understood by people outside the SEO organization, it becomes imperative for the SEO to demonstrate how this time reduction will lead to higher ROI and increased value from the organic channel.
SIMPLIFY HOW YOUR COMPANY SEES SEO INSIGHTS
The reporting itself works best when it is straightforward and easy to understand quickly. One of the best ways to achieve this is with reporting dashboards. Proper dashboards offer at-a-glance insights into performance, and personalized, on-demand access for stakeholders that – once you've set up the dashboard – frees you up from repetitive and time-consuming report refreshes.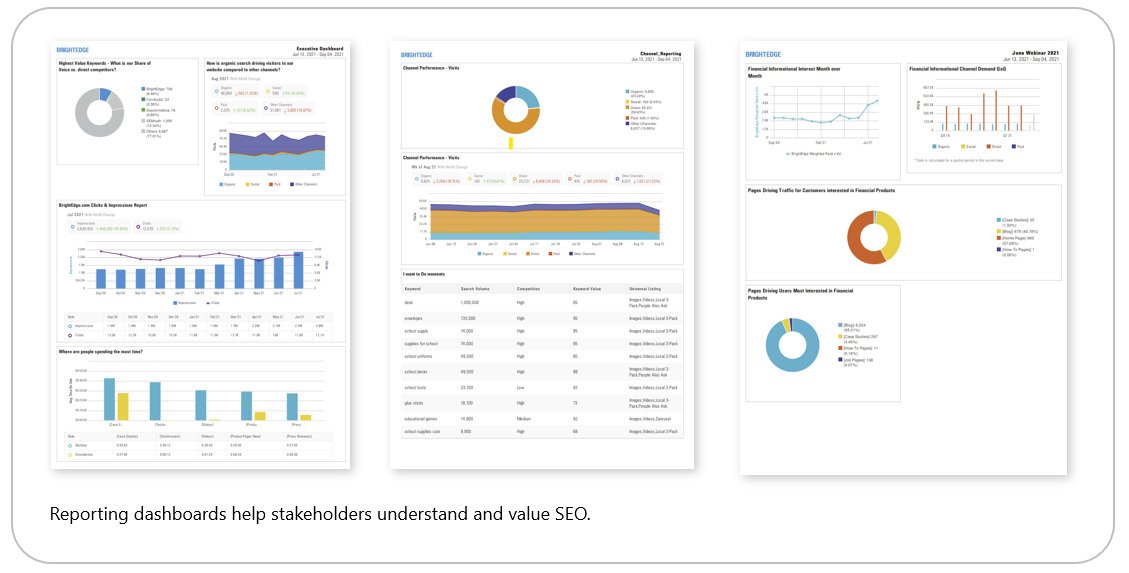 ORIENT YOUR DATA TO WHAT EACH TEAM CARES ABOUT
As before, it's important to translate the results in a way that is meaningful for the audience. In this case, frame results in terms of the benefits that were promised at the outset. If improved traffic was forecasted, report on relevant traffic data. If an uptick in revenue was promised, track key sales metrics for the impacted keywords and pages.
REDUCE FRICTION BETWEEN DATA AND INSIGHTS
As SEO programs scale, they begin to involve different groups with different perspectives. Technical teams may be looking at an opportunity one way, while content teams may be looking at it from an entirely different perspective. This issue gets compounded if the teams aren't basing their insights on the same data sets. As a result, it becomes critical that there is a single source of truth in the organization for things like rankings, crawl activity and business performance so the group can make decisions based on a shared reality that still respects each stakeholder's unique perspective. Consolidating data sets, tailoring reports by stakeholder audience, and automating ongoing report generation help reduce the friction inherent in turning data into actionable insights.
Change Minds by Changing the Approach
SEO doesn't happen in a vacuum. It's informed by, among many other things, the actions and goals of the larger enterprise. By collaborating with the business at-large, SEO takes on greater purpose in the organization.
Framing SEO in terms of how it supports the business is essential to acquiring the resources to make an impact. Reporting on the impact of SEO is essential to acquiring the resources and clout to keep making an impact.
BrightEdge SEO Platform
If you would like to learn more about how BrightEdge can help you better make the case for SEO, execute winning strategies and facilitate robust and time-saving enterprise-wide reporting, schedule a demo today.