The move to 100% secure search by Google transformed the world of SEO forever. We were among the first to anticipate this and responded through our ground-breaking Page Reporting innovation well before this change (recognized by the likes of Search Engine Watch). Within days of the announcement by Google, we launched a slew of innovations to help SEO marketers manage the impact of Secure Search. Not ones to ever rest on our laurels, we have been busy hacking away to give you even more ways to turn this change into a massive opportunity. Excited as we are to talk about every one of these to the minutest detail, we will stick to one simple and effective way to address Secure Search in this post – leaning on Google Webmaster Tools (GWMT) keyword data right within the BrightEdge platform.
Read on to understand why Google Webmaster Tools matters and how you can play alchemist by turning GWMT data into SEO gold with the BrightEdge Google Webmaster Tools Integration.
Google Webmaster tools is a treasure trove
GWMT is widely adopted and there is a reason for it – it allows webmasters and SEOs to keep a close eye on site health through insight into indexing status, search engine visibility of their websites, site performance and backlink profile. And there's more that GWMT can do. Google Webmaster Tools also provides valuable Clicks, Impressions and Click-through Rate(CTR) data for all content on your site. And that brings us to the pressing issue of Secure Search.
GWMT + BrightEdge = SEO gold
One of the biggest implications of Secure Search for marketers is the need for access to alternative data sources and that's where BrightEdge shines brighter. The precious GWMT data that you count on to understand your site performance is now available within BrightEdge. Looking at your BrightEdge keyword data with GWMT Impressions, Clicks and CTR restores some of the lost keyword visibility while making your keyword discovery more powerful than ever.
Restore partial keyword visibility
With the BrightEdge Google Webmaster Tools Integration, you can regain some of the keyword visibility lost due to secure search.
Impressions: Uncover how many people are seeing your website for a specific keyword search. Get a sense of how many people are seeing specific sections of your content.
Clicks: Uncover how many searchers seeing your site take action and click on your search result.
CTR: Click Through Rate(CTR) is the percentage of people that click on your site in the search results. If your CTR is low, look to see if the content can be made more relevant.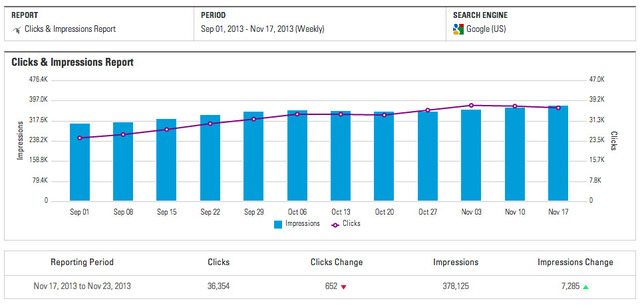 By integrating GWMT clicks, impressions, and CTR information with BrightEdge's keyword, rank, page, and search volume data, marketers have access to in-depth keyword insights all in one place.
Elevate your keyword discovery
The BrightEdge Google Webmaster Tools Integration is not all about restoring keyword visibility for your known keywords. It also helps you uncover new keywords through our enhanced SEO X-Ray tool. BrightEdge's proprietary SEO X-Ray "Reverse Index" of the web uncovers exactly which keywords are working for your search competitors that you should also be targeting. With GWMT integration, your keyword discovery is now based on even richer data that includes Clicks, Impressions, and CTR from GWMT. For example, spot keywords that you are ranking for that you are not tracking. Then look at the Impressions and Clicks from the GWMT data available in the same report to decide if it makes sense to pursue that keyword. It's that simple.
Getting GWMT integrated is quicker than a cup of coffee
Literally, it takes less time to get GWMT data into your account than it takes to make a cup of coffee. With a simple process our users have the ability to setup GWMT without requiring any support from their internal engineering or analytics teams. In fact, it's so easy you can have it up and running right away.
If you are a BrightEdge customer, you have this powerful functionality right now, for no additional fee. More than a thousand brands already manage the impact of secure search with the BrightEdge Google Webmaster Tools Integration. Hope you will make the most of this valuable integration and cash in on the SEO gold that is available to you.