In January 2018 Facebook announced that they updated their algorithm for the social media platform. With an estimated 2.2 billion monthly active users and about 50 million businesses on Facebook, they were able to generate a staggering $13B in add revenue in Q4 2017. It compares favorably with Google's $32B in Q4 revenue from all sources. Like Google, Facebook is working to find the right balance between customer experience and the commercial demands of being a publicly traded company.
In Q4, Facebook saw its first drop in daily US users from 185 million to 184 million. Some conclude that the drop was caused by including too many ads in users' feeds and diluting the relevance of the experience for customers. In response, Facebook announced a change that will improve user experience and probably generate more revenue. Here is what you need to know about the new Facebook algorithm.
How did the new Facebook algorithm change?
The biggest change that businesses and individual users have seen is the greater emphasis on posts in the feed by friends and family. Facebook wants to create a more personal and positive experience for their users. As CEO Mark Zuckerberg wrote in the press release:
"As we roll this out you'll see less public content, like posts from businesses, brands, and media. And the public content you see more will be held to the same standard—it should encourage meaningful interactions between people."
Facebook will now hold brands to the new standard of 'meaningful interactions'. In other words, Facebook will be looking less at how many likes a page has and more at the ability of the business to generate shares and comments. What does that mean for Facebook marketing? The point of posts should be to promote conversation, so negative comments will not be marked differently than positive ones.
The key is that the content posted has to promote active conversation if you want it to appear in feeds for your users. Brands should also note that Facebook will be actively discouraging efforts to artificially generate conversation. In other words, engagement bait tactics such as, "Comment 'Yes' if you agree with us!" will not work to boost your brand and can even hurt the success of the post. Brands should focus on organic, natural conversation.
However, in 2019, people were outraged with the content appearing on their Facebook feeds. It was mostly controversial and "fake news" from brands or people who knew how to work the algorithm for their content to appear.
Now, in 2020, Facebook using ranking signals to choose what content shows up on your feed. Whether you like a specific person's posts often, if you watch videos, take quizzes, etc. will depend on what you see. To add to that, Facebook also added a "Why am I seeing this?" option for users. This button will tell the platform the user is unhappy with the content experience and to avoid content like it in the future.
The Facebook update for video
Facebook continues to actively promote video, particularly their Facebook Live video option. These videos have a reputation for driving strong engagement, which makes them beneficial for brands. They receive an average of six times more interactions than regular videos. The update, however, will also impact how we measure success of the videos. Facebook found that many people watching the videos just passively look at the screen without leading to much engagement or interest. Therefore, the algorithm will no longer look at metrics related to views. Instead, they want to see 'meaningful interactions' here as well. You want your videos to generate comments and shares similar to any other type of content you post.
How can businesses succeed under the new Facebook algorithm?
Although these changes from the new Facebook algorithm will certainly put many businesses at a disadvantage, there are still strategies brands can use to boost their Facebook success. Facebook still allows users to request certain pages to include in their feed. On your brand's page, customers can select the 'see first' option, prioritizing your page and your posts in their feed. Creating an interesting page that encourages people to return will invite them naturally to select this option. You can also actively encourage people to select this choice to make sure they do not miss anything from your organization.
Certain types of content also encourage more people to return to particular pages and engage. Episodic content, when you post a series of interesting videos at the same time each day for example, encourages people to return because they know that they will see something new from you. Using strategies that drive people back to your page will allow you to maintain your active engagement rates.
Facebook Groups may also be a feature that companies start to experiment with to build community within followers. When people join your group, they will automatically receive any updates that you send out through the group. This will allow you to continue to engage with your audience without having to fight through the 'meaningful interactions' criteria on a standard post. Getting started with these groups can be a challenge, but brands that want to succeed with this feature can begin now. Create your group and offer incentives for people to join. For example, there could be exclusive offers of status or coupons for members of your group. It is likely that in the wake of this update that Facebook ads will also become an important factor in boosting visibility. Creating highly effective ads can allow you to gain the attention you need. Particularly when running promotions, ads will be useful moving forward.
Does Facebook understand that tweaking the quality score algorithm will be good for business?
Keep in mind when planning your Facebook ad strategy that these new changes will be driving many people towards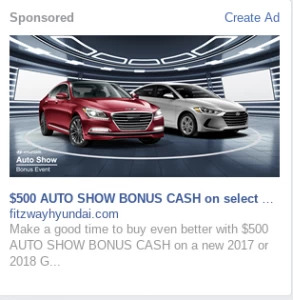 paid advertising. Estimates say that prices may rise as much as 48 percent in the next six months and nearly 80 percent by next year. To keep prices down, create highly relevant ads that boost engagement and give you a higher relevance score. A higher score can lower your ad prices.
What should brands do more of on Facebook?
Focus on the following:
Post more content that will generate comments, shares, and discussions between users, even if it means posting less
Abandon any attempts to artificially force comments or shares
Use video, particularly Facebook Live, to generate engagement including comments and shares but with time limits
Produce material that encourages people to regularly come back and view their page
Post during opportune times that your audience is online
Consider experimenting with Facebook Groups if it fits for the organization
Enourage people to click the "see first" button in order to see your content first
Look at their Facebook ad strategy and consider investing more, particularly when promoting events or important announcements
As the largest social media platform reaching a global audience, Facebook remains at the mainstay of social media marketing strategy for many brands. While this update certainly caught many by surprise, its emphasis on improving the user experience should always be on the forefront of the mind of every marketer. Consider how you can adjust your own Facebook strategy to ensure that you can still actively engage with people on the platform.