The rapid and widespread shutdown in response to the COVID pandemic in March 2020 necessitated substantial marketing and operational shifts across industries worldwide. While few organizations were truly prepared to do well what was required, the ones that fared the best, quickly embraced the new reality and monitored the changing market closely.
The impacts of the pandemic were vast and immediate, but rapidly changing market forces are nothing new. They are typically more limited, affecting only an organization, an industry or a small segment of consumers. Even so, if/when your organization is impacted, many of the competencies required to react effectively to a global pandemic still apply.
The ability to see and understand what's happening in the market at any point in time and be able to respond quickly and comprehensively is what we refer to as Global Agility.
Use Search to See and Act on Market Trends
Search is, by far, the largest point of entry to online experiences. According to Imforza, 93% of online experiences begin with a search engine. Beyond its scale and reach, search is uniquely informative. Because it is comprised of consumers' specific inquiries, requests and interests, it provides direct insight into the consumer's mindset. Taken in aggregate, search data can uncover both simmering trends and rapid shifts in the market.
Whether it is a global pandemic, a new competitive entry in the marketplace, or a cultural event provoking a change in the zeitgeist, change is always happening. Search provides a window into the changing marketplace as it is happening and while it is still possible to capitalize on an opportunity or head off a threat.
The pace of change and the ability to monitor it through search have created a new market imperative. To respond with agility, companies must:
See dynamic changes as they happen.
Plan and optimize budgets using real-time macro trends.
Identify new opportunities as they emerge.
Coordinate across channels to capitalize on opportunities.
Global Agility in Practice: Supreme Court Rules Against NCAA
This week, the Supreme Court ruled that the NCAA cannot limit education-related compensation to student athletes. Agile colleges and universities that benefit from the revenue streams delivered by TV contracts and other sources, will have been monitoring related search trends and preparing contingency plans in anticipation of the outcome.
Now that a market-shifting judgment has been made, these agile institutions will need to rethink their approaches to recruiting, including competition for recruits. They will need to account for how, to whom and for how much they award student-athlete scholarships and if or how raising limits for student-athletes will limit overall scholarship dollars for other students. Most importantly, at this stage, even the savviest, most agile organizations are only forecasting what will happen. Search monitoring will be essential to help them reconcile the market's response with their expectations. As they better understand the reality of the market shift, it will be essential that the key functions that contribute to athletic programs are on the same page and coordinated in their response.
Centralize Reporting and Response
In order to meet the new market imperative, organizations must develop and maintain a streamlined visual of the market. Search data, like any expansive set of data, require translation to understand the inherent insights.
Understanding and responding to search insights requires organizations to:
Develop targeted intent models – Define for your organization what intents and search behaviors are important (Informational, navigational, transactional, or specific mindsets that keywords represent) and organize the keywords accordingly to help the organization understand the behaviors happening in the marketplace.
Centralize data visualization – Agility is attainable by even the largest global organizations, but to even settle on the size and shape of a threat or opportunity, everyone must be following the same map. When everyone has access to the same data visualizations, like the examples shown below, the organization can move quickly to action with a coordinated response across channels.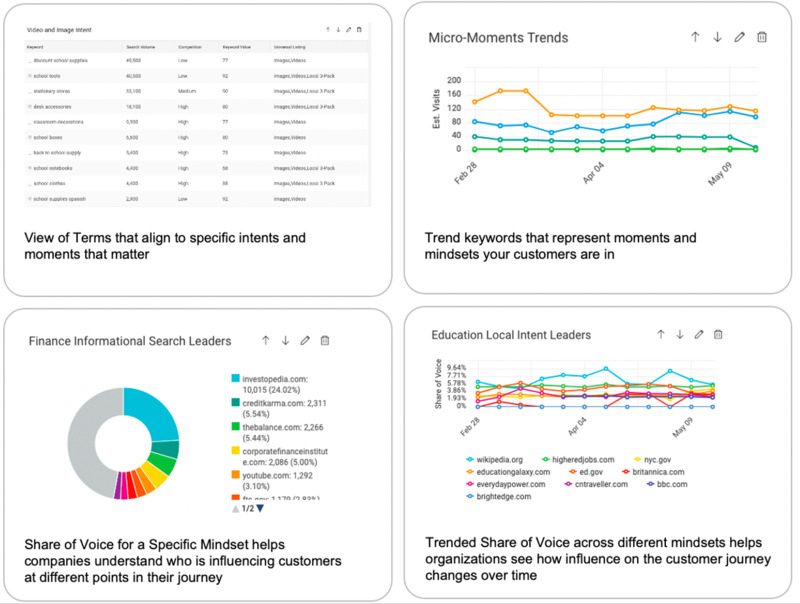 Global Agility Webinar: Learn how Intel.com Responded with Agility to the Pandemic
To learn more about how to identify trends that matter and operate with more agility, check out the BrightEdge webinar: Activating with Agility on a Global Scale – How Enterprises Remain Agile in Uncertain Times.
You'll learn:
How global brands such as Intel leveraged data and insights to pivot and activate quickly.
How to utilize macro search data to fuel faster and more deliberate omnichannel strategies.
How to tie your actions to outcomes automatically within the BrightEdge platform.