Local search optimization is the careful process of helping your website appear in relevant searches in the area around the user. These local searches are often answered by a local 3-pack that provides easily-digestible listings for businesses in the immediate vicinity.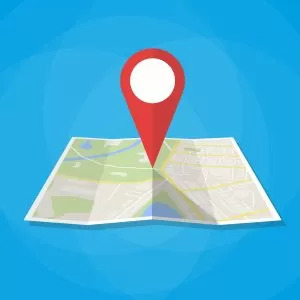 Local search is quickly becoming a dominant component in commerce. An estimated 78 percent of local-mobile searches result in offline purchases with 18 percent leading to sales within a day. As mobile usage continues to rise, the importance of these on-the-go devices in local business continues to grow as well. Sixty percent of American adults say that they use smartphones or tablets to look for local product or services information. It should be clear why local search optimization and helping your brand stand out in local searches is important. You should also note that Google answers 93 percent of searches with local intent with a local 3-pack. In others words, in the vast majority of the searches performed for local businesses, users will automatically be drawn to three main listings in the top center of the page. The better that businesses are able to understand how local SEO works and what they can do to boost their chances for success, the easier it will be for them to appear in these key listings and help their businesses stand out in their area.
How does local search optimization work?
Google creates local search results based upon the businesses that are located the closest to the exact location of the user. This means that a position change of just a few miles will impact the results. The results that appear for local searches, particularly on the local 3-pack, are continually changing. For businesses, this provides both benefits and drawbacks. Since the results are continually in a state of flux, brands have ample opportunity to enhance their local SEO and start to see an increase in their own appearance in local search. On the other hand, it means that no matter how well their site is optimized, if they are on the other side of the city and there are other quality businesses located closer to the user, they likely will not appear in the critical 3-pack. There are some opportunities to boost one's appearance in local search. For example, if a user searches for the 'best' pizza place near them, the results will differ than if they just searched for a pizza near them. This means that Google is filtering through the results around the user to find those with the highest ratings. This may encourage the algorithm to widen its parameters, even slightly, to focus on the top-rated local businesses. Brands that therefore focus on cultivating positive reviews and using related keywords can therefore increase their chances of appearing in a greater number of local search 3-packs.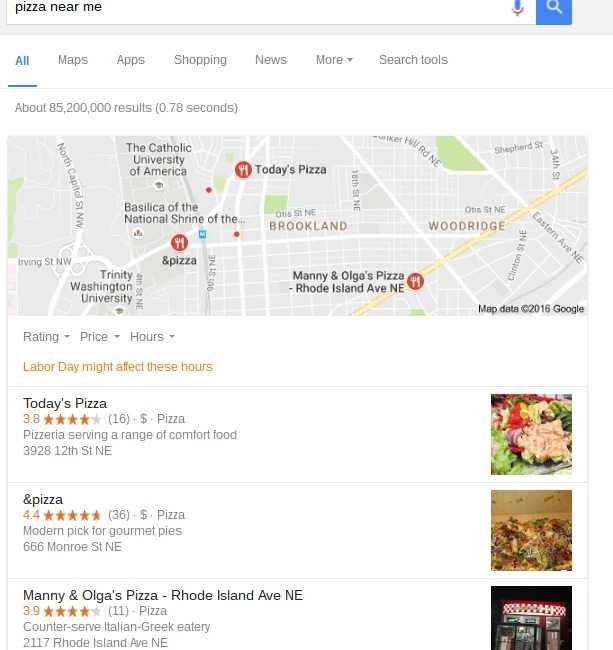 Do not neglect standard optimization for the local 3-pack
When the 3-pack is displayed for a local search, it automatically dominates the page. Other organic results are pushed to the very bottom. On mobile, the standard organic results are not even visible without scrolling. Brands that want to succeed in local search optimization cannot neglect this key area.
Focus on the NAP. Make sure that your name, address, and phone number are consistent on all your listings so that Google is confident in your information.

Claim your Google+ page for your business and build it out. This means including quality pictures and writing descriptions using local keywords.

Cultivate reviews. As explained before, high-quality reviews can help increase the chances of your brand being listed on the 3-packs. It will also help your business appear even more reputable on any 3-pack where it is listed. Take steps such as encouraging satisfied customers to leave reviews after transactions and including links to your Google+ page on newsletters, business cards, and your website.
What can I do to make my local search optimization efforts stand out?
Since the local search results change easily and are so user-dependent, it is easy to feel some level of frustration over how much influence you can have over your local search optimization efforts. Fortunately, there are a few steps you can take to make your business and domain stand out.
Remember the power of PPC
Ads appear even above the local 3-pack and can provide you with an additional opportunity to attract local attention. They can help you tap into a prominent position on the SERP for important local keywords and thus boost brand awareness and click-throughs. To do local search ads correctly, however, you need to make sure that your ad fits with local search intentions. A study conducted by Neustar Localeze and 15 Miles examined the purpose of local searches. They found that the top three reasons for conducting these types of searches were:
Finding the address or location of a business

Searching for area organizations with the products or services being sought

Looking up the phone numbers for businesses
The Google local 3-pack makes most of this information obvious right from the listing, so your PPC ad needs to similarly serve the needs of these local customers. Including information about your location, click-to-call links, or links to information about your business can help you increase your success with paid search. When the user clicks on your ad, you want to continue the positive user experience. This means having the landing page optimized for local users - with information about who you are, what you do, where you are located, and how to contact you featured prominently.
Create content for local searches
You can also enhance your local search optimization by creating content designed for people in your area. You can use BrightEdge to uncover keywords directly related to your area and put them in a specific group to track their progress. Create content that focuses on events and developments in your area and how they impact your industry. Build a reputation in your area as the local expert in the business. You can also expand your brand reach and awareness by participating in local events. For example, set up a booth at local fairs or sponsoring local charities and events. You can then promote the event on your website for even more attention.
Do not neglect the I-want-to-go micro-moment
Google has recently been impressing upon marketers and businesses the importance of micro-moments. These are intent-filled instances when users want to accomplish a specific task. During the I-want-to-go moment, users often turn to mobile devices to help them reach a specific destination, such as a local business. Customers want quick answers that address their needs. To match these desires, brands should construct their websites to ensure that critical information, such as locations and content information are prominently featured on the landing page. With the rise in mobile device use and the importance of mobile search with commerce both on and offline, brands need to understand how local search works and how they can improve their own local SEO. While it can seem frustrating to try and optimize for perpetually changing, user-dependent results, these search optimization tips can help brands better prepare for the local 3-pack while also boosting their reputations and reach in the region. This helps local search optimization and ensures that the organization takes advantage of search opportunities around them.