In the B2B world, the hectic atmosphere that dominates the retail sector between Thanksgiving and New Year does not gain as much attention. Businesses in B2B have to coax prospects through longer sales cycles, and typically their clients end up signing longer contracts, both of which help to lessen the scramble that comes throughout the fourth quarter for B2C brands. That does not mean, however, there are no opportunities for B2B Q4 optimization.
An increasing number of brands in this sector have begun to notice that they should not overlook this period altogether. Advertisers saw a year-over-year growth during Q4 for those in B2B. Ad spend increased by 21%, clicks by 4%, and the CPC went up by 16 percent. Although the end-of-the-year scramble might look different for those in B2B, they can still leverage untapped potential throughout the holiday season.
Taking the right steps now to start preparing and mapping out a strategy can not only help you increase your Q4 revenue, but it can also set you up for a strong start in the New Year. If you are in B2B, here are 5 steps we suggest you take to prepare your organization for success.
1. Holiday keyword opportunities important in B2B Q4 optimization
Around the holidays, search, and buying patterns likely change. As you continue to develop and publish content during Q4, you want to make sure to remain abreast of the opportunities that may arise.
Begin by looking at your own Page Reporting and Keyword Reporting analytics. See if any particular pages become more popular (more visits, conversions, search volume, etc.) as the end of the year begins to approach. You can use this insight to guide the material you publish throughout the quarter as well as the material you post about on your social media sites.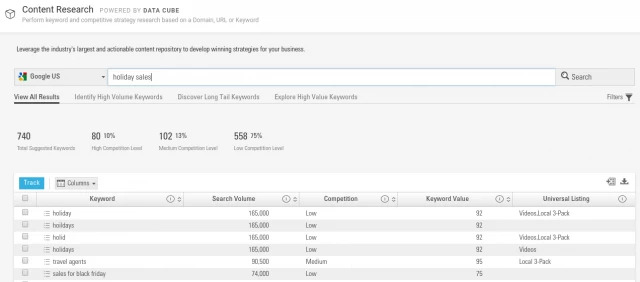 Similarly, use the Data Cube to find more keywords that may pertain to your customers during the holiday season. See if any keywords relate to holiday themes that might offer you ideas about what your audience will be most interested in searching for during the upcoming weeks. Build a content campaign focused on these holiday-themed interests and keywords.
You can also use the keywords you uncover through your research to bolster your paid search strategy. Paid search can be an excellent way to drive additional traffic towards new content, particularly seasonal content that you want to rank highly very quickly before it becomes obsolete. By incorporating more themed keywords into your PPC ads, you will also increase the appeal of your ads and increase the chances of uncovering potential customers on the SERP.
2. Watch for competitor weaknesses with B2B Q4 optimization
B2B Q4 optimization and ranking highly on the SERP is a zero-sum game. In order for you to do well, you must outpace your competitors -- not everyone can be a winner. Keeping a close eye on competitors' strategies, therefore, can give you an edge.
Using a capability like Data Cube, you can monitor the content strategies of your competitors, and see which keywords they rank highly for. This information can then be used to build your own strategies, maximizing your rankings. You can compare their high-ranking keywords with your own list and determine where your best opportunities will be to grow your share of voice for the fourth quarter. You can also then monitor your progress with BrightEdge Share of Voice to see how well the strategy helps you to outpace your competition.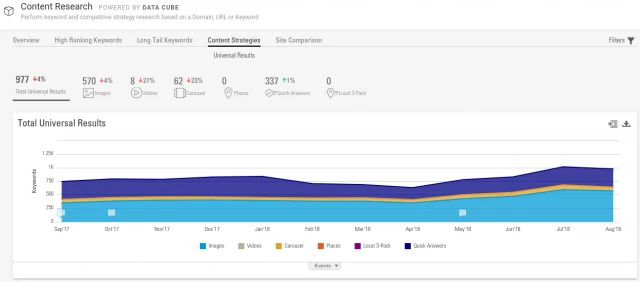 3. Note changes in content engagement
You may notice some changes in content engagement during the holiday season. For example, your audience may find themselves taking more half days to spend time with family, long weekends to visit relatives, or otherwise taking a step back from their work responsibilities. If this impacts your content audience, you may notice differences in your traffic patterns.
Take these changes into account for B2B Q4 optimization as you post material. You may be able to improve your engagement by posting more towards the middle of the week and the morning rather than the afternoon, for example. Keep these insights in mind not only for your site but also for your brand presence on social media.
4. Build excitement for next year with B2B Q4 optimization
For the people who have depleted their budget for 2018 and will not be making any major purchases, your biggest goal will be to build their excitement for next year. You can do this using a few B2B Q4 optimization strategies.
Step 1. Focus on the human connection. Many people find themselves in a festive mood this time of year. Between the company parties, seeing family, vacations, and a more relaxed atmosphere at work, they appreciate more lighthearted material. Tap into this need with your posts on social media and your site. For example, taking holiday-themed pictures of your products or services, posting a few (tasteful!) pictures from company holiday parties, or otherwise building the human connection with your audience can work well.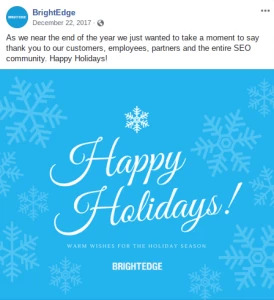 Step 2. Continue to write fresh, engaging content that coaxes people into the sales funnel. Using those keywords you research, continue to produce new, fresh content to keep people engaged with your site. Do not be afraid to add some holiday flavor to your material, but continue to produce high-value content that people appreciate.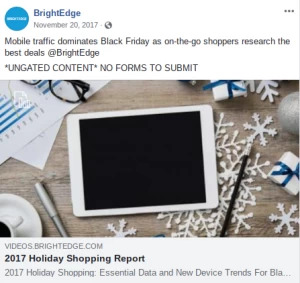 Step 3. Write about successes you have seen over the past year. Now that the year begins to wrap up, look back over the past year and the accomplishments of your brand.
Consider producing a few posts with the help of pleased customers who can discuss what they were able to accomplish with your product or service over the past year. This can help to grow people's enthusiasm about your brand as they prepare for a budget review and company meetings when they kick off the new year.
5. Capture people's end-of-year budget with holiday-themed offers
Of course, with your holiday keywords, posts, and competitive strategies, you want to really try and capture any of the end-of-year budgets your clients still have and put it words B2B Q4 optimization. Complement your material with some holiday-themed sales and promotions.
Remember that although in the B2B world you offer a product or service that will help a business, making the sale is still about that personal connection. For the people making the buying decisions, enticing promotions and sales, such as Free Shipping Through the Holiday Season, can be as enticing on business purchases as it is on personal ones. Consider the promotions you can run to bolster your end-of-the-year numbers.
The end of the year can be a challenge for B2B brands as they try to maximize their earnings for the fiscal year, but also have to deal with customers who have finished their yearly budget. Focusing on a B2B Q4 optimization strategy that works to find a competitive edge to gather that last bit of leftover budget while also building excitement for next year will help set you up for a strong fourth quarter and a happy new year.