Judging by efforts both official and experimental, Google seems to be placing increased emphasis on local search. We have seen indications of this emphasis in different ways in our own research. When we looked at the e-commerce sector recently, we found steady incremental growth in local 3-pack results, for example, from 23% of e-commerce results in 2019 to 26% of results in 2021: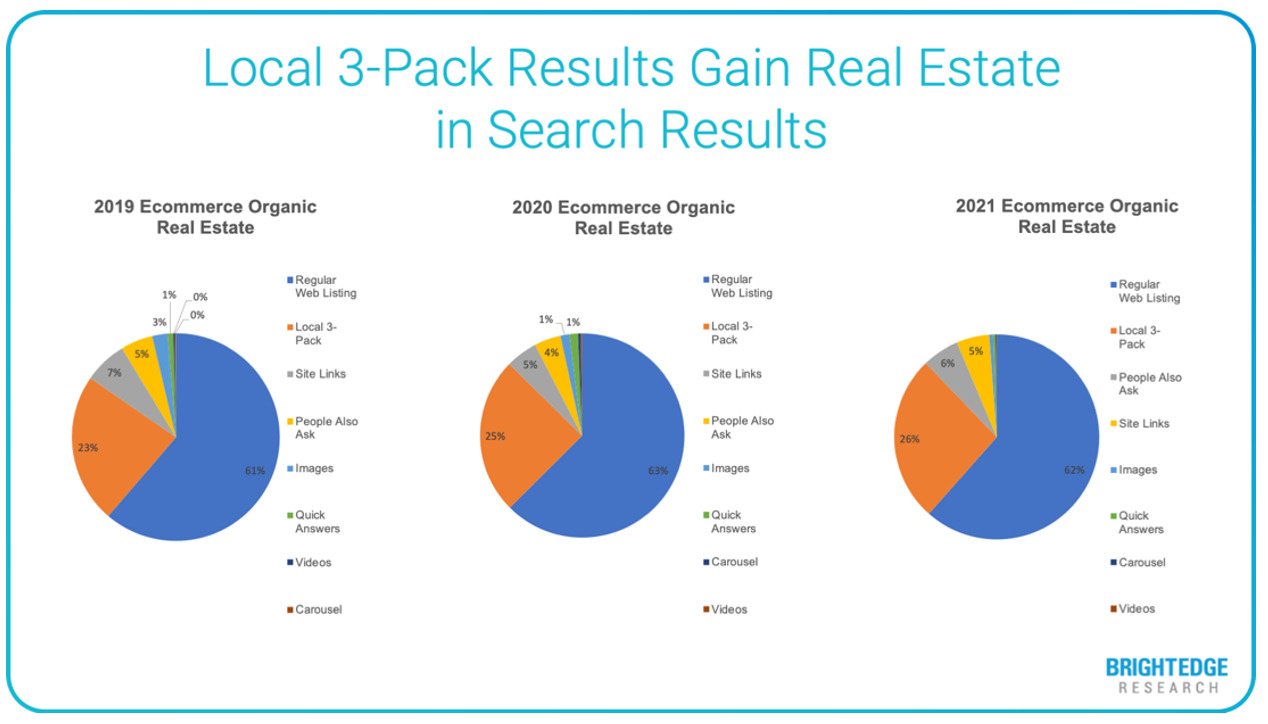 Local 3-pack results are one of the indicators BrightEdge uses to define what Google calls "I-Want-To-Go" moments. Altogether, BrightEdge classifies search intent broadly under one of four similar mindsets (note, searches can span multiple mindsets):
I-Want-To-Know - Research-oriented searches
I-Want-To-Go - Local sourcing, travel and hospitality searches
I-Want-To-Do - Instructional resource searches
I-Want-To-Buy - Commerce-minded searches
From the same research study and worth noting is the growing share of voice among publishers in search. Publishers support all mindsets with varying content and search results are beginning to better reflect that. Even in our study of e-commerce where the main focus is on I-Want-To-Buy moments, publishers (represented by grey bars in the chart below) gained measurable share of voice in most commerce categories: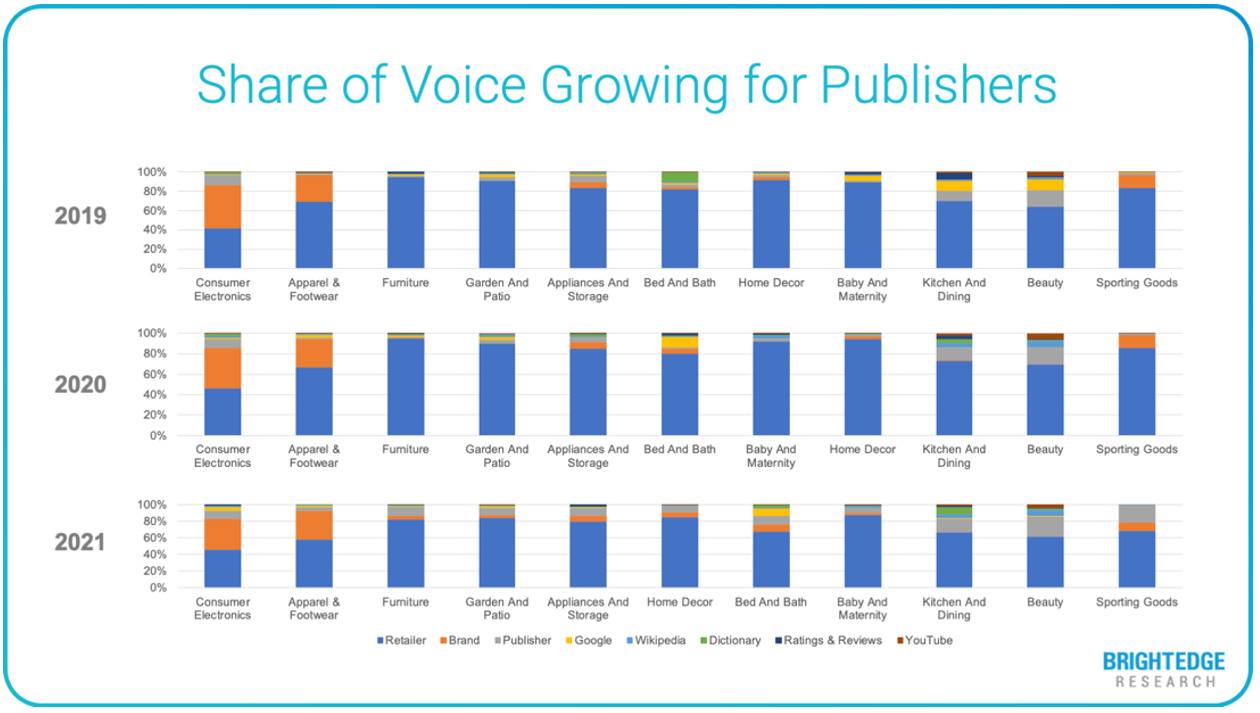 With this growth in share of voice for both local and publisher search results, it's not surprising that Google cites a threefold increase in searches for "news near me" over the last 5 years. To better support the growing interest in local news, at the end of 2021 Google launched new tools and features to support local news.
Better, More Integrated Local News Search Results
As more users search for local news, Google is responding with four key improvements to how it surfaces and presents local news in the search engine results pages:
Local news carousel – Early in the pandemic, Google launched a carousel to surface useful information related to COVID searches. The carousel has now been expanded to return local news results when relevant.


Integration with national sources – Users will now more often see authoritative local news sources alongside content from national publications.


Local news in finer detail – When visitors search for broad topics, Google will pair the search with location signals, which tell Google your location, to also return results on narrower or locally relevant subtopics. The example Google offers is a search for "sports." When a user searches "sports" Google will now be able to show results for football games, on the national, collegiate and local high school levels when relevant content and location indicators allow.


Newsworthy local tweets – Finally, Google now surfaces relevant tweets from authoritative local sources and individuals.
Taken together, these improvements provide an opportunity for local news publishers to increase their visibility among potential readers.
Tools and Resources for Journalists
To better enable local news storytelling, Google also announced two new resources for journalists and publishers:
Census Mapper – Part of what makes news local is the people and communities affected or involved in a story. The better a journalist can describe the audience, the more easily a reader can understand, relate or empathize. Google's Census Mapper makes it easier for reporters to sift through complex census data and present visualizations of the data.


Common Knowledge Project – Google announced improvements to its Common Knowledge Project, which it describes as a data explorer and visualization project that enables journalists to explore local data. Improvements include geographic comparisons and new charts and visuals.
Key Takeaways for Publishers
While it will take some time to understand completely what local news content benefits most from the changes, Google's efforts are a boon for local news publishers. The best advice at this point is to follow basic principles of content optimization. For example, Google's announcement makes repeated usage of the word "authoritative" to describe the content and sources it will favor, which points to the basic SEO principle of building E-A-T: expertise, authoritativeness and trustworthiness. Journalists and publishers should also take advantage of the resources Google announced, something Google may look favorably on when evaluating E-A-T.
We'll be monitoring the effectiveness and impact of these updates and where trends emerge, we will offer relevant advice on how to optimize content to appear in local news search results.
Learn how the BrightEdge platform helps tailor your SEO strategy to distinct local markets.