Modern marketers use customer data and insights in order to create a great customer experience throughout their websites. There are two critical data sets you need in order to have a comprehensive view of your customers' behaviors and needs: SEO data and web analytics.
Combining these two types of insights into a single strategy will allow you to create a high-powered website that engages customers and allows you a better understanding of what they want to see from your website.
One of the most common platforms to use for web analytics is the free version of Google Analytics, which provides the foundation for most website owners as they begin to engage with SEO. When the BrightEdge and Google Analytics integration you can take your SEO to an entirely new level.
What insights you can pull from Google Analytics
When it comes to measuring your progress online, Google Analytics forms the foundation for most brand strategies. With Google behind it, it provides immeasurable insight into how your site performs and the demographics of the people who land on your site.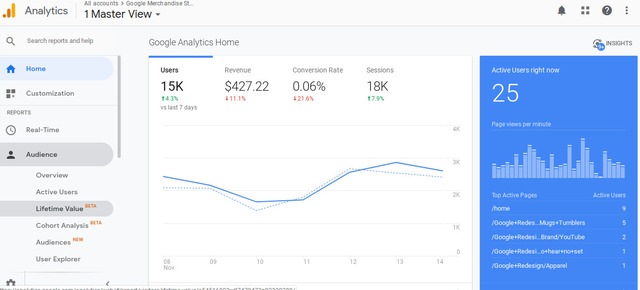 Google Analytics tracks referral traffic to your site. This shows you which channels people are coming from, such as Organic, Paid, or Email. You will be able to understand what programs are the most effective, and what your customers respond to the best. You can also compare the traffic between different dates and between different pages to see how your site progresses with your organic efforts to boost optimization and rankings.
You can also analyze the sources that send the most traffic to your site. Knowing the pages that have links to your site can help you better understand your active backlinks and the importance of those links in generating traffic for your page.
Why you need SEO data with web analytics data
Google Analytics can tell you what happens on your site and how people engage with each page, but it can still be unclear why certain pages are popular over others.
It can also be difficult to evaluate competitor pages through Google Analytics as you can only set up monitoring on your site. Remember that SEO is a zero-sum game; for you to see a rise in the rankings, you must outrank all competitors in the search results. Without a keen understanding of how these rival sites perform, it can be a challenge to formulate a strategy that will allow you to capitalize on potential shortcomings.
Bringing SEO and Google Analytics integration together
The Google Analytics integration with the BrightEdge Platform provide a comprehensive look at your website performance that allows you to evaluate and strategize more effectively to drive increased traffic, conversion, and revenue for your organization.
There are four key areas where the Google Analytics integration will help your BrightEdge platform to drive alignment across your organization and ensure you are reporting SEO success based on business impact.
Understand Customer Experience
You can use the BrightEdge and the Google Analytics integration to accurately measure the traffic and bounce rate that arrives on the website. You can monitor traffic patterns over set periods of time and compare traffic rates between two periods, such as the Q4 holiday season of 2017 with the same period in 2018 to help you understand customer behavior. Marrying this insight against the top keywords that drove lift during the holiday season helps you to understand the popular pages and what products and topics added to that success.
Google Analytics highlights which different pages bring in the most traffic and how well those pages drive conversions and engagement. Analyzing this data within the BrightEdge Platform gives you a better idea of how page optimizations based on SEO insights have impacted traffic patterns and engagement.
You can then break this information down further by analyzing the demographics of your audience, such as location and age. You will also be able to monitor the behavior of the users, including whether they are a new customer versus a returning customer and their session duration. This helps you to segment users if they are a lead or current customers to understand what part of the life cycle they are in and help you understand what content resonates to each audience.
You can also compare your traffic by device, noting how your mobile traffic rates compare with your desktop rates. Understanding which device type your audience is coming from helps to understand customer intent; for example, if your top of the funnel content is mainly coming from mobile devices, meaning consumers are seeking information and looking for and finding your brand.
Analyze your competitors
A key part of winning in search is understanding which competitors you are competing with for each query, which is not always who you think as your typical competitors. Also, understanding what are the winning strategies of those competitors; for example, how are they positioning their listing, what type of content they created (e.g. product page vs. a blog), etc.
BrightEdge tracks competitors and allows you to view their content strategies and monitor keyword rankings to find holes in their strategies to bolster your own. BrightEdge also has a capability to identify who are your organic competitors through Share of Voice for each content category you track.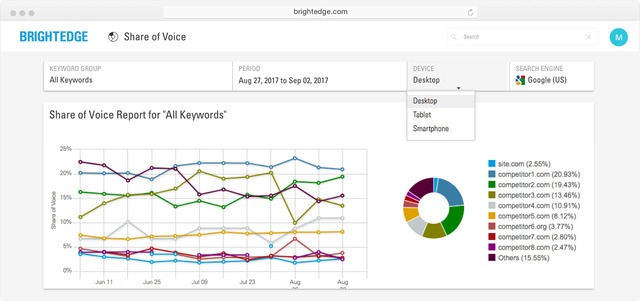 Understanding the competitive landscape in search will give you more ideas for further developing your strategy and identifying particular keywords to target. With the insights from BrightEdge and the Google Analytics integration and behavior data, this will help you create a powerhouse content strategy.
Prioritize Organic Effort
The BrightEdge Platform has data collected from organic search to help you better understand where you can make improvements to boost rankings and what your projected return can be from certain optimization and content strategies.
You can look at the data from Google Analytics integration with BrightEdge to help prioritize your organic effort based on current page performance; for example, pages that are currently ranking high and have good engagement do not need to be worked on right now, but pages that have ranking within striking distance (Blended Rank 7-20), but low engagement might be the best pages to optimize first. BrightEdge Recommendations will prioritize a list of actions for you based on impact and potential to improve page rankings.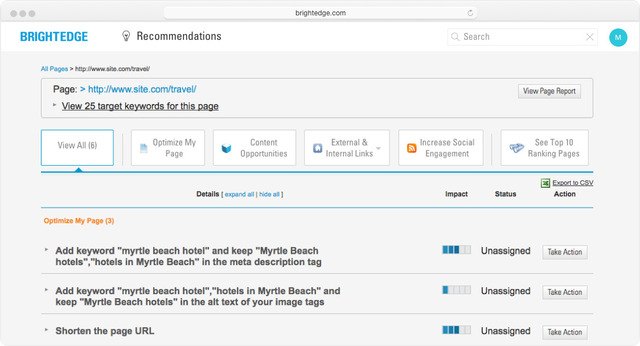 Communicate successes and tie SEO effort to business outcomes
BrightEdge StoryBuilder has robust and flexible visualization capabilities that can help you make data-driven decisions and elevate the importance of the website. Use executive customizable dashboards to showcase the positive impact on brand equity and revenue from website optimization efforts or build convincing business cases for additional resources.
StoryBuilder blends search engine, web analytics, and proprietary BrightEdge data to show how your content aligns with customers' search intent, drives business outcome, and impacts brand equity.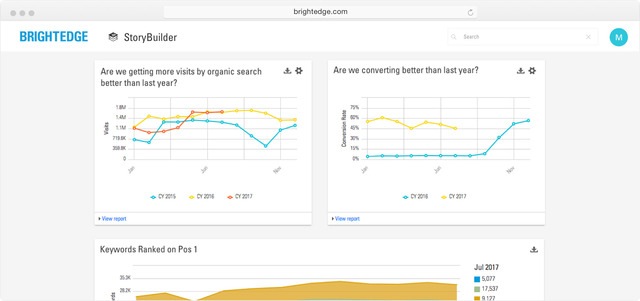 The Google Analytics integration with BrightEdge empowers digital marketers to create meaningful experiences through their website and search. Understanding how to use these two platforms together can help any organization build a stronger site and develop the campaigns that will boost their bottom line.