Performing competitive research to review the competitive landscape is one of the important tasks when running an SEO program. Learning about competitors, their products and offerings, web positioning (optimization focus, messaging, linking, technical SEO) and measuring your progress against theirs will allow you to understand what works for you and them, and what doesn't – and can help move your SEO forward more effectively and secure a bigger piece of the pie.
Identify
When it comes to competing in SEO, at least for the large established brands, the focus is on the non-branded space, where prospects are searching for the terms related to product features and capabilities rather that branded names (in some cases users just may not be aware that your brand is offering a solution for their needs). There are several steps that can be taken here.
First, talk with your stakeholders (i.e. people in the business unit, sales or marketing teams) to scope companies that they see as competitors. We need to understand that company does not necessarily equal website here. There are cases where one company would span multiple websites, usually with keyword-rich domain names, to compete for specific themes in which case you'll need to do some domain research (who-is) to get to the business owner behind the domain.
It's also a good idea to check with the paid search team to see who is bidding on the high-value keywords. Querying search engines for high-volume, non-branded terms is also an effective way to scope the landscape.
Competitor Products and Solutions
Learn about competitor products and solutions to see how they stack up against your company offering. Start by reviewing their site and noting the categories and topics. Note the title tags, meta descriptions and H1 keywords they use. Understand the set of keywords they rank on. You can use a web site scanning tool to assist with this process.
Online Presence and SEO
Review the way competitors optimize their pages and topics and focus to find specific keywords that use that you do not. In some cases competitive information can provide valuable feedback beyond SEO.
For example this research can expose features in competitor products with significant interest and query volume in search that you can bring as a suggestion to the product development teams.
The BrightEdge Data Cube is a robust tool that allows you discover keywords and content based on a url, keyword, rank, or content type. This is an easy way to get a comprehensive view of the full set of competitor keywords.
Examine linking profiles, both in terms of the cross-linking within the competitor sites and also back linking patterns, to better understand what they are doing well. In some cases this research helps identify shady linking profiles.
Technical SEO is one of the key factors, and understanding the ways your competitors address it can help improve your program.
Learn about the social tactics of your competition (blogs, LinkedIn, Facebook, G+, etc.) and implement pieces that make sense for your projects.
Track and Measure
Measuring trends against competitors is a good idea to keep track of how your SEO program is performing against theirs for a set of non-branded keywords, and you can see how big your piece of the pie is. Literally – if you're looking at the "Share of Voice" competitive research report in the BrightEdge platform.
This competitive research report gives you a sense of where you are at a given point of time.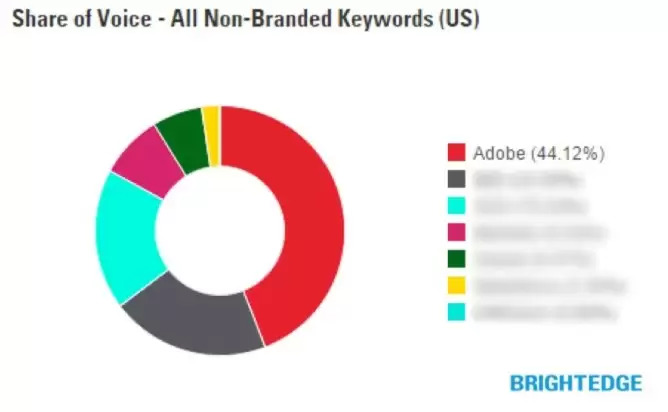 The BrightEdge Competitive Research Report provides a snapshot view of the performance of your keywords in terms of rankings, for example, your site's presence on page 1-3 and beyond.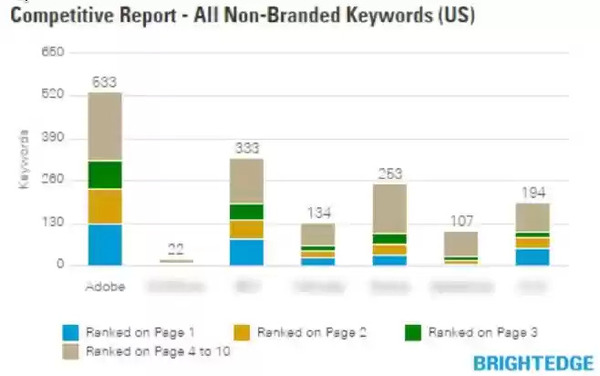 Competitive Research Trend Report provides a historic view of your performance against competition.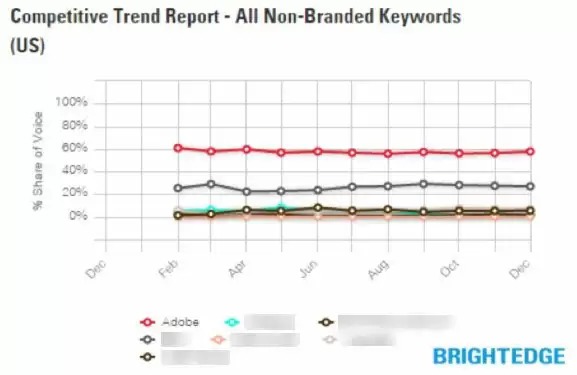 Adapt
Like anything else in the SEO world, the competitive landscape is not set in stone which is why competitive research holds such high value. Competitors change their SEO programs, for example, they can migrate sites, acquire other companies to add offerings, change content, linking or technical aspects. Their sites can incur penalties. New competitors can enter and leave the space. Since things are not set in stone, re-visiting competitor research every 6 months can be very useful.
It's always good to assess others to learn what else you can do on the site. On the other hand, if you learn about something that doesn't work for your competitors, you certainly don't want to repeat these mistakes.
Competitive research reports are also a great way to present progress of the SEO program to your stakeholders and show the status of your SEO program vs the competitors.