We live in a real-time society and expect information and services in an instant at our fingertips. Everything from grocery shopping to hailing a car to checking who's at our front door can be done in an instant from our mobile phones. According to Salesforce Research, 64% of consumers and 84% of business buyers expect companies to respond to them in real time. We expect real-time responses, and waiting even a few extra seconds is too many for most of us. More than half of consumers are not willing to wait longer than 5 seconds for a webpage to load. We're also researching our purchases online, even when taking our business to a brick-and-mortar retailer. More than 80% of smartphone users consult their phones while standing in a store deciding which product to buy.
At the same time, search is changing and is faster than ever before. These changes bring more economic opportunities but also make the work of SEOs increasingly complex. In today's world, changes are instant, SERPs are evolving and responding in real-time. And, search is more than desktop and mobile; it's also voice.
SEO today is time consuming, doesn't scale, and gets increasingly harder by the day. In BrightEdge's latest research we found SEO practitioners are using an average of 6 tools cobbled together and 4 hours a day on research, reporting, and analysis. With half the day of an SEO practitioner spent on research, reporting, and analysis, it's hard for them to find the time to actually make SEO changes and drive strategy.
There's a better way: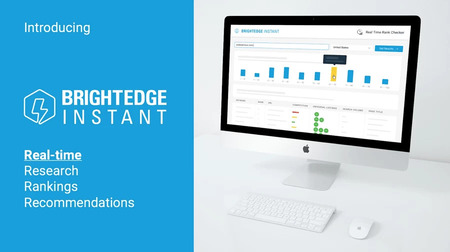 Move away from inaccurate, cobbled-together point solutions and hours of analysis in Excel
Say goodbye to old data, limited geographic scope, and cringing anytime you need to provide reports, recommendations, or analysis
Go beyond theory and authoring a point of view to your organization and take action in real-time.
BrightEdge Instant is a game changer--the first-ever, real-time SEO solution on the market. Now you can optimize at the speed of search, understand the customer experience as it's happening, improve workflow and operational efficiency, optimize in real-time, and discover in-the-moment opportunities as they arise. BrightEdge Instant is an all-in-one workflow for real-time research, rankings, and recommendations.
Research
Utilize real-time research to answer questions and uncover opportunities as they happen. BrightEdge Instant gives you access to real-time, on-demand data which empowers you to ask specific questions and discover quantitative, data-driven answers with rapid speed, ease, and accuracy.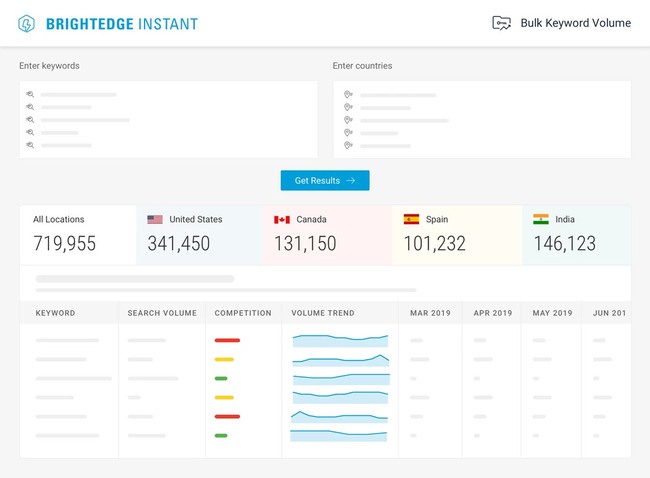 Deliver a real-time voice strategy with BrightEdge Instant
As an industry, we've been talking about voice, but no one is really doing anything about it. Meanwhile, SEOs are expected to have a voice search strategy, and understand the conversations that are happening in the market. The challenge is that conversational queries change so fast that they become instantaneous. And, when strategizing for voice, SEOs must understand the conversational journey and the next three follow-up questions someone is going to ask. Your strategy involves wading through a list of keywords from keyword planner, manually looking for conversational searches, or turning to a point solution with display-only capabilities, lacking search volume, disconnected from your SEO workflow.
Here's what your voice search strategy looks like with BrightEdge Instant

BrightEdge Instant is a better way to research:
Make voice a reality – For the first time SEOs have a solution for voice search and a way to identify the conversations happening in their space. Easily identify all the top-of-the-funnel awareness- generating question keywords with search volume. Analyze the keyword landscape and which portion of your keywords contain questions and which percentage you are winning.
Real-time topic research powered by machine learning – BrightEdge uses the power of AI to curate the most-relevant topics and keywords to go after. It takes a seed list of relevant keywords and expands it by 100X. So, you gain a finely crafted targeted list of relevant keywords to go after and can uncover what's currently trending in real time.
Instant keyword research based on location – SEOs now, for the first time, can account for trends, seasonality, and events as they relate to their search traffic on a global basis. Gain a comprehensive, current pulse of demand across all the locations in which you operate. Search thousands of keywords in one query across 37,000 locations worldwide without needing to track the keywords.
Seamless navigation of keywords – Content research is made easy by categorization of keywords. Easily and instantly navigate keyword research and organize automatically into thematic folders. Discover ideas containing word groupings and apply filters to search for terms that do or do not contain a certain word.
The most scalable & efficient keyword workflow
Scale research across thousands of locations and dozens of languages all in one platform
Perform real-time research tasks directly within one platform
Make smart, high-impact decisions quickly and seamlessly
Gain a competitive edge and be the first to find new, actionable, data-driven opportunities before anyone else and act on them quickly
Rankings
With BrightEdge Instant, understand in real-time how your content is performing across all the vertical and global engines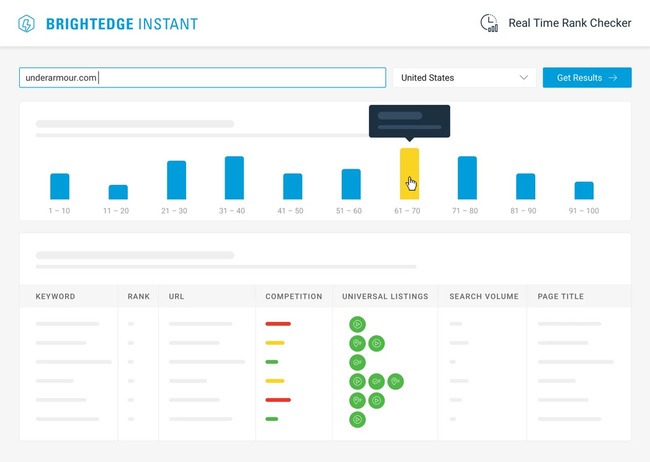 Identify your rank anywhere you operate
Trying to keep up with the changing dynamic of the SERPs is truly like running on a treadmill set to fast. You're never able to stay up to speed. And when an executive or category manager says your rank has slipped, you're stuck manually performing web searches in an incognito window trying to record what's currently happening. Ultimately, you're left without any way to understand your rank at scale across hundreds or thousands of locations.
Here's what your ranking analysis looks like with BrightEdge Instant

Within one centralized platform you can access
SEO at the speed of Google – BrightEdge Instant offers truly live, real-time (not cached) rank check at scale, empowering you to stay ahead of the real-time nature of search. Respond to change as it happens and drive the right content for the changing moment. Access real-time, mobile and desktop rankings across 37,000 locations and 46 languages.
SEO at the speed of YouTube – Video is instantaneous. Now your YouTube rankings are instantaneous as well. Uncover in real-time the performance of your videos, and your competitors' videos for any search right now. Unlock which products, categories, and influencers are taking off and use that to further promote those videos and inform future content strategy.
Your brand performance on Amazon – Find out how your products rank on the third-largest search engine in the world. Say goodbye to manual time-consuming searches and instead turn to BrightEdge Instant, the only platform with Amazon rankings. Enter thousands of product keywords into BrightEdge and see how they rank on Amazon.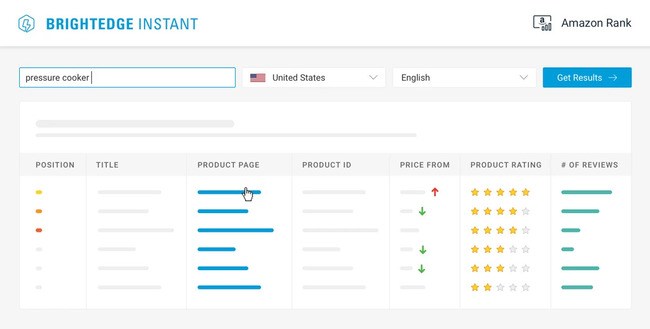 Real-time rankings for your global footprint – Understand how you perform on the leading search engines in each of your global markets. BrightEdge gives you rankings for the top 10 search engines around the world and is the only company offering a global footprint outside of Google. Uncover how you're ranking for any keyword, in real-time, on a global level, all in one search.
SEOs need real-time data for real-time decisions
Get keyword rank, volume, and ideas in any country or language
Have visibility into rank for any:

Term
Search engine
Device
City
Country
Language
Recommendations
Gain actionable recommendations to improve page-speed performance, content opportunities, and backlinks
Page speed matters more than price
As an SEO you need to ensure your pages are fast on both desktop and mobile. If your pages are slow to load on either device, Google views this as a poor user experience and you'll lose traffic. Every second longer your site takes to load means the difference between converting a customer or losing them to the competition.
You dread reporting and performing analysis on page speed because the process is so time consuming. You spend countless hours each month looking up your webpages one by one and recording the information into a spreadsheet then repeating this process for your competitors.
Here's what your page-speed strategy looks like with BrightEdge Instant

Integrated page-speed performance and recommendations – Don't wait for Google to crawl your pages and provide notification of page errors. Instead take an integrated, proactive approach to page speed. BrightEdge is the only SEO platform with page-speed performance. Diagnose pages across both devices and provide actionable recommendations for how to improve page speed across all the pages you care about.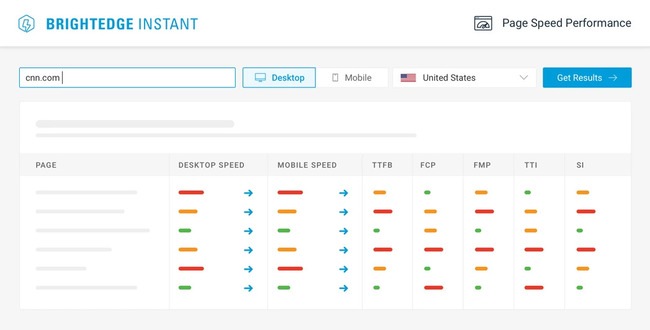 Real-time recommendations – Take action on instantly identified content opportunities. Open BrightEdge Instant Real-Time Recommendations in one tab and your CMS in another, make a change, hit Refresh, and see the change instantly reflected in BrightEdge. Surface prescriptive on-page and off-page recommendations, including page title, H1 tag, backlinks, and more.
Integrated page-speed performance & SEO insights
Understand, at scale, desktop and mobile site speed performance
Benchmark against the competition
Gain recommendations to drive more revenue
Take action on instantly identified content opportunities
Gain recommendations updated with instant status updates
Improve the SEO performance of your site with prescriptive instructions for every content page
We're beyond excited to give you a glimpse into this groundbreaking new SEO innovation. BrightEdge Instant is made by SEOs for SEOs to address the real-time nature of search, improve operational efficiencies, and scale–all within the BrightEdge platform.
Make sure to stay tuned to our blog as we'll do a deeper dive on each of the key themes of real-time research, rankings, and recommendations in the coming weeks.