2015 is off to a tremendous start with massive innovations delivered to our 1,200+ customers around the globe. As we continue to ship new technology at breakneck pace, I thought that it would be useful to explain how we select what we build. Oftentimes technology companies build and leave people without the context of what they are trying to do and why it matters to customers and the market as a whole.
At BrightEdge we are passionate about using our technology and innovations to empower our community and elevate their impact. This driving passion led us to develop some of our most innovative capabilities this year, including Story Builder, Anomaly Detection, Landing Page Optimizer, Content Optimizer and more. All of this technology is designed for one single reason – to help elevate our customers' business impact and to elevate their position within their organization.
We know that our business is only as successful as we make our customers, so all of this technology is designed to do just that. Let me explain the goal behind each of the capabilities that we've delivered this year:
Story Builder–just like it says, this innovation is designed to help our customers tell their story and demonstrate their business impact across their organization. It's so much more than dashboards and charts, it's about measuring and proving the results that you deliver every day. And because Story Builder is uniquely able to show actual business metrics like revenue, conversions and traffic via Page Reporting, you won't be sharing guestimates and bad data. Our goal is that every one of our 20,000+ users take advantage of Story Builder to tell their story and elevate their position in their organization.
Anomaly Detection–this breakthrough capability is designed to save you time and do the work for you. At BrightEdge, we think there are too many marketing technology companies creating too many screens that merely automate processes by forcing marketers to click through wizards all day long. Given that we have actual business metrics via Page Reporting and best in class data we realized that we had a unique opportunity to empower marketers and save them time by having our technology do the work for you.
Content Optimizer–Two years ago we delivered content optimizer because we and our partner Adobe saw a huge gap–most content that brands were creating wasn't generating any business impact. We delivered Content Optimizer with Adobe to bridge the gap between the content authoring teams and the optimization teams to generate more performance from content. Today we have over 50 household-name companies that are elevating their impact by using this innovative technology. So that's why we built it all, now let's take a look as our CEO, Jim Yu, explains the game-changing technology BrightEdge has delivered so far this year.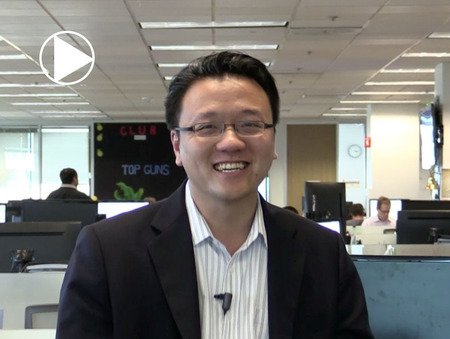 In our mission to elevate our community, we recently added several new capabilities that will help to make marketers' business impact better understood and appreciated.
We have built on our groundbreaking StoryBuilder technology that allows you to share your search and content story and elevate your profile in the business. Increased flexibility means customized graphing, year-over-year comparison and even more metrics, including Share of Voice and Weighted Rank. StoryBuilder is now easier to use and more powerful with new templates, filtering capabilities and seasonality comparisons. View Video
Real-time custom notifications allow you to celebrate success and detect anomalies to elevate your profile as you deliver business results. With Anomaly Detection, you can now be notified of relative competitive performance with Share of Voice rules that will trigger notifications when there is a significant shift relative to the competition. Monitoring your performance just got easier with the ability to be notified when there is a significant shift in business performance, so you can respond promptly. View Video
With Data Cube, understanding the impact of your mobile results is easier than ever. Elevate your organization's understanding of mobile performance with full support for Google US Smartphone, including mobile Data Cube Score and Mobile-Friendly metrics. Tracking your progress before and after the April 21 mobile algorithm update is now at your fingertips along with summary metrics, rankings and other key insights. View Video
At BrightEdge, our most important value is customer success. This year has been all about elevating our customers' success for both the business and themselves. We have accelerated the pace of our technology innovations, and we are just getting started. Stay tuned for more! And one more thing… join the BrightEdge community at Share15, the industry-leading event by digital marketers for digital marketers. Find out more about becoming involved in the BrightEdge community and share peer-to-peer insights with many of the world's leading brands.