We're excited to announce that the Data Cube Time Machine and the Data Cube Score are now generally available. These innovations first previewed at Share14, and leverage the power of the BrightEdge Data Cube.
The BrightEdge Data Cube is a massive content repository - the industry's largest data set made up of billions of pieces of information which include: keywords, search terms, rich media and content, along with their performance on the Web. Backed by a robust data set, both the Data Cube Time Machine and Data Cube Score allow marketers to seamlessly access historical and real-time competitive analysis and performance insights of their content.
Data Cube time machine: explore trends and travel in time
With the Data Cube time machine, marketers can easily understand and analyze content performance historically and over time to identify which content is successful – including rich media (images and video). Marketers can access month-over-month performance comparisons to help them set benchmarks and achieve outstanding content.
Armed with insights on performance and their Data Cube Score over time, marketers can identify the impact of algorithm updates, track branded versus non-branded keywords, stay-ahead of seasonal trends, and improve performance over time.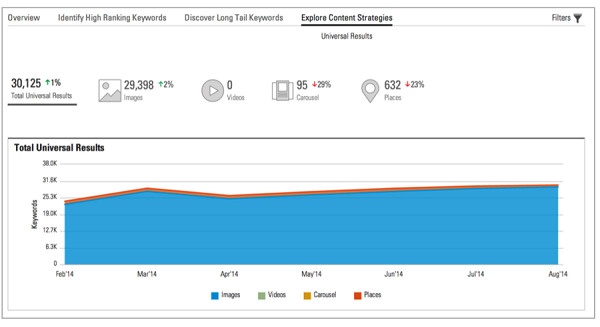 Data Cube score: quantify and analyze content performance
The Data Cube Score is a key performance indicator (KPI) of how well content is performing. Dynamically calculated based on billions of data points, the score lets marketers see how their content is performing, either site-wide or for a specific section of their site. The score also allows marketers to easily identify the state of their content performance and gauge how their content compares to their competitors in real-time.
Together, the Data Cube Score and Data Cube Time Machine give marketers the insights they need to target demand, optimize content and measure results.
Powered by the massive BrightEdge Data Cube data repository, these insights are delivered as comprehensive, lightning fast, actionable intelligence, that help marketers set budgetary priorities for content development and marketing.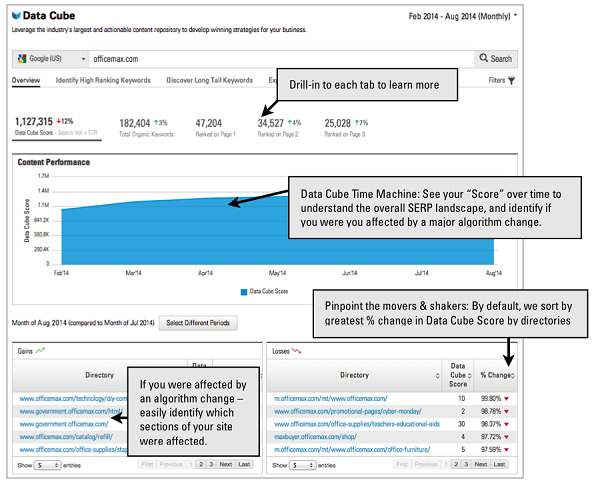 New research
We leveraged the Data Cube to power our latest research report, Consumer Demand For Autumn Travel Report, which details consumer demand for online travel and accommodation sites during this busy holiday season. Learn how leading companies are leveraging content to engage consumers, and which strategies perform best.
Learn more about how to make the leap into content performance marketing here.